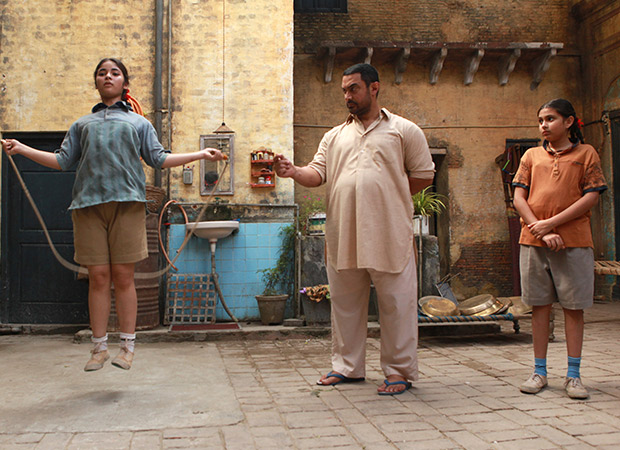 There are outstanding films. Then there is Dangal. A film so rich in flavours of homegrown emotions you feel you are floating in a field of aromatic sensation for close to three hours without feeling manipulated . You come away from this experience so moved and so much wiser that you wonder why cinema can't be so rewarding more often.
But then again, if every other film was a Dangal how would we know the difference?
There I go, raving about a film which, let me state right way, will be remembered by posterity as one of the landmarks of Indian cinema in the same breath as, say Mother India, Sholay or Lagaan. Yes, Dangal has that kind of an impact. Not because it has anything new to say. On the surface it is another rags-to-riches sports film where a girl Geeta Phogat from a small dusty town of Haryana brings the gold medal in wrestling to India.
No. It is not the theme. It's in the heartbreaking, directness and artlessness, the absolute absence of artifice, in the narrative that we discover that mysterious oft-abused entity known as the Real India. These are places and people with real dreams and ambitions. These are characters whom we live with, sometimes within ourselves. It takes a Mahavir Singh Phogat and his mulish obstinacy to pull India's perverse patriarchy dragging, kicking and screaming out of its heavily cordoned lair and to say, enough is enough.
It takes an Aamir Khan to bulk up to the extent of looking like a tired but undefeated has-been to play wrestler whose determination saw his daughters break through the masculine bastion of wrestling to prove women can do anything men can. Aamir lives the role of Phogat, sternly maneuvering his daughters' destiny to a glory denied to a lot of women in this country. Is this his best performance? Can't say but whatever he has done earlier pales into insignificance.
Significantly, Dangal doesn't play the feminist card at all. There are no speeches, tirades and pushy homilies on feminism. The men in fact are not shown to be excessively sexist for the sake of aggrandizing the dramatic impact of girls' ultimate victory. While Aamir Khan plays the epitome of gender equality, Aparshakti Khurrana who plays Geeta and Babita Phogat's goofy kind-hearted cousin is a feminist even without knowing what the word means.
And Sakshi Tanwar who plays Aamir's quietly capable wife blends so beautifully into the film's finely-threaded fabric that we hardly notice her. Ditto all the characters who appear to be so in-tune with the milieu they seem born to the soil.
No one in the cast and crew - not even the eternal attention - seeker Aamir Khan and not Sethu Sriram's cinematography - seeks attention here. Not even when fighting so ferociously in the wrestling akhaada. These people do what they have to. They fight inner and outer adversaries because….well, they are there and they must be fought.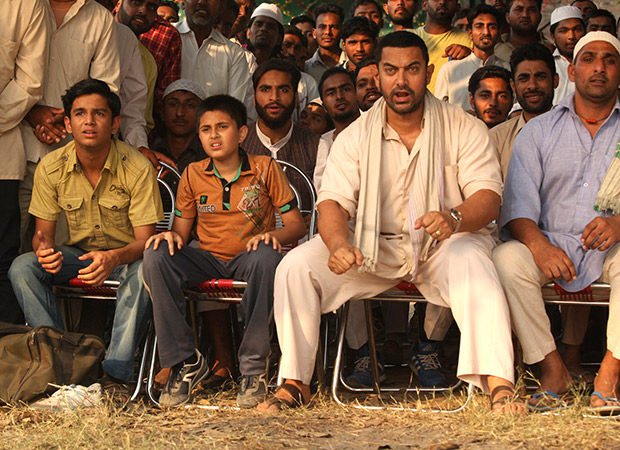 Dangal neatly and nimbly avoids all classifications and isms and emerges as one of the strongest cinematic statements on women's empowerment in recent times. The performances go a long way in imbuing a sense of unrehearsed classicism to the simple tale of a simple father who lives out his sporting dreams through his daughters.
As simple as that.
And such doughty daughters! The two sets of actresses who play the younger and older versions of Geeta and Babita Phogat are so liberating in their spontaneity that they at some point, cease to draw attention to their skills at character assumption and simply invite us to follow the girls' journey to victory.
While the younger Phogat daughter Babita played ably by Suhani Bhatnagar and Sanya Malhotra does have her say in the expansive script, this is clearly the other elder daughter Geeta's story, her blow-hot-blow-cold relationship with her father and her ultimate triumph in the wrestling ring.
Aamir and Zarina Wasim/Fatima Sana Shaikh (the two girls who play Geeta) play against each other with vivacious credibility. While we watch Geeta wrestle her way to the gold medal - and she fights her opponents in the wrestling ring like a true pro - we also watch Geeta and her father wrestle in ways that are not manifested physically.
Geeta's change as she becomes famous is mapped with no judgmental regret. This is not a film that wastes time trying to slot judge or condemn human failings. It breathes with the characters and lets them exhale at their own will. That is the real beauty of Dangal. It is what it is not because it tries to be great but because the story it has to tell is effortlessly ensconced in excellence. Director Nitesh Tiwari simply plucks the fruits of a tree whose roots go deep into our culture penetrating societal biases towards the girl child, with a cluck of the tongue that is barely audible.
The climactic wrestling bout shot with adrenaline-pumping immediacy could have avoided reducing Geeta's coach to a scheming villain. Neither the film nor Aamir Khan's timeless portrayal of Mahavir Phogat needed to be propped up and peppered with scriptural spice.
On the whole, Dangal has no patience with judgement values. It is so precious and so valuable because it lets us look at home-truths with wisdom rather than cunning. This film will be remembered by posterity as one of the landmarks of Indian cinema, not because it tries to be one.
Thank you Geeta Phogat, Nitesh Tiwari, Aamir Khan. India is proud of you.
Phogat's sake, Dangal must be watched.
BOLLYWOOD NEWS
Catch us for latest Bollywood News, New Bollywood Movies update, Box office collection, New Movies Release , Bollywood News Hindi, Entertainment News, Bollywood News Today & upcoming movies 2020 and stay updated with latest hindi movies only on Bollywood Hungama.