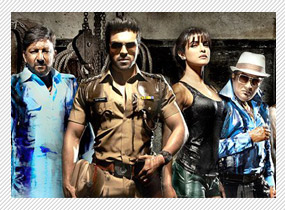 Let's not get carried away. Every time a remake comes along we get along
gooey-eyed and nostalgic about the original. Zanjeer gets it right. Dead right. Unlike
Ram Gopal Varma's remake of Sholay which was purely misguided, and Karan Malhotra's
Agneepath which was unnecessarily brutal Zanjeer is just what remake should be.
It's respectful to the original material, which let me hasten to add, was no masterpiece and
suspiciously similar to a 1967 film called Death Rides A Horse.
In fact a similar film Yaadon Ki Baraat written by Salim-Javed and released during the
same year 1973 as Zanjeer was far superior.
Providentially Lakhia's Zanjeer is neither slavishly reverent to the original material
nor does it take off into weird wild and wacky tangents, like the Rohit Shetty's recent remake
of Hrishikesh Mukherjee's Golmaal.
Rather, the new Zanjeer opens up the original plot, weeds out the humbug and preserves
the core of the revenge saga of an angry cop whose ire grows progressively higher as the plot
moves through a series of cleverly conceived conflicts that accentuate his alienation from his
khaki-coloured line of duty.
No one can do to the sullen cop's role what Mr Bachchan did. But yes, even in his new avatar
Inspector Vijay Khanna seethes, simmers and boils over with an indignant rage. Everything about
the festering rotten 'system' makes him annoyed and churlish. Since Zanjeer, and its more
serious-toned country-cousin Ardh Satya, numerous cops have vented their cinematic spleen
in films as far-raging in quality as Singham and Police-Giri.
What makes Vijay Khanna in the new Zanjeer special is the plot-mechanics which put him in
time-worn situations but subject him to dramatic dynamics that give the prototypical Angry Cop a
renewed riveting life of violent score-settling.
That this time, the Angry Cop who was played with such compelling candidness by
Amitabh Bachchan in original Zanjeer, is played by Ramcharan is just a huge stroke of
luck for the remake. Ramcharan brings in an entirely unique brand of silent satyagraha to his
character. When we first see him on screen he wallops a goonda-politician on a busy road of
Hyderabad as a hoarding of Ramcharan's father Chiranjeevi's film looks down on the chaotic
scene.
A version of 'Raghupati Raghav' plays in the background as Ramcharan lets us know without
wasting time that he means business.
The pace from that hard hitting moment is relentless. The momentum never slackens even when
Vijay Khanna gets down to expressing tender thoughts for the fast-talking befuddled and
disoriented NRI girl Mala. Playing Mala Priyanka Chopra seems to have a whole lot of infectious
fun. She spells joie de vivre and looks gorgeous. Priyanka is the comic relief in this
fast-paced actioner where fists and the background put out an ominous warning.
Apoorva Lakhia paces the proceedings as rush-hour traffic of bustling events. No one has the
luxury to stop and think as the narration gathers up a storm of pulpy conflicts building up to
an exceptionally staged climax filmed amidst the volatile proceedings of a crowded Moharram
event.
From the Ganpati Viasarjan to the Moharram, Lakhia's interpretation of Zanjeer traverses
a mammoth canvas of rapid fire images. Gururaj Jois's camera moves dexterously but never to
divert out attention from the central conflict. And Chintan Gandhi's dialogues use one-liners
judiciously, never over-doing the smart-alec retorts.
The film's action done by Javed-Ejaz feels and looks right. The attention paid to getting the
action sequences right is highly commendable. There is an elaborately staged multiple-explosion
sequence in a huge Dharavi-like slum which belongs to a Van Diesel starrer.
Sanjay Dutt steps splendidly into Pran's part. His sequences though limited by
the actor's physical unavailability, show the sensitive side to his aggressive personality. The
bonding between Ramcharan and Dutt comes across as effectively as the one between Ramcharan and
Praiyanka and Prakash Raj and Mahie Gill.
And the momentum never slackens.
Fast-paced, and forever furious, Zanjeer also finds space to be excruciatingly funny. In
fact the whole villain-vamp equation between Teja and Mona Darling is here subverted to a kind
of comic coitus interrupts where Prakash Raj repeatedly keeps talking about sex without getting
down to it while 'Mona' Mahie Gill purrs and moans and pouts not out of passion but for just the
opposite reasons.
The most tongue-in-cheek homage I've seen in a remake occurs in this film when we see the new
Teja-Mona pair watching actor Ajit and Bindu in the original Zanjeer on a DVD. The
sequence is irreverent without appearing to belittle the original. It reminds us of the renewed
cycle of art and individual talent.
Throughout the film we sense the director's immense affection for the original Zanjeer, a
reverence that never clouds his judgment.
This is one remake that stands tall and lithe. It is manned by a manful supply of action and yet
manages to keep the machismo understated. Breakneck-paced, adrenaline-pumping, pulse-pounding,
Apoorva Lakhia deconstructed version of the Prakash Mehra film is a full-on pacy paisa-vasool
entertainer with brio and balls. Ramcharan Teja makes an impressive debut.
We can safely say he is the man among the boys. Go for it.
BOLLYWOOD NEWS
Catch us for latest Bollywood News, New Bollywood Movies update, Box office collection, New Movies Release , Bollywood News Hindi, Entertainment News, Bollywood News Today & upcoming movies 2020 and stay updated with latest hindi movies only on Bollywood Hungama.