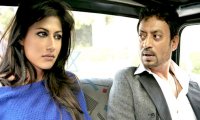 Yeh saali picture...badi kutti cheez hai. Dekho tab pataa chale. To describe the rollercoaster ride that is Yeh Saali Zindagi (YSZ) is to attempt to draw the picture of the Red Fort at the seaside. Every attempt to define the plot will be washed away by forces beyond our control. So let's just say, YSZ is an edgy and raw take on what it takes to make love loyalty and other related illusions jell in a rapidly-mutating consumerist society like ours.


The film is set in and around Delhi's underbelly. Mishra explores the armpit of the Capital's get-rich sub-culture, revealing a flair for satire even at the most deplorable moments of reckoning. Yup, Guy Ritchie and Quentin Tarantino would approve of Mishra's humour in the most sanguinary circumstances. As for Vishal Bhardwaj, Mishra's spaced-out vision is not even looking in that direction for approval.


Almost every character in Sudhir Mishra's foul-tongued treatise on love lust & longing during times of gang wars is stricken by a get-rich-quick itch. That bitch of an itch eats into the very core of their existence corroding their sense of propriety to the point where taking lives seems like one extended existential jokes.


We've some terribly funny moments of violence in YSZ where you shock yourself by laughing at the senseless callousness of the killings. We've these ruffians from in and around Delhi with thick Haryanvi accents (I instantly recognized that accent because I received threatening calls from one such goon for about a week four years ago) who just gun down a man and then wonder why they killed him in the 'First' place. In another funny sequence a goon is asked to kill his own brother-in-law. The goon acts scandalized but instantly pulls the trigger when the price is right.


To be or not to be bad is no more the question. Being evil is fashionably acceptable. And we aren't just talking movies. YSZ portrays a world of crusty dry cynical over-reaches. There are hardly any reposeful moments in the narration. The breakneck storytelling replicates the restlessness of the characters. With a maestro's adeptness Mishra weaves two love stories into the panoramic view of crime and corruption (with no sign of retribution and redemption).



While Irrfan Khan plays a man taken by surprise by the eruption of unconditional passion for a crooner who gives a damn about him (to begin with) Chitrangda's gold-digger act is a sophisticated variation on Vidya Balan's conniving manipulative seductress in Ishqiya. Her character has been created with a sensuous vigour that very few female parts in Hindi cinema can boast of.


But we are straying. YSZ is not a film that invites you to watch the characters' perform. It instead goes the other way spreading out the characters out in a wide unmanageable net of indeterminate purpose but definite motivations. Get rich, fast, is the magic mantra.


No one in the film illustrates the unaccountable wages of extravagant acquisitiveness better than Arunodoy Singh's character. As the tough Delhi jail-bird Kuldeep he exudes the urgent scent of self-destructive aspirations. Not surprisingly Arunodoy's character is constantly running through the crowded marketplaces and congested roads of Old Delhi pursuing his angry and defiant wife (Aditi Rao Hydari). Arunodoy furnishes this love story with a perspiration passion, a far cry from his uncomfortable presence in the shallow and empty Aisha.


Indeed the two female protagonists in YSZ occupy a space that scoffs at the preoccupation with flirtation trivia and designer labels of the ladies in Aisha. Who cares about Armani when armaan is on hold? Chitrangda plays her part of the part-time crooner full-time wealth-chaser with a robust but feminine cunning. She is a temptress and a fighter. She packs a punch into her oomph. And when she finally surrenders to the overpowering devotion of Irrfan's character she transforms into a woman with a conscience.


About time, we must say. The conscience is a scarce commodity in Sudhir Mishra's films. The characters are wild boorish misfits who probably bathe once every week, go to the temple only to steal the deity's jewellery, and think the cinema of Ram Gopal Varma is a joke. Indeed gangsterism acquires an extended sense of humour in YSZ. One wishes the film had gone easy on the expletives and profanities that flow unstoppered from the unwashed parched mouths of these people perched precariously and perversely on the precipice of doom.



Garnished with innovative music (Nishat Khan and Abhishek Ray) and camera work (Sachin Kumar Krishnan) that captures Delhi in all its eccentric quirky askew glory, YSZ has stand-out performances by Arunodoy Singh, Chitrangda Singh, Aditi Rao Hydari, Saurabh Shukla, Sushant Singh and Yashpal Sharma. But it's Irrfan Khan who leaves the deepest wound on the bloodied face of this savagely funny film. He is able to put across all the turmoil and confusions of an otherwise-hard headed man who can't understand his burst of lust-free passion for a girl of dubious means and even more dubious morals.


Yes, the narrative meanders. We often don't know what it's looking for. Just like the characters that are lost in a labyrinth of kidnapping, embezzlement, fornication and other forms of self-pleasuring. The people in Mishra's movie are virtual masturbators. They are forever seeking self-gratification through means that are quite outrageous from the outside though perfectly explicable from the perspective of the perpetrators. We can't really get close to these clowns of criminality. They are far too gone.


Yeh Saali Zindagi is like of those nightmares that you have probably seen on a feverish night. The acts of injustice perpetrated by the characters nowhere suggests that they are compelled by circumstances to act as criminals. These people just can't help being bad.


And who are we to judge them, when we so much enjoy watching their sociopathic manoeuvres?


Brutal, savage funny and violent YSZ is not for the weak-hearted. The language is so colourful that you wonder why beeps occur in the midst of torrent of abuses questioning everyone's parentage and wondering at what shape and size object would best fit into the nearest posterior.


To beep or not to beep, is definitely not the question for the characters. They couldn't be bothered less. Up yours.
BOLLYWOOD NEWS
Catch us for latest Bollywood News, New Bollywood Movies update, Box office collection, New Movies Release , Bollywood News Hindi, Entertainment News, Bollywood News Today & upcoming movies 2020 and stay updated with latest hindi movies only on Bollywood Hungama.