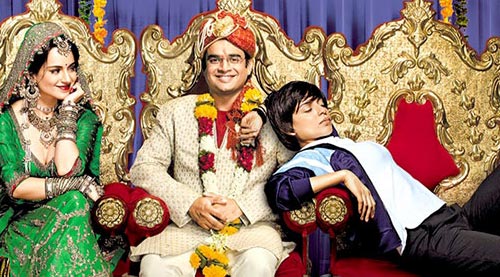 Wedding vows gone for a toss... Like wow, Man! A sequel that actually works. Rare, almost extinct. Smartly and without much ado Aanand L Rai takes his memorably wonky couple Tanu (Ranaut) and Manu (Madhavan) into a zone of uncertainties.


Be warned. Turbulent weather ahead. Unlike air journeys the wedding voyage never comes with a warning about the expiry date. The time when love goes out of the nearest window could just hit you when you are most unprepared. Tanu Weds Manu Returns (TWMR) takes us into the turbulence and terror of a stagnant marriage stripping in the process all the tragic solemnity of Basu Bhattacharya's Aavishkar.


My favourite scene of domestic discord has not Madhavan but his screen father (K K Raina, brilliant) trying to explain to his son why a marriage must be kept going even as his wife nags incessantly in the background. The violent conclusion to this sequence typifies Aanand Rai's incredibly powerful grip over the grammar of satirical drama.


Rai can shock even as we laugh our heads off.


I purposely bring up Aavishkar, as it is the only film on marital discord that captures the boredom of a couple who can't stand each other anymore. Rajesh Khanna looks contemptuously at Sharmila Tagore and says, "Before marriage I loved to see you in good clothes. Now it doesn't matter what you wear. I only like to see you out of your clothes."


Tanu and Manu's marriage is even more troubled. As they inform the shocked marriage counselors they don't have sex any more. Dammit, they don't have much mutual respect either. She puts him into a mental asylum in London and rushes back home. There begins the comedy of errors, charted in a plot which is strewn with wrecked herrings, not to be confused with red herrings, as the path that Rai charts with wry relish for his squabbling couple is strewn with shards of an irreversible damage.


And there lies the beauty of the disharmonious landscape that Rai constructs as Manu meets Tanu's lookalike Datto, a Haryanvi athlete with an accent so thick you could cut raw jackfruits with them.


Ranaut as Datto is a revelation. She plays the girl as a vulnerable bumpkin with strong values. This is a chick no one would want to mess with. She can enter an upper-class ladies' soiree and make then say sorry for being selfishly snobbish. To no one surprise Datto gets the better of Tanu in their sumptuous confrontation sequence.


But that comes much later. There is so much more happening here. There is an endearing energy to the narrative as it winds its way through crowded lanes and bazarrs of Kanpur. The ensuing chaos is simply a joy to behold because it's a raw unvarnished and never experienced before.
Aanand Rai turns the double-role concept on its head. The two Ranauts are in no way similar except that they resemble one another for the express purpose of haunting poor Manu's marital troubles with echoes of a renewed hope with voices from the past.





Rai makes the complexity of a weak dithering hero falling in love with a girl who resembles his wife, seem easy and fluent. It's a complex contrivance made accessible by the ease with which Kangna plays the two roles, as though it were two actresses and not one playing the two main female parts.


As we already know, TWMR is a bonafide sequel. All the main characters barring one are already a part of Tanu and Manu's existence from beforehand. They slip into their pre-destined parts without fuss and with the confidence of crazy but confident astronauts (astro-nuts?) who knows their way around Mars better than most earthlings.


The one new character in the film is my favourite in the film. He is a sharp but impetuous rookie lawyer who stays forcibly in Tanu family home without paying rent and quickly gets besotted by her after she returns. He is played by the very talented Mohammed Zeeshan Ayyub. It's a performance to cherish no matter how you look at it.


Not that the other actors miss even a beat in their role call. From the ever-dependable Jimmy Sheirgill and Deepak Dobriyal (reprising their earlier roles with rollicking relish) to newer entrants into the cluttered but never claustrophobic world of Tanu and Manu ...every actor adds colour and vibrancy to the drama, as does the music and the songs which are ...well, unique, for the want of a better word.


Ah, the words! Himanshu Sharma's writing is virile and edgy without ever crossing the limits of decorum. It's like listening to a song which arouses basic passions without simulating groans and moans.


A word about Madhavan's performance. It's easy to miss his reined-in excellence especially when Ranaut has a double crowd-pleasing role.Madhavan balances out the excesses in Ranaut's characterizations, irons out the rough edges. He is the voice of reason in a universe ruled by borderline bi-polarity.


Not since Lage Raho Munnabhai has a sequel asserted such superiority over its precursor. Tanu Weds Manu Returns sparkles and dazzles with its delectable synthesis of the scintillating and the sassy. With his third winner in a hat-trick of triumphant films (after Tanu Weds Manu and Raanjhanaa) Aanand Rai asserts his place among the most astute original and culturally sensitized filmmakers we have today.


So what are you waiting for? Go and see how sexy a marriage on the rocks can be.
BOLLYWOOD NEWS
Catch us for latest Bollywood News, New Bollywood Movies update, Box office collection, New Movies Release , Bollywood News Hindi, Entertainment News, Bollywood News Today & upcoming movies 2020 and stay updated with latest hindi movies only on Bollywood Hungama.