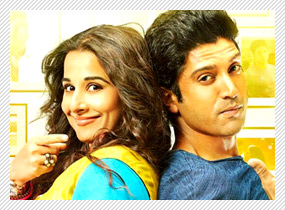 "When I do something wrong, I say sorry to my wife. When my wife does something wrong.... I say sorry to my wife." One of the gems that flow out of Farhan Akhtar's mouth while addressing the oldest question on the gender equation: What does a woman really want in a marriage? Could it be the same things as a man? Maybe the route taken by the two individuals is different?


Subhash K Jha speaks about Shaadi Ke Side Effects
Director Saket Chowdhary raises some pertinent questions on the fake road-signs that could lead to an aborted marriage. Not all of the winking homilies work. But the film holds together primarily because of the intelligent writing and the sharp and crisp way the two main actors interpret the parts of the two individuals in a marriage that has a lot going for it, including a baby girl who arrives just in time to get this 7-year delayed sequel trotting on the right road.


A lot of pre-production fine-tuning must have gone into making Farhan Akhtar and Vidya Balan look compatible together. The two actors give delectably nuanced performances without looking over-rehearsed. Seldom in recent times have I seen two actors looking so married onscreen! Farhan's Sid and Vidya's Trisha come together as a couple who desperately wish to make the marriage work. The script is written entirely from the male point of view. And if there are any doubts on the film's mildly misogynist tone then there is Farhan's voiceover to remind you, which side of marriage the script is on.


The film opens with a sequence where the pair plays a tantalizing game in a crowded pub to kindle some additional romance into their togetherness. It's a smoothly done sequence redolent with images of similar sequences we might have seen in other films on impending domestic discord. Yet there is freshness in the way Akhtar and Balan approach this sequence and their roles. A kind of lived-in familiarity with the world of the married couple yet played at a detached dispassionate pitch.


The second-half deliberately forfeits the blithe spirit in pursuit of a more penetrating perspective on marital woes. Even when the film loses a lightness of touch it nonetheless remains even-pitched preferring understatement to hysteria.


Again, a lot of the credit for the narrative's correct pitch must go to the two principal actors. Vidya looks better than ever before. Radiant and expectant as a pregnant woman in the initial scenes she glides into the zone of paranoid motherhood with plenty of panache. In the later scenes when she tries to deck herself up to rejuvenate her husband's attention Vidya reminded me of Sharmila Tagore in Basu Bhattacharya's marital drama Grihapravesh.


Sprinting as far away as possible from the world of Milkha, Farhan is every inch the harried husband here, partly man partly boy, he's looking for a boys' night out without feeling guilty about leaving the wife home with the baby.


If Ingmar Bergman, Woody Allen, Basu Chatterjee and Basu Bhattacharya were to come together to mull on that thing called marriage the resultant celluloid exposition would probably be Shaadi Ke Side Effects. Not that this cute nugget of a film proximate the excellence of any of the above filmmakers but it tries to be wispy and witty without getting unnecessarily polemical on the subject of urban marriages.


A warm, funny, thought-provoking take on the man-woman equation, director Saket Choudhary gets it bang-on. The chemistry between Farhan and Vidya crackles and hisses with tantalizing tension. Brittle and yet supple, the lead pair's chemistry irons out the film's uneven edges. I wish the peripheral characters were written and played better. Purab Kohli as the nosy neighbor (he reminded me of the role he plays in that coffee ad with Karan Johar and Deepika Padukone) and Vir Das as the boorish manifestation of Farhan's character's bachelor fantasies, offer interesting possibilities but stop short of being a support system in this drama of marital discontent.


Nope. You can't take your eyes off Farhan and Vidya. They look evenly matched and entirely yummy in their yin and yang yearnings. You do wonder why the script takes them to Australia. But then marriage does make people do strange things, right?
BOLLYWOOD NEWS - LIVE UPDATES
Catch us for latest Bollywood News, New Bollywood Movies update, Box office collection, New Movies Release , Bollywood News Hindi, Entertainment News, Bollywood Live News Today & upcoming movies 2022 and stay updated with latest hindi movies only on Bollywood Hungama.