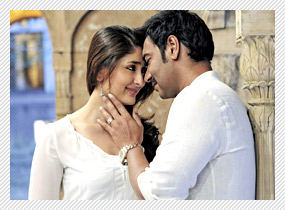 Prakash Jha's Satyagraha bears no thematic relation to any of his earlier political dramas. It is certainly not a sequel to Jha's Raajneeti, as has been reported in some wise over-informed sections of the media. And yes, it is most certainly based on the movement that Anna Hazare started against corruption. To say that Mr. Bachchan's character Dwarka Anand in Satyagraha, lovingly called Dadujee by one and all, and Dadujee's turbulent relationship with the go-getting NRI-turned-Gandhian-nationalist Maanav Raghvendra (Devgn) does not bear a resemblance to the Anna Hazare-Arvind Kejriwal equation, would be plain blindness.


What Prakash Jha and his very able astute and politically informed co-writer and long-time collaborator Anjum Rajabali have done is to collect together the thematic threads of Anna Hazare's mass anti-corruption movement and weave it into a gripping, thoughtful hard hitting and inspirational drama which contains all the resonances of a newspaper headline and is wrapped up in the semantics of cinema with as little creative violence as possible even while addressing an inherently violent issue.


From the time Prakash Jha made his intensely political drama Damul, there has been a constant strife between the director's personal political ideology and its rendition into cinematically interpreted language. Drama and emotions have always been Prakash's bête noire. In his predominantly brutal domain of inter-personal politics the human drama is played out austerely, often at the cost of squandering away the chance to draw the characters' innerscape in an elaborately-charted scheme.


In Jha's Aarakshan we had seen that trademark emotional austerity in the way he portrayed Mr. Bachchan's relationship with his screen-daughter Deepika Padukone. In Satyagraha one feels the relationship between Mr. Bachchan's character and his widowed daughter-in-law (Amrita Rao) could have gone a little further. But then Mr. Bachchan is the kind of extraordinary actor who can say so much about his character's emotional environment in the most meager playing-time. Here he has that one moment with Amrita Rao when hearing her sob in the dead of the night he goes into her room to console her... And we know the kind of deep bonding this powerful patriarch shares with his cruelly widowed Bahu. Sanjeev Kumar's and Mr. Bachchan's bonding with their screen-bahus in Sholay and Babul, respectively are immediate reference points.




There is little time for emotions in Prakash Jha's world of politics and national awakening. Dwarka Anand gets just one sequence to show how much he misses his son. It's the moment when he returns to the scene of his son's death ...The father's anguish here is palpable, throbbing with unexpressed grief. And then before we can wallow in the moment Prakash Jha's editor Santosh Mandal mercilessly tears us away from this poignant scene of a father's loss.


In my favourite sequence Mr. Bachchan shares a son-like camaraderie with Devgn's character telling him how he would miss Devgn when he leaves the next day. It is a deeply contemplative moment where the Devgn reacts to Mr. Bachchan's supple emotions with rare care and attention.


Hold on to these infrequent episodes of emotional expression in this turbulent tale of awakening the nation's conscience where there is no room for individual's self-indulgence. In fact Devgn's growing fondness for the television journalist Yasmin Ahmed (Kareena Kapoor, lighting up every frame) and the sudden burst of a acutely romantic song seems to belong to some other time-zone.


You see, there's the business of the country's future to be attended to. And who better at creating a cinema of socio-political reform than Prakash Jha? The director constantly wrenches away from his individuals' personal feelings to focus on the broader picture.


Prakash's narration gets busy with the business of swooping down on huge crowds anxious restless people looking for a way out of the country's scam-frozen destiny. It's a world built on the premise of socio-political reform that Mahatma Gandhi and Jayaprakash Narain dreamt of and Anna Hazare attempted to bring to fruition.




There is an abundance of references to mobilization of youth power through the internet and mobile. Satyagraha probes and questions the validity and motivation of any mass movement that is born out of an individual's genuine passion for reform. The pitfalls of such a mass movement are brought into play with a vinegary mixture of broad drama and subtle humour. It is no coincidence that the film's arch-villain is a politician portrayed as a kind of evil clown. Manoj Bajpai plays the scummy 'scammy' brazenly corrupt politician with lip smacking relish. His smirky villainous neta act works as a perfect foil to Mr. Bachchan's controlled never over-overdone messianic act.


Devgn in the all important role of the ambitious entrepreneur, who becomes a catalyst for social change, could have taken his character much further down the road of self-articulation. On the other hand Arjun Rampal has limited scope as a goonda turned self-appointed youth leader. He has great fun sinking his teeth into the rustic accent and boorish body-language.


While the three main actors play off with each other with supple grandeur, some of the other supporting actors and characters are played at much too broad a pitch to be effective. When a corrupt policeman takes off his uniform to join the mass movement you feel the script is teetering dangerously towards over-idealism.


But the message must be, and is, loud and clear. It is time for the nation to chase away damnation before it's too late. Prakash Jha's film is a timely wakeup warning, a massive clarion call for the conscience, brilliantly manifested in Prasoon Joshi's title song which tells us enough is enough ,and listen... getting Gandhian on the cancerous community of corrupt politicians is a symptom of cowardice.


Satygraha conveys the uncontrollable anger and energy of a nation on the brink. For telling it like it is and for creating a compelling film out of the raw material of presentday corruption, the film deserves a standing ovation.


"Your time begins now," says Mr Bachchan to the corrupt politician. A superbly sly reference to the iconic actor's Kaun Banega Crorepati. At that moment we know in a surge of clarity, why no other actor could have played the leader of the masses in Satyagraha.
BOLLYWOOD NEWS
Catch us for latest Bollywood News, New Bollywood Movies update, Box office collection, New Movies Release , Bollywood News Hindi, Entertainment News, Bollywood News Today & upcoming movies 2020 and stay updated with latest hindi movies only on Bollywood Hungama.