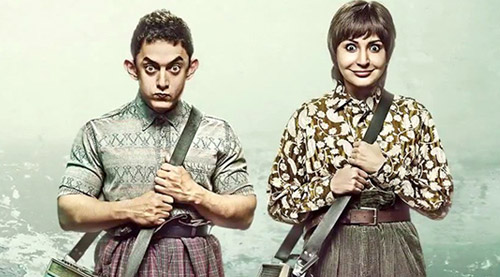 Noticed how the word God rhymes with fraud? Tired of anaemic films in 2014? Then here comes the year-end heart-warmer about the fraud that's pulled on unsuspecting humanity in the name of that overworked miracle-maker called God.


PK is a film designed to warm the cackles of the heart. And I use the word 'designed' on purpose and with emphasis. Many times you feel the aura of childlike innocence that emanates from Aamir Khan's character is deliberately manipulating our feelings by questioning the sacred cows and haloed institutions in that tone we often hear little children adopt in ads for insurance schemes.


Let's straightaway say this. Rajkumar Hirani and Abhijat Joshi's writing is smooth-skilled and sexy. Quite like what Katrina Kaif achieved in her Chikni chameli item song. You can see the words being polished and sparkled and flaunted, just like Katrina's waist line. She gyrated with her hips. Aamir does from the lips.


In his state of innocence accentuated by his Gandhiji-meets-Dr Spock ears Aamir looks as spaced out as Munnabhai on speed. And that is not an undesirable thing at all. The film requires the outsider to be chronically bewildered by all the things that we earthlings take for granted.


Why do we depend on god-men to take us to God when God is supposed to be omnipresent? This is not the first time that theological questions have been raised in a satirical film. Umesh Shukla did it with a lot of (to use a term from Haidar) - chutzpah. PK does it with a lot more tenderness. In fact the mood gets perceptibly treacly especially towards the end when our alien hero turns all moony-eyed over the television-journalist. He's in love although he thinks it's 'bhaste of time'.


The story moves forward in episodic abundance, not caring whether it would all finally come together at the end or not. Of course, it all does, effortlessly! The plot winds breezily through episodes like 'PK Meets Bhairav Singh' (cue for Sanjay Dutt to get all bovine and boisterous as a traditionally-dressed Rajasthani), 'PK Challenges Godman Tapsavi'(Saurabh Shukla plays the religious fraud without cheesy overtures)


This could well have been a television serial about an alien who delivers some down-to-earth homilies. While Aamir owns most of the narrative as though born to play the alien, the film's most tightly narrated episode is the Sushant - Anushka Indo - Pak love story. The efficacy of the relationship is substantially dependent in Sushant Singh Rajput who brings an endearing and effortless warmth to what would otherwise have been just a boyfriend's role.






Watch out for an amusing cameo appearance by Ram Sethi (the Big B's sidekick in many Prakash Mehra blockbusters) in the Sushant-Anushka episode. And yes watch out for a very prominent mention of the father and son Harivansh Rai and Amitabh Bachchan in this episode.


There are dozens of brilliant actors making fleeting appearances in what must have seemed like a god-sent opportunity to work with one of India's finest filmmakers. I wish Hirani wouldn't be so conscious of his reputation as a creative genius whose films are extended jadoo ki jhappis. Many of the benign characters in PK seem like they are spillovers from Munnabhai and 3 Idiots, making an all-out effort to be good souls.


Sadly even the brilliant Boman Irani is reduced to playing a minuscule part as Anushka's channel boss. But here's the thing. Watch Boman respond to Aamir's blatantly glorified theological arguments in their sequence together, and you realize why capable stars need brilliant supporting actors to shine on screen.


And shine, Aamir certainly does, in spite of the exaggerated Bhojpuri dialect that seems to have been put there to get applause. And yes, those crimson-red lips look like they've been designed by lipstick rather than stained by paan.


And what, pray, is that cameo by Ranbir Kapoor in the end? A signal for a sequel? Not such a bad idea.


Even though PK left me underwhelmed at times, there is no denying its utter sincerity of purpose. That feeling when you're effortlessly floating in the air. In PK director Raj Kumar Hirani makes us feel good about life. And that, in these troubled times, is not short of a miracle. Following the zany, kooky escapades of an alien PK takes us into everyday life as seen through the eyes of a gentle compassionate outsider. This is revisionist cinema at its most inspiring. It tells us, life is beautiful even when it seems to suck. Provocative and yet gentle, evocative and quite often, heartbreakingly artless, PK is just what the healers ordered after the savagery in Peshawar.


PK is all heart.
BOLLYWOOD NEWS
Catch us for latest Bollywood News, New Bollywood Movies update, Box office collection, New Movies Release , Bollywood News Hindi, Entertainment News, Bollywood News Today & upcoming movies 2020 and stay updated with latest hindi movies only on Bollywood Hungama.