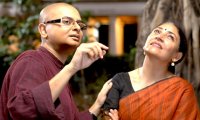 Bereavement and memories are a great high for celluloid drama. Some of the most poignant and memorable films of our times have tapped into the wounds of grief for creative juices and emerged trumps at the box-office. Think of Meena Kumari mourning for her impotent marriage in Guru Dutt's Sahib Bibi Aur Ghulam, or Supriya Choudhury's smothered screams of protest for her wasted life in Ritwick Ghatak's Meghe Dhaka Tara, or more recently, Nicole Kidman blaming the world around her for remaining normal while her own universe falls apart after her child's death in The Rabbit Hole.


Strangely it is women who render themselves effectively to the cinema of loss and bereavement. Don't men suffer when they lose someone precious? In a subtle sly way debutant director Sanjay Nag's Memories In March poses this question on gender attitude towards loss and tragedy.


In a script tenderly and delicately crafted by Rituparno Ghosh, director Sanjay Nag has a woman and a younger man locked together in the chamber of shared grief.


Memory and its deeply-reflective recollection after death are a recurrent leitmotif in Rituparno Ghosh's films. In Ghosh's Sob Charitra Kalpunik Bipasha Basu got to know and fell in love with her husband Prosenjeet after his death. In Memories In March which Ghosh has scripted, the mother discovers the dark side of her son whom she thought she was very close to after his death, quite like Jaya Bachchan in Govind Nihalani's Hazaar Chaurasi Ki Maa, though the thematic ramifications of Memories In March are emotional rather than political.


Aarti Mishra (Deepti Naval) a no-nonsense divorcee and mother from Delhi arrives in Kolkata after her only son's sudden death in a car accident, to close the account of her son's life and pick up the son's remnants that would, perhaps, serve to sustain her for the rest of her life. In Kolkata, the land of Satyajit Ray, Ritwick Ghatak and Rabindranath Tagore (not necessarily in that order) Aarti meets a gentle middleaged man Arnab (Rituparno Ghosh) who turns out to be a close friend of her son…much closer than she, the mother, would have liked them to be.



The sequence on a steep staircase where the mother is told by her dead son's affable colleague (Raima Sen,as coolly and casually competent as always) that her son was in a gay relationship with Arnab, is expertly executed to eschew tears while milking the situation for its insinuated poignancy.


Memories In March is excellent at building individual moments of crisis and catharsis between characters during a time that's stressful beyond imagination for all concerned. However the sum-total of the moments does not quite add up to that tremendous eruption of emotions that one would accept in a film about a mother's journey into her dead son's secret life.


Often the narrative holds back emotions, more to appear European in spirit than to be in character with the script. As played by Deepti Naval the mother is a portrait of restraint, breaking down just once when no one is looking in an open refrigerator (a tribute to Vijay Anand's Tere Mere Sapne where Hema Malini did a similar breakdown sequence) and that too with such furtive fury, you wonder if she's holding back the tears for a time when the camera doesn't pry.


The narrative's structure and its journey from crisis to reconciliation is so tentative you wonder if this moving portrait of a mother coming-to-terms with her son's death and dark secret about his sexuality doesn't lose out on something vital in its effort to imbue a cosmopolitan hue to the emotions.


Having said this, the detailing of the emotions and the nuances inherent in the ambience cannot be faulted. The film creates a scintillating synthesis of suburban sounds and the intangible sound of hearts shattered by unforeseen tragedy. Incidental sounds, such as children running down the stairs of the dead son's apartment block, or the old-fashioned rickety lift creaking to a start at a decisive moment in the plot, lend a workaday grace to the poignant proceedings.



The time passages seem cramped uneven and, lamentably, unconvincing. The narrative crams in the mother's bereavement, acceptance of her son's homosexuality and her bonding with his gay lover (albeit, done in endearing shades) in a fashionably condensed one-brief-moment-of-grief weekend. Again, a European affectation.


The cinematography (Soumik Haldar) and music (Debojyoti Mishra) invite attention to themselves slightly more insistently than the characters who remain suspended in muted melancholy. At times you wish to push the proceedings to a higher octave, if for no other reason then to see if these internally-suffering characters can express their pain more forcefully.


Memories In March is a ball of impenetrable anguish that implodes once in while. When it does the little shards of pain and hurt pierce your soul. The bond between two unlikely mourners who become one in their collective grief remains with you long after the last shot of a fish tank lying bereft and a voice message unattended after an irreversible tragedy.


This is a work of bridled pathos made remarkable by Deepti Naval and Rituparno Ghosh's delicately-drawn performances. If you enjoy cinema that provides emotional catharsis (a rarity in Bollywood today), this one is for you.
BOLLYWOOD NEWS
Catch us for latest Bollywood News, New Bollywood Movies update, Box office collection, New Movies Release , Bollywood News Hindi, Entertainment News, Bollywood News Today & upcoming movies 2020 and stay updated with latest hindi movies only on Bollywood Hungama.