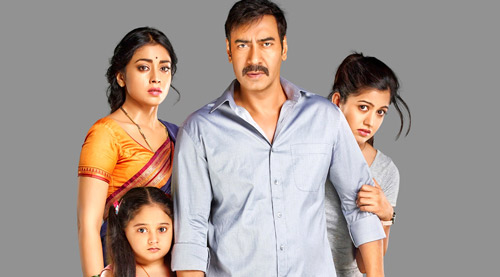 Truth, they say, has many faces. The same is true about a story about the many faces of truth. We have seen 4 versions of Drishyam, a film about how truth can be convincingly recreated on the canvas of life if the painter is persuasive, including an outstandingly enacted Tamil version Papanasam just a month ago.


Who would think the Hindi remake of the repeatedly-told story would be capable of such a resounding impact? Nishikant Kamat's Drishyam is an outright winner. It is not just a remarkably resonant remake but also a unique stand-alone experience. I saw Papanasam just a month ago and yet I was riveted to my seat as I watched Ajay Devgn playing a school drop-out with a passion for movies (in very fine form indeed) take on the law to prove it can be subverted to accommodate the guilt of an innocent crime.


Wait. Let me explain. The reason why Jeethu Joseph's original story about a messy crime in an ordinary family and an impeccable cover-up, worked was because it showed the helplessness and anguish of a happy nuclear family where a crime is committed out of sheer desperation. The editing is exceedingly clever. We see each crucial turning point in the narrative after it has occurred and impacted the characters' lives. So we are constantly searching for answers while the plot pulls another fast one on us.


It is a very sharp clever and dangerous premise because what the film does is to build a case for a perfect cover-up just because the writer feels crime is 'relative'. If someone close to you commits a crime it is your duty to go all-out to protect the victim. And never mind if the protector is 'Chautthi fail'(Class 4 drop-out), a point hammered in repeatedly as though there is a connection between an individual's educational qualification and street wisdom.


"My family is everything to me," Devgan playing the commonest Common Man of his career, tells the aggrieved parents of a boy who has been murdered in Devgn's home. As luck-and High Drama-would have it, the cheesy murder victim's mother is a powerful police office.


At interval point in true hero-wala entry, Tabu steps in to claim the role with an arrogant authority that only she can muster, and master. This is a good a time as any to say she lifts Nishikant Kamat's remake to a realm where the character's emotions are so vividly mapped on the actress' face that you cease to see Tabu. All you see is the hard-as-nails cop Meera Deshmukh. A mother first, a law-enforcer later, Tabu merges the two roles in her character into a compelling portrait of a working woman's domestic trauma.


Devgn too is marvelously underplayed-it's the only way this actor knows how to be comfortable on screen-- even in his most dramatic scenes where Meera Deshmukh's over-zealous colleague (the evil incarnate Kamlesh Sawant) tries to crack him and his family, including a little girl (tauba!) with a shower of blows.


But I wonder how Devgan's fans are going to react on seeing their Singham on the wrong side of the law, being beaten up by the bullied by a khaki-clad goon.


Kamat keeps a firm grip on the proceedings. Except for toning down Devgn and his family's interrogation torture-scenes the Hindi version of the original story pretty much remains faithful to the original, so much so that many of the fringe characters (the cocky cable-boy, the kind-hearted Catholic canteen owner, the hero's activist brother-in-law, etc) crowd the canvas in a jostling bunch. However it all comes together; thanks to the original plot which confines the crime conflict to the subtext of the family crisis without letting go off the dramatic tensions that emerge all around the family.


While the frisson between Devgn and Tabu is every bit crackling and provides a sturdy epicenter to the plot, Shriya Saran is hopelessly miscast as Devgn's wife. Rather than appear to be a devoted traumatized wife Shriya in her low-cut blouses sensuously designed dialogue delivery and full make-up, looks like the third daughter of the house. Also objectionable is the casting of a dark-complexioned physically unattractive actor as the villainous cop. About time our cinema broke out of such stereotypes, especially when the director at the helm is a sensible clutter-breaking visionary.


Nishikant Kamat knows how to use the cinematic space to tell a story that never loses its momentum. Kamat's vision of family under attack is substantially aided by Avinash Arun's cinematography. He shoots the picturesque Konkan seaside with as much of a counter-touristic passion as he shot the burning ghats of Varanasi in last week's masterpiece Masaan.


After Bahubali, Bajrangi Bhaijaan and Masaan, Drishyam is the fourth remarkable film this July. The story of an ordinary family under extraordinary stress, Kamat puts his finger on the pulse of the original Malayalam film to convert into an all-new gripping thriller.


Drishyam tells us that the lessons learnt at the movies are often applicable to real life. If only we pay attention.


Watch Drishyam closely. It may one day help you bail a dear one out of an unforeseen crisis. And to do that you don't have to be a 'chautthi fail.'
BOLLYWOOD NEWS
Catch us for latest Bollywood News, New Bollywood Movies update, Box office collection, New Movies Release , Bollywood News Hindi, Entertainment News, Bollywood News Today & upcoming movies 2020 and stay updated with latest hindi movies only on Bollywood Hungama.