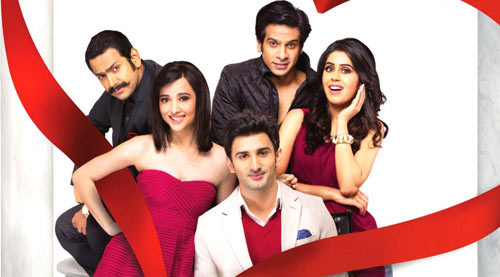 This one takes the cake as it works a clever alchemy to take away the ache . A well-intended sawach-aur-saaf-suthri comedy Badmashiyaan is a curiously content-driven rom-com with one of the most consistently wicked female protagonists I've seen in recent cinema from Bollywood or Hollywood.


Unlike the over-praised Dolly Ki Doli where Sonam Kapoor was hailed as a new-age heroine for conning her way through multiple marriages, newcomer Suzanna Mukherjee ironically named Naari in Badmashiyaan, is unabashedly amoral, money-minded to the point of being vulgar in her avarice. Suzanna plays the character with just the right doses of devilish cuteness to make Naari seductive and palatable. It is quite a debut. The actress' insouciant materialism holds the clever inventive plot together.


The men are hopelessly hooked to the deceitful damsel. The plot divides Naari's con games into three unmarked sections, the first when an unsuspecting well-meaning dude from Chandigarh Dev (Sidhant Gupta, confident and screen-friendly) falls head-over-hells for the con-woman.


In a rollicking relay race of romantic renewal the baton of romancing Naari is then passed to a quirky detective named Pinkesh(played with precocious panache by Karan Mehra).


It is really in the third romantic interlude that the plot tickles the funny bones the most when a dreaded don Jazzy (Sharib Hashmi, a delight to watch) becomes putty in the pretty con woman's hands.


The three besotted lovers' characters are intersected into unlikely junctions. The smartly written comedy (Kushal Ved Bakshi) manages to stay a few baby-steps ahead of audiences. The writing sparkles when Naari does her eyelash-batting coquettish act with her men who choose to get fooled because…well, because some believe men think with a body part other than brains when they are in love.





This premise is brought into play with immense vibrancy and surprisingly no vulgarity. Think of it. A rom-com about three guys with healthy appetites lusting after a sexy young tease. And no double meaning? The censor board must have swooned in delight.


I especially liked the sequence where Naari tries to feed a sob story about her mother stricken with cancer to Pinkesh who reminds Naari not too gently that he saw the "ill' mother dancing vigorously.


It's all done in the spirit of a buoyant but clean bordello humour. Not all of it works. At the start there is a horribly mis-constructed bank-robbery sequence with a female actor hamming so hard you fear for the narrative's wellbeing. After a false start director Amit Khanna picks up the threads of the plot and weaves them nimbly into the lives of his characters, all of whom are much less 'cool' than they'd like to believe.


Badmashiyaan conveys a pleasant in-through-the-out-door feeling. The film is set in Chandigarh and delivers some priceless barbs at the city's expensive. A wannabe groom wants to know why so many girls from Chandigarh are named Pooja or Neha, why they are fans of Shah Rukh Khan and why they end up becoming dress designers.


Badmashiyaan revels in an innocuous irreverence. It's an original and frequently funny comedy of ongoing errors where various characters including a wholesome conscience-stricken girl (Gunjan Malhotra) , a hilariously over-the-top Sardarji and a clueless gangster's right-hand-man (played with fantastic fervor by Nitin Goswami) meet and collide creative a crackling hissing humour. Most of all, the female protagonist is wickedly duplicitous to the last. Talented new actors who know how to juice funny scenes for all they are worth make this a warmly welcome comedy.
BOLLYWOOD NEWS - LIVE UPDATES
Catch us for latest Bollywood News, New Bollywood Movies update, Box office collection, New Movies Release , Bollywood News Hindi, Entertainment News, Bollywood Live News Today & Upcoming Movies 2023 and stay updated with latest hindi movies only on Bollywood Hungama.