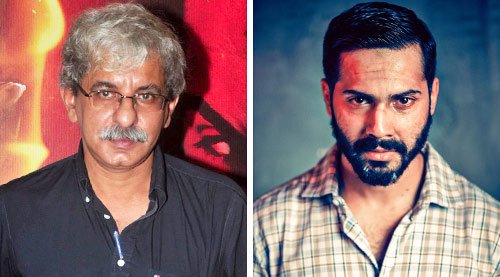 He's got a twisted mind, cinematically, that is. And he admits that crime is in the Raghavan blood!

Sriram Raghavan kills it whenever he decides on a gray or negative protagonist - Urmila Matondkar in Ek Hasina Thi, and Neil Nitin Mukesh in Johnny Gaddaar are

sparkling examples of how he knits a chilling, suspenseful yarn. If the twist in his tales is honed by a lot of Agatha Christie and James Hadley Chase et al from childhood, the dark

edge comes from both Chase and 'chase'-ing up with all the global literature and cinema on his supreme addiction - crime.

Sriram's beginnings in the profession are remarkable: he started off directing the television show C.I.D. , then written by his crime-stuck younger brother Shridhar Raghavan. He

then made a dark documentary on serial killer Raman Raghav, which led Ram Gopal Varma to offer him his debut directorial, Ek Hasina Thi. Sriram deconstructs his approach in

an interview just before the release of his newest revenge-athon, Badlapur.

Your hero, Varun Dhawan, tells us that you mentioned Vijay Anand almost every day.
(Laughs) Yes, I did. I am sure Varun Dhawan must be familiar with his films too, you

know, as his father David-saab is a great fan of Vijay Anand. I too have grown up on his thriller cinema, like Johny Mera Naam, Teesri Manzil and Jewel Thief besides

other films like Guide. His films had great glamour and refined technique. Though successful, he was underrated, and I have studied his films. But I also made Varun watch a lot of

foreign films like 21 Games and Dead Man Walking.

From where does the family addiction to crime spring?
(Laughs) Yes, Shridhar and I have an elder brother who is a

corporate guy but shares our love for crime stories! We were brought up on detective stuff and I never read the Mills & Boon kind of novels. Maybe it has something to do with our past

births!

So why Badlapur?
When Agent Vinod did not do well, I was feeling quite

down for months. I spent my time reading a lot of books and surfing the 'Net, and then came across an account of someone in Europe who had spent many years in jail. He had lost his

wife and child when young. This was a story that had universal appeal. I thought, "What if you want to restart your life but cannot?" And that's how Badlapur was born. Here was

this guy, broken, who left his city and lived like a loner in a small town, always wanted revenge, but got his chance only after 15 years.

Gradually, when he sets about it, we come to a point where we ask ourselves: 'Do I agree with what he is doing?' We think of justice, victim and oppressor, and finally about how many

lives are changed by that one incident after so many years.
We hear that you were not keen on Varun Dhawan as the
protagonist. So why did you choose him?
Actually, Varun Dhawan was the first actor we met, and I went by his enthusiasm. I knew about him, but had never watched his Student Of The Year, as that kind of film is not
my cup of tea. So I had never thought of him, that's all.
But when we met, Varun never said, 'I am doing all these positive roles, so why are you offering me this?' or something to the effect that he was a new star and would like to play safe.
What clinched the matter was his only question to me: 'Do you think I can do it?'
Still, I told him to think about it and come back to me. His father was my FTII (Film & Television Institute of India) senior and I did not want him telling me that I had ruined his son's
career! But once and for all, Varun Dhawan broke the "safe" tag. It is a bold choice for him. If it works, it will give him confidence to do bolder roles. Do you know that - except in the
flashback - he smiles only once in the movie? The grief, anger and pain are eating him from inside. And Varun speaks so much with his eyes. The hardest thing for an actor is to do
nothing! And he has done it, shown so much growth.
We hear that Varun went so deep into his character that he was psychologically affected.
Well, we did workshops together. I told him that I had lost my father many years
back and how I coped with it. I told him that someone's breakdown may come four days later, and explained how different people dealt with loss.
But what I came to know later was that Varun Dhawan would actually go and talk to people who had lost someone and psyche himself! I thought that he was doing some research into
all the aspects of his character, but he seemed to change and become what he is playing in my film!
This was fine as long as he was on sets, but he carried that home too and his parents told me that he was talking strange things there! He had truly psyched himself! Thankfully, I think,
ABCD 2 has got him out of it.
And why Nawazuddin Siddiqui?
Not only Nawazuddin, but even the women in my film - Huma
Qureshi and Divya Dutta - have well-defined characters. Of course, I had told Yammi that in my kind of storytelling, she would be bumped off in the first five minutes itself and not at
interval point! (Laughs) Nawaz had seen my documentary on the character study of Raman Raghav and loved it. Nawaz is one of those artistes who go beyond the script and
brief with what they come up while shooting. He was always improvising and Varun and he were bouncing off each other as actors, which was great.
What are your expectations from this film?
I am not here to design super-hits, but a producer getting his money back is important. For me it is about trying to make a good
film. Badlapur does have entertainment but is a mature kind of drama. It is not an action film like Ghayal. I would like viewers to come on time, watch the beginning and
then be a little attentive to the movie!
Why have you never made a hit?
My first two films were loved on video later. Agent
Vinod was the only film that made some money, but it hurt the most. We do many wrong things for the right reason in films, but I did not get away with them! For example, I had
the mujra filmed on Kareena Kapoor Khan just because she was my heroine. It should have been ideally done by someone else, script-wise!
I would have liked to make a franchise had the film turned out well, even at the box-office. I would still want to make a good spy film with Saif Ali Khan.
Would you like to make lighter films?
If I make a love story, I would definitely do some locha
on that!
What next?
I am making a film based on Vikas Swarup's Accidental
Apprentice with a top leading lady. I intend to fine-tune the script now. But I take time as a filmmaker, which I am promising myself to change. Recently, Kamal Haasan told me,
"Ahh! You have found the secret!" When I asked him what he was talking about, he quipped, "Of how to live for 200 years! That's why you make films so slowly."
BOLLYWOOD NEWS
Catch us for latest Bollywood News, New Bollywood Movies update, Box office collection, New Movies Release , Bollywood News Hindi, Entertainment News, Bollywood News Today & upcoming movies 2020 and stay updated with latest hindi movies only on Bollywood Hungama.