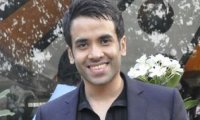 I'm not entirely sure how to describe Tusshar Kapoor, taking into consideration I have met him a good dozen or more times. He is mysterious. He talks less, thinks more and delivers the most when it comes to his performance in films. But one thing's sure; Tussh (as we lovingly call him) is an actor who thrives outside his comfort zone. For a change, he has called me to his palatial bungalow. It's Sunday and comfort is the first thing on his mind. A couple of security guards let me in where my eyes spot the latest Jaguar having its bath. It shines brighter than the 'kohinoor'. Immediately a short looking man comes and lets me know that he has informed Tusshar of my arrival and I am escorted to the 'trophy' room (that's what I call), a room filled with Jeetuji's (Jeetendra) silver and golden jubilee awards from his two dozen or more films. I smile and ponder - They've stopped making them anymore. Why? Coz they've stopped making such films anymore. The room has some beautiful memories and in no time I am taken into the mesmerising 80s and 90s era. As I flip through the magazines in the room...in a flash walks in Tusshar. Dressed in his tracks and jumper, Tussh looked like the perfect Sunday laid back man near the pool side. His career is like many of those of Bollywood's most charismatic and influential actors. Their history begins by cutting their teeth through media that use their most easily identifiable assets then parlays that success to its maximum, which for Tusshar is his willingness to go with the flow and play comic roles. However, the time is right and the time has come for the actor to burst the troubling bubble of being typecast by the image that made him famous in the first place. So when we look at films like Khakee, Shoot Out At Lokhandwala and his forthcoming film Shor In The City, you get to see an actor with a vast repertoire of versatility which still lingers somewhere in the inner self of Tussh. For an actor who is known the world over for his brilliant portrayal of a mute guy in Golmaal series is now ready to make some noise with Shor. Isn't that ironic? Well, I'd like to believe that an actor is a term that describes the one who continuously pushes himself and his art deeper and deeper with lots of fanfare and a driving commitment to the truth. Or to put it more simply, Tusshar Kapoor. UK's Harrow Observer columnist and Bollywood Hungama's London correspondent meets two contradicting Tusshar's: shy, circumspect, quiet Tusshar, and gregarious, up-for-anything, loud Tusshar. He's been careful to display both, but I'll go with the latter. It's Shor time folks!


Har taraf hai yeh SHOR...


Shor is an emerging genre. It's not your regular masala comedy or a masala action film. It's everything but at the same time it's alternative cinema at its best. LSD was a commercial film but at the same time was Avant Garde and niche. Shor will probably break grounds on similar levels and if it works then it's going to be path-breaking too. Shor can't be put into any genre but it's still commercial.


SHOR sharaaba


My look in Shor is very messy and grunge. I was given the description of it by my directors. I didn't research on it. I met them a lot of times to discuss how real are they planning to go with my look and the film in general, and they gave me movies like City of God, etc. They wanted to aim at that kind of reality, that is entertaining and at the same time, it should be very hard hitting. That's how they were looking at my performance. It had to be a mix of subtle and loud.


SHOR pasand aarela hai baap!


I read the script a couple of times. I didn't get much time to rehearse and so I used to do it in front of the mirror when I was shooting in Goa. I came on the sets of Shor with a preparation like this. So I hope it turns out good for our audiences. The overseas reviews have been good on the net and now it has to work in India. I'm sure it will because so far so good, the first look and the promos have been getting good feedback.


Nikhil ka SHOR...


Nikhil Dwivedi is a good friend and we really hit it off. He and I are together in one of the stories of the film in the same track. What's common between us is passion for cinema and a few friends. Now there is a rumour that he isn't happy because the Indian posters don't really have him prominently. But I guess he has to realise that when the film was released in the overseas, it was Sendhil who was prominent and not me. Because he is a friend, I am sure anyone would get a bit upset about it but now I'm sure things are under control. Forget the posters, he has done a good job in the film and people will take notice of that.


Zyaada SHOR kiya toh 'kaat' daalega!


The Indian edit is a little bit different than the edit we had for the overseas release. There are some changes in the end of the film we've made for Indian theatrical. There's a little more humour added and we have reshot a few scenes to go in the film. It's more Bollywood-ish edit. We haven't tweaked the genre or the film in totality. Actually, no one can. But a little bit of a touch up was needed keeping in mind our Indian audiences. Shor isn't episodic. Three stories run parallel but they don't connect. All three bring out the essence of Mumbai. There are characters that are common in all three stories but the stories don't connect in any way.


Ab toh Twitter pe bhi SHOR machne laga !


Of course I promote my films on Twitter. I try and get reactions on Twitter through the various comments and replies. I sometimes do share those reactions with my producers and directors. It's weird but there is a readymade audience of Love U…Mr. Kalakaar that keeps asking me about that film. Guess the Rajshree Productions fan following and Amrita Rao's fan following hasn't diminished. Shor is getting some great feedback on Twitter too.


Do log sabse zyaada SHOR machaya - Raj aur DK.


The music of Shor is entirely in the background. Shor's music is grunge. There is one romantic track in the film that is very soothing. My directors of Shor, Raj Nidimoru and Krishna DK have got out a very subtle performance which is filled with zest and realism. They don't want to do anything filmy. That's the reason they have an edge over mainstream directors. These two are really sure and clear in what they want and keep in normal. They aren't loud. They don't make too much Shor about it (laughs).


S matlab SHOR...Woh bolte hai naa...USP!


Everything about the film is good. The direction, the acting, the edit, the score, etc. But what will really make this film work is the noise it creates, the Shor it creates. There has to be a lot of buzz for such films. Appreciation is what is going to help this film. I am hoping the reviews of Shor will be good because it's an honest and a real take on a cutting edge cinema. That's the USP. The genre is its USP.


Thoda love-shuv or SHOR...sab mangta.


If people perceive Shor as just being a niche new wave film or an alternative film, it will not work. It has to be all this with a hint of romance, comedy and emotions. There has to be thrills, frills and chills and that's what will make Shor work. Shor falls under the category of No One Killed Jessica, LSD, etc. Shor isn't an underworld film that only highlights the dark side. Shor brings out the entire colour of Mumbai. You won't only expect a Satya or a Shoot Out At Lokhandwala setting. Shor is Mumbai in its entirety. Shor is colourful and dark and much more.
BOLLYWOOD NEWS
Catch us for latest Bollywood News, New Bollywood Movies update, Box office collection, New Movies Release , Bollywood News Hindi, Entertainment News, Bollywood News Today & upcoming movies 2020 and stay updated with latest hindi movies only on Bollywood Hungama.