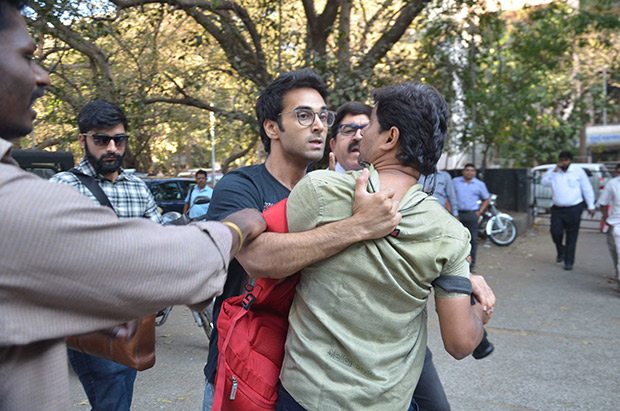 Even though Pulkit Samrat may not have a career to boast about, he has managed to keep himself afloat by doing one or two films every now and then. Even the last few films of his did not meet up with the expected results at the Box-Office. Besides his professional life, even his personal life was not looking great, as the rumours about his break up with his wife Shweta Rohira (Salman Khan's rakhi sister) started surfacing. Post that, Pulkit Samrat and Shweta Rohira parted ways in early last year. Shweta Rohira repeatedly blamed Pulkit Samrat's closeness to Yami Gautam for their separation.
Yesterday, Pulkit Samrat and Shweta Rohira had been to the Bandra Family Court to file their divorce papers. While coming out, when Pulkit Samrat saw the media outside and the photographers, he lost his cool. In a fit of rage, Pulkit Samrat reportedly ran towards the photographers and shouted "Who told you about this?" And even before the photographers could speak, Pulkit Samrat allegedly started punching the photographers present there. Not the one to stop at that, Pulkit Samrat even grabbed a camera from one of the photographers named Santosh Nagarkar and smashed it on the ground. If that wasn't enough, Pulkit Samrat's lawyers even allegedly threatened the photographers present there by telling that they won't be able to click photographs anymore. Sources in the know say that, since Pulkit Samrat wanted the divorce process to be a secret affair, he lost his cool when he saw the media and the photographers.
Speaking to a leading tabloid, Santosh Nagarkar said that, after being inside the court for over three hours, Pulkit Samrat and Shweta Rohira arrived together at around 1 pm. And, while leaving, Pulkit Samrat had attempted to run so as to avoid the cameras. And, when they chased him, he not just threatened them, but also grabbed him by the collar. Santosh Nagarkar added that, Pulkit Samrat's security guards and lawyer also punched them. Pulkit Samrat, on the other hand, reasoned the scuffle stating that the photographer had pushed his uncle and him, and was also recording it. And when he requested him to let them pass, the said photographer refused to give way.
Meanwhile, Shweta Rohira, said that, she had left the venue before all this happened. She added that when the photographers clicked her snapshots, she didn't stop them. When asked about the divorce, Shweta Rohira explained that she was karmically divorced long ago and that going to court was a technical exercise, only for the paperwork. She added that, while she had put a full stop to one chapter of her life, she now wanted to begin everything afresh.
Pulkit Samrat, who had got married to Shweta Rohira in 2014, was not new to controversies. Earlier as well, Pulkit Samrat made headlines for the wrong reasons when he reportedly smashed a Maharaja chair in the hotel where he was put up during the promotions of one of his films. After smashing the hotel furniture, he had reportedly asked the hotel authorities to get the damage of Rs 50,000 reimbursed by the producers.