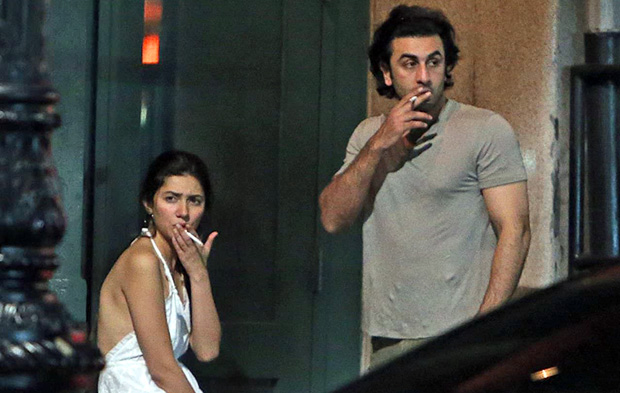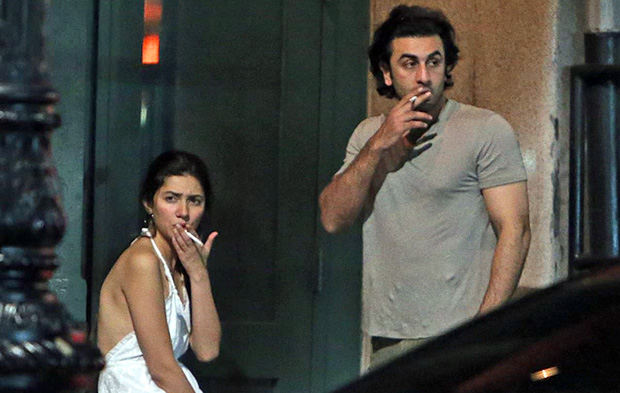 Just a day ago, photographs of Ranbir Kapoor and Pakistani actress Mahira Khan spread like wildfire and pretty much broke the internet. The two of them were hanging out in New York City and having a conversation over a smoke. The speculations around Ranbir Kapoor and Mahira Khan dating began when they met in March this year at the Global Teacher Prize Ceremony in Dubai. They were the guests and walked the red carpet together.
On Friday, after their photographs went viral on social media, the Pakistani actress Mahira Khan was subjected to slut-shaming over her backless dress and smoking with Ranbir Kapoor. Mahira was wearing a backless white summer dress while hanging out with Ranbir outside a restaurant.
Reacting to this, Pakistani fans went crazy seeing Mahira Khan smoking in public and wearing a 'provocative' backless dress. The fans were quick to express their displeasure and slut-shamed Mahira Khan for the same. Not only did they slut shame her, trolls judged her character for choosing to smoke.
mahira khan totally ruined her decent image with this. so disappointed.

— ... (@beinghoor) September 21, 2017
I actually feel sorry for her. She looks lost & misguided. And no one will let her live this one down.Fallen from grace & hard???? #MahiraKhan pic.twitter.com/7cfEdJ8bRF

— Pebbles Fish (@chintuandbunty) September 21, 2017
Mahira Khan is so fucking overrated and annoying.

— Bitter (@War_Scented) September 21, 2017
#MahiraKhan
Hence proved! Showbiz, eventually, leads 2 obsenity;takes ur decency & conscience
Aspirants, luk 4 other professions. It's dirty

— Hadi Ahmad (@MrHadiAhmad) September 22, 2017
I feel sorry for Mahira Khan! Only one question: Are u a Muslim?@TheMahiraKhan #Muharram pic.twitter.com/NCm52vu0Ke

— M Hassan Khan (@mhassan4468) September 22, 2017
sory but how are u representing an islamic country infront of a non muslim country shame on u???????? pic.twitter.com/ga5Q1Zqhe1

— hamza khan (@hamzakh36816565) September 22, 2017
Mahira Khan looks like a proper hoe in those pictures tbh.

— نایاب (@Nayyyab) September 21, 2017

Well, soon after, Pakistani actors like Ali Zafar, Humaima Malik and Osman Khalid Butt stepped in support of their fellow colleague and friend Mahira Khan. Ali Zafar, who has worked in several Bollywood films, wrote a note bashing the people who shamed Mahira for her choice of clothing. He said that every woman has the right to do her own thing as long as she isn't hurting anyone.
@TheMahiraKhan pic.twitter.com/N9Uiw6yyip

— Ali Zafar (@AliZafarsays) September 22, 2017

Osman Khlid Butt, who has worked with Mahira Khan before, recreated those NYC leaked pictures with his friends to mock the trolls. He came in support of his friend and called out the trolls for their perverted comments.
'SHOCKING: Behaya male actor cigarette-noshi kartay huay pakray gaye - sharmnaak manazir'.. said NO ONE EVER.
F*** your double standards. pic.twitter.com/t91Owh1D1i

— Osman Khalid Butt (@aClockworkObi) September 22, 2017
More power to all artist and girl every @TheMahiraKhan live your life your way

— HUMAIMA MALICK (@HumaimaMalick) September 22, 2017
Jesus. Can we please give @TheMahiraKhan a break?! Why are we so quick to judge and attack?! Esp if it's a woman in question. It's her life!

— Momina Mustehsan (@MominaMustehsan) September 21, 2017
Im assuming those bashing @TheMahiraKhan are saints & would happily put every moment of their lives up for scrutiny. To each their own guys!

— Momina Mustehsan (@MominaMustehsan) September 22, 2017