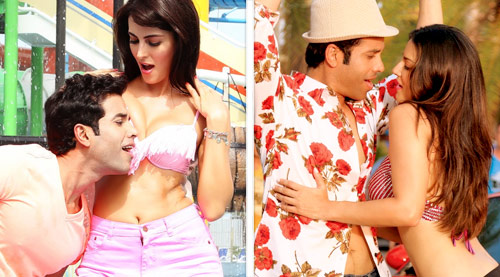 Unlike other years, 2016 kick started with two back to back sex comedies - one which was a triquel to a hit franchise Kyaa Kool Hain Hum 3 and the other,
Mastizaade that starred Bollywood's sexy lady Sunny Leone in a double role for the first time. However, none of the films garnered the responses as expected and both turned out to be duds.
The box office collections of the two films definitely got many including us wondering if the genre of sex comedies is facing a threat courtesy, taboos, censors and audience's changing taste among
others.


Talking to some trade experts, we tried to analyze if the genre of sex comedy will see a brighter future or will it fade away with time. It is a well-known fact that this genre is not for
children or anyone below18 years of age. That in itself makes it niche that is appealing to only certain spectrum of audiences. "Audiences are very limited for such genre restricted to mass and
youth catering to age group of 20-30 years, skewed towards male audience largely," says Suniel Wadhwa, independent distributor and box-office analyst. His emphasis on the word 'male' is probably
because several jokes that are directed towards women often aren't received well especially considering the current situation that focuses on feminism and women empowerment. And that at times, can
obviously affect the audience's response towards the film and subsequently also the collections.


But the situation isn't as simple as that. Starting with the fact that only a handful of producers are delving on the idea of making sex comedies to stringent censorship such as removing scenes and
beeping cuss words, the films continue to face hurdles, including delay at times. For example, Mastizaade makers had to undergo more than one Censor meeting in order to get the film
certified, courtesy its bold content that the board found offensive, vulgar and too explicit. Talking about censors posing to be a huge problem in India, Suniel Wadhwa continues, "Censorship issues
need to be resolved with unity of all producers as it is a big issue in a democratic country like India where there is a need to change the censorship rules and regulations with new system of
rating like other countries." What further add to the woes are the stark differences between digital trailers and the film after the official release. Several scenes, words and actions are often
edited or altered as per censor requirements. While the digital trailer is often a way to woo audiences to theatres, the actual movie has this kind of content either discarded or modified. This
makes the audience feel cheated and thereby affects the movie business overall. Confirming the same, Mr. Wadhwa adds, "Digital trailers that are shown are the uncensored versions which are just to
tease the audience. Most of the scenes are censored when shown in theatres. But natural if the audience does not get what they see on these digital trailers on streaming platforms, they will get
disappointed. Now the question is why they didn't turn up on the opening day? Audiences today are aware about the film before-hand. As with the contemporary censorship rules and regulations,
audiences too are becoming media savvy. With every film, audience does take notice to trailers played on digital platforms and they are aware that most of the scenes won't be a part of the film
that will be shown in theatres due to which you will see a massive difference between the expectations and the actual performance at box office."


Having said that, we have also had sex comedies that have ruled the box office and one amongst them is Grand Masti. This sleeper hit not only made its way to the 100 crore club but has set a
benchmark to several others. But both the films that released in January 2016 could not even live up to half of the expectations and to a lot of extent, we believe that content too is responsible.
Taran Adarsh, renowned trade analyst insists that content is truly the king and the fact that we should never underestimate our audience's intelligence. Adding forceful humour and in the face sex
jokes without a script to support it will only lead to failure. Maintaining the fact that script is truly the hero of any film, Taran Adarsh says, "There has to be a plotline (for a film). Just
titillation or skin show won't work. The fun element has to be there but should be complimented by a strong plot - one that can justify the skin show and double meaning jokes." Talking about the
era of Dada Kondke days, Taran adds, "I have reviewed his films. It always had a storyline. His movies were laced with double meanings but they have worked." Agreeing to it is also Suniel Wadhwa
who is of the opinion that the filmmakers need to be more creative, "Creatively they need to be more content oriented adding good sense of humour and not add forceful gags." Repetitive jokes,
bikini clad women, using weird names are often put offs for audiences for whom it seems to be a done-to-death formula. We believe that despite belonging to the same franchise, the varied
installments of the series lack innovation that is the key to any film's success. "We are trying to present the same thing in a different bottle every time," says Taran Adarsh.


It isn't easy to breakthrough the commercial market of Bollywood, especially for sex comedies that lack the required star value. No big production houses or stars are associated with these films,
probably out of the fear of their image being tarnished in a way and hence, it is even more important for such films to weave a path of their own and leave the rest to destiny. We have a few
exceptions like Delhi Belly, which was produced by superstar Aamir Khan and it starred his nephew Imran Khan, who had then attempted something offbeat from his commercialized chocolate boy
image. But that hasn't done any wonders to the genre. While many franchises are continued with the same faces as their stars, most of these films do not even have a large production house's name
associated with it. "None of the top notch studios would like to get into zone of making sex comedies genre. Delhi Belly was very different, creatively and content wise which drove the
audience to theatres and it made enough box office collections so it can take care of cost of investment." However, denying that, Taran Adarsh shares a different opinion wherein he asserts that
films like Kyaa Kool Hain Hum (Part 1) and Grand Masti which have worked well was never associated with big stars yet managed to act as a crowd puller.


On the other hand, despite having been associated with such big names, Delhi Belly had to face several issues too when it came to its television premiere. With several censor meetings, cuts
and beeps, the film took over couple of years for its small screen debut. The sex comedy films in general face several restrictions when it comes to its satellite rights considering their adult
nature. Taran Adarsh too approved of the fact that these films have certain limitations when it comes to their satellite rights. Many a times, considering the tedious process of the censorship, the
film often gets stranded in the process of its television premiere that results in years of delay before it is finally aired on the small screen. Add to that the potential bans in several countries
that will follow leading to the dim chances of the film's survival overseas only leads to further financial crisis for producers who prefer to then stay away from exploring the genre of sex
comedies. Voicing out a similar opinion, Suniel Wadhwa states, "Generally as a thumb rule, to recover cost of investment on any film, it is divided between different revenue streams of monetization
but in case of sex genre comedies or erotic thrillers, contribution from domestic theatrical goes up to 80 percent. Other revenue streams normally pose as a hindrance. For satellite rights, they
are not friendly for universal audience. On the other hand, overseas too is limited as there are chances that it may face ban in countries like Gulf and Pakistan. In the past some films have worked
well at the box office but that doesn't mean that every sequel in the sex comedy genre will work. It has to have good content to entertain the audience. So with limited potential at the box office,
the future of sex comedies looks bleak."


Starting off as an experiment to break away from stereotypes and taboos, the sex comedy genre in Bollywood definitely has seen an upward graph over the years. Considering the current trend of a
generation that is way ahead in its thought process that is inspired by modernization and globalization, we believe sex comedy too has an audience. However, the current condition of the genre has
become stagnant owing to lack of innovation and stringent rules of censors. A liberal perception, experimentation and pushing the envelope further are probably the key factors that can help lift up
this interesting genre of humour or else it is time to see the downfall of yet another era of rib tickling content.
BOLLYWOOD NEWS
Catch us for latest Bollywood News, New Bollywood Movies update, Box office collection, New Movies Release , Bollywood News Hindi, Entertainment News, Bollywood News Today & upcoming movies 2020 and stay updated with latest hindi movies only on Bollywood Hungama.