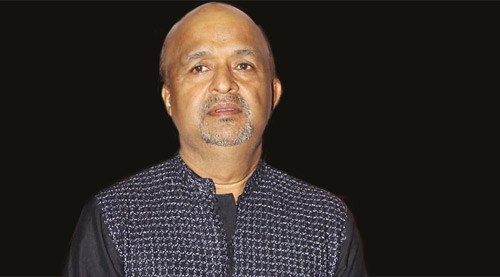 Sameer Anjaan took off in 1983 with two songs in Usha Khanna's Bekhabar. Little did this son of top name lyricist Anjaan know then that he would have such long innings
Sameer Anjaan: A long track 'record'
in cinema. On Decmeber 15, 2015, the Guinness Book of World Records officially accredited him with an entry in a new category specially created- 'Bollywood's Most Prolific Lyricist'-after
confirming that he had written 3524 songs in 650 films! Incidentally, just ten weeks later, when they felicitated him, the number had risen to 3539 in "over 650 films"-and that did not include his
non-Hindi film work. Yes, Sameer Anjaan has done over 25 Bhojpuri films and over 30 non-film albums.


The Classic struggle


A Masters degree in Commerce was enough to convince the lyricist's father that his son was destined for higher things than struggling in the industry and facing the same difficult times Anjaan did
before he hit it big in the mid-'70s. He told composer Chitragupta (father of Anand-Milind) to tell his son (when Sameer first came down to Mumbai from hometown Varanasi to work as lyricist against
his father's wishes) that his songs "would not work in the film industry".


The veteran composer heard Sameer's work and refused to discourage him! When an upset Anjaan asked Chitragupta the reason, the composer, known to encourage new talents and speak highly about them,
stated, "I read his work. What if he becomes more successful than you?" The mollified father accepted this and in his lifetime, saw his son reach those heights that he never did, with blockbusters
like Dil, Aashiqui, Saajan, Beta and many more.


From here, a determined Sameer began his struggle, staying apart and refusing monetary help from his father, to classically move up the hard way. Composers speak about his sheer tenacity, and about
his walking the by-lanes of Juhu to meet filmmakers, the same Mumbai neighborhood where his top-rung lyricist father would be having sittings with the biggest composers and filmmakers! Finally,
from the mid-'80s came the time when he accompanied his father to sittings, to learn the practical ropes, and in some films managed to get a song or two.


The Guinness Record


The lyricist respectfully talks about how minutely the Guinness Book people ratified his work. "It was Vishwas Nerurkar, who keeps track of the works of so many music people, who first intimated to
me that I had crossed Anand Bakshi-saab's record and had written the maximum songs. I did not know how to approach the Guinness people, which was his suggestion. Then, my manager Aslam went to
visit them in their Dubai office and argued with them that they should start a new category. They finally agreed to do so if they were satisfied with the veracity of what we claimed. In December
2015, the Guinness Book's India representative contacted me and said that my entry had been approved."


Happy with the honour, Sameer Anjaan (who added his father's name to his name some years ago) says that any such distinction makes him want to work harder. "I have been lucky to get to work with
multiple generations of composers. Chitragupta-ji also supported me when he was ruling in Bhojpuri films. Laxmikant-Pyarelal and Bappi Lahiri also gave me good work. I did my maximum number
of films with Anand-Milind, Nadeem-Shravan, Anu Malik and Himesh Reshammiya, but I have worked in all with 105 composers!"


Add almost all the big filmmakers from B.R. Chopra to R. Balki and Remo D'Souza, every top star (including the debut films of Ranbir Kapoor, Shahid Kapoor, Bipasha Basu, Katrina Kaif and Sonam
Kapoor) and every singer in the business from Lata Mangeshkar and Kishore Kumar to the newest names, and we get an idea of Sameer's sweep.


Though not the busybee he was from 1990 till about 2008, Sameer is occupied even now ("though I cannot ask around for work at this stage"). Ishq Forever last week, Rhythm this week
and Tera Surroor to come are among his newest releases. "An American corporate company has signed me as their Indian president and we are making a film called Iraada starring
Naseeruddin Shah and Arshad Warsi. The music is by singer Neeraj Shridhar," he smiles.


His other assignments are two films with singer Shaan and his partner Gourav Dasgupta as composers, including vGreat Grand Masti. Coming up also is Julie 2 with music by Viju Shah.



What are his views on the current music scene?


"Whenever a new generation comes in, there is confusion and instability in music for a while," he says candidly. "Then, gradually, everything settles down. It happened in the late '40s, the '70s
and when we came in as well. This time, the picture will take a while to clear, even if melody will always rule. Because we are seeing a digital era now and there is a shift in the way in which
songs are used, created and heard. There is also a global impact in our music and on films. There is some confusion in approach, in trying to understand what works. We are into singles now, and
while the future will be monetarily sound, it will take time to find a balance. Finally, everything may boil down to music consumption on mobile!"


One current habit that the lyricist feels should be discontinued is the way songs in a film are doled out to different composers and lyricists."It's becoming a kind of system now," he notes. "But
this way it is more about songs filling in the blanks. No one takes responsibility for the film and the story as a whole. It also generates a belief that no composer or writer is capable of
handling a full film."


But is not that largely true? "If it is, then they should sign us older generation of music makers and poets!" he smiles. "Yes, there is this fixed mindset that we are old generation and cannot
deliver, which is not true at all. Look at Anu Malik and Dum Laga Ke Haisha, which even won an award recently."


The hit songs that Sameer has written in films as assorted as Rowdy Rathore, F.A.L.T.U,, Khiladi 786 and many more are further proof that the writer keeps in sync with the times. "Still, the
myth spreads as 'Out of sight, out of mind'," he smiles wryly.


What is his opinion about the current hot lyricists? "There are some writers who I call 'song-sellers', who may not be even writing all the songs they peddle," he says frankly. "Then there are
people like Irshad Kamil and Amitabh Bhattacharya who essentially know their jobs. But they have to prove that they can sustain."


A general tendency that the veteran decries is about writers taking themselves so seriously that they subconsciously want to be someone else. "We may idolize Anand Bakshi, Majrooh Sultanpuri, Sahir
Ludhianvi or even Gulzar, but we must not try to be what they were as writers, because their writing was a part of their personalities and suited only them! From them, it was original, but if we
ape them, we cannot really reach anywhere!"


Touche! But what would be his tips to new lyricists? "I want to tell them that the film industry is like a ruthless centre for a tough examination! This isn't a place that you enter unprepared. And
only relentless hard work and grit can keep you here. Bakshi-saab said that he struggle to make it was nothing compared to the struggle after success comes. That's when you have to
sustain, fight back, hold your own and survive all the odds, including the arrival of new people in your field."
BOLLYWOOD NEWS - LIVE UPDATES
Catch us for latest Bollywood News, New Bollywood Movies update, Box office collection, New Movies Release , Bollywood News Hindi, Entertainment News, Bollywood Live News Today & upcoming movies 2022 and stay updated with latest hindi movies only on Bollywood Hungama.