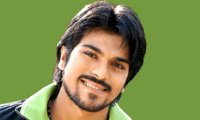 Ramcharan talks about his wedding preparations and more
So the Big Day is around the corner?
Yup, I can't tell you what it is like. My wife Upaasna-she is already my wife in my mind and heart-and I are partying and attending poojas every
night and catching up on some sleep during the day.
When and where is the wedding?
Well, the first wedding is on June 14, morning at Upaasna's farm-house which we've converted into a banquet hall. And then the second wedding is
the next morning at the same venue.
Please explain?
The wedding on June 14 is for family and friends. That's expected to be attended by around 4000 people. Then the same evening we're hosting a
reception for around 7,000 guests. The next morning, on June 15, we'll go through another wedding followed by lunch for my fans. We expect 4,000
people. But I suspect there will be a lot more people. And wait... It doesn't end there. On June 15 evening, we're hosting a reception for the staff and
family of the Apollo group of hospitals.
A wedding especially for the fans, how come actors in Mumbai don't display the same consideration?
Maybe our emotional connectivity with our fans is far stronger. There's just no question of not inviting my fans. They are a part of my father's and
my extended family. And since we can't have so many people at one wedding we just extend the wedding into a double event.
And the honeymoon after the wedding?
Just a 4-day break. We're yet to decide where we're going. But it will be somewhere quiet with no traffic or shopping. It has to be in India since I've
to return in four days and resume shooting.
So are the preparations on full-swing?
Well, being the boy's side we can take it relatively easy. Upaasna's folks are going all out. No, I am kidding. Lots happening. But I am kept out of it.
I just have to attend all the functions. All the arrangements are being made. Mujhe toh bas shaadi karni hai.
I see your Hindi has improved.
Agar Hindi mein film karna hai to Hindi bolni hogi. My first look for Zanjeer is out. I can't wait to know what Bachchan Saab thinks of
it. He is coming here on June 14 for my wedding.
Who else is coming from Mumbai?
Salman landed on Sunday with his friends who are also my friends - Prashant, Abdullah etc, at 4 pm. He was here for my Dad's dinner which was on
Sunday. Salman wanted to spend some time with my dad. They go back a long way. Salman made sure I didn't feel lonely in Mumbai.
And what about all your friends from the Telugu film industry?
They've all taken time off to help with the preparation. Suriya, Shruti Haasan, Tamannah, Kajal Aggarwal…everyone. I left it to my fellow-actors to
invite all my friends from the industry. Everybody has left their shooting to be part of the wedding preparation. It's like a family wedding for them.
And considering this is the last wedding in my family- my two sisters are married-there is a lot of excitement.
How do you feel about being a married actor?
See, I basically feel a man when married becomes more balanced. All the extra-curricular activities are done away with. The focus is on work and
family. I am getting married young. I've known Upaasna for seven years. She was my best friend. Then we started dating two years back. So I am
marrying my best friend. I can't ask for more. I sometimes ask her to switch off the wifely side and listen to me as a friend. She knows which buttons
to press.
How does she get along with your family?
You know, when I told her I am building a separate home for us at the Golf Course area for us to live in after marriage, she put her foot down. She
insists we stay with my parents.
That's so considerate
Well, she has a selfish motive. She says she can't handle me alone .She needs my parents' help. That was below the belt.
So are you a spoilt brat at home?
I should've been considering I was pampered by all my father's directors and producers during childhood. But at home my father made sure I led a
normal life. I grew up with a huge expectation hovering over my career as an actor. Luckily for me I managed an identity of my own so quickly.