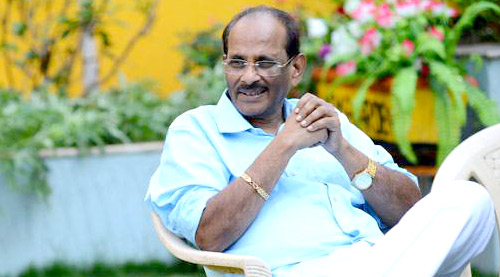 He's the journalist's delight-when we ask on the 'phone when we can call for an interview, he asks, "Can we speak right now?" Of course, we did.


V. Vijayendra Prasad, for those who came in late, is the magician who has spun two aces in two consecutive weeks: he has been story and co-screenplay writer of the Telugu Bahubali-The Beginning, whose Indian business has crossed Rs 400 crore nett, and the Hindi Bajrangi Bhaijaan, which has just entered the Indian Rs. 300 crore club. For good measure, he happens to be the "72 years young" (as he puts it!) father of celebrated filmmaker and 11-hit-no-flop South legend S.S. Rajamouli.


"I came into this line by accident 20 years ago. But it was also out of necessity-economic necessity! Because till then I was doing nothing in life!" he quips-and laughs. "So when my son became a director and my nephew M.M. Kreem turned music composer the family needed a writer for the picture to be complete!"


"Officially, I have one son, Rajamouli, and one daughter, who is a homemaker!" he continues in that vein, having declared our query about how many of his progeny are in films as a "tricky question!"


He declares that his ability and capacity "to tell lie after lie" is the reason he became a writer! "That's what a writer does-he lies convincingly. And I am also a thief-I steal ideas and whatnot from everywhere!" he jokes.


Among Prasad's twenty stories are most of the movies directed by his son Rajamouli, a son he is justifiably proud of, but prefers to be understated about. "He is what he is because of his hard work, and if he is known as my son, I am also known as his father!" he says. "The only films of his that I have not written are Student No. 1 and Maryada Ramana. Bangaru Kutumbam in 1994 was my first film as a writer."


Can he spell the name of that debut film? He considerately says, "I will send you all the films' names." The mail promptly arrives a mere hour later.


Ask him about his twin successes and he simply says, "I am very, very happy, especially about the fact that barriers have been shattered by Bahubali. It just proves that the world is one and also shows what one can achieve with imagination, money and capacity!"


Bahubali-The Conclusion will release in the end of 2016, he confirms, stating, "The script is ready but needs polishing, which we had kept pending till we saw the response Bahubali gets. About 30 percent of the shoot is done."


As for Bajrangi Bhaijaan, which he admits was offered as a story to Rakesh and Hrithik Roshan; it was born out of a mix of a Chiranjeevi film, Pasivadi Pranam, and the news of a Pakistani couple that came to India for their daughter's heart surgery. "Her parents were so touched by our people that it got me thinking. I decided to blend the two ideas and write a story that connected people from across the border."


Besides Hrithik, the film had also been offered to Aamir Khan and some more South heroes. "But I think Salman Khan was the right choice with his humanitarian activities and funding of over 2000 heart surgeries in children. Before I first met him through Kabir Khan, I knew that Salman was not the ultimate in acting, but today I think that he was the best actor for the role of Pavan. In this film, his heart is acting!" he raves.


Besides this, Salman happens to be the son of Salim Khan of the writing duo of Salim-Javed, and Prasad declares, "They are my gurus," he reveals. "Recently Salim-saab had told me, 'Find out what my son is taking as his fees and charge one rupee more! That's what writers deserve!' "


How can he best describe the joy of watching two of his films become the biggest hits in such a short span, with Bahubali not being affected by the storm of the latter film? A laugh follows. "I feel just like Kunti felt about her two strong sons-one was Arjun, the other was Bheem!"


Having directed two films, Sri Krishna and Rajanna, Prasad is now keen on directing a sequel to Eega, dubbed in Hindi as Makkhi. "I am now also directing a purely Hindi film for Pehlaj Nihalani," he reveals.


Ask him how he collaborates with his son, and Prasad says, "Everything is about the interpretation of the writer's work. The director brings it onto the screen after visualizing and digesting it, and then adds beauty to it. I had, for example, conceived the first sequence in Bahubali-of the woman carrying the child-in a small river. My son converted that into the powerful current and the background of a waterfall!"


Prasad does accompany his son on some shoots, but Rajamouli is present only during some story sessions, and not while his father writes. There are the occasional aspects Prasad visualizes in these technologically-savvy days even at the writing level, with the biggest example being Eega. "Steven Spielberg's E.T. inspired me. I was wondering which can be the ugliest creature one can possibly encounter as a good character taking revenge, and I thought of a fly!"
BOLLYWOOD NEWS
Catch us for latest Bollywood News, New Bollywood Movies update, Box office collection, New Movies Release , Bollywood News Hindi, Entertainment News, Bollywood News Today & upcoming movies 2020 and stay updated with latest hindi movies only on Bollywood Hungama.