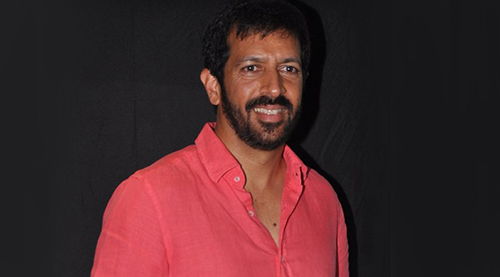 "Shobha De said this is an agenda, an agenda to clean up somebody's image. I am a filmmaker, I am not a lobbyist. My job is to make films, I don't spend one and half year of my life trying to clean somebody's image," thundered Kabir Khan in a Bollywood Hungama exclusive video interview with Faridoon Shahryar. Kabir is ecstatic with the response to Bajrangi Bhaijaan. He says he's not a numbers guy but the fact that the film is connecting across the board is something that has left him deeply satisfied. Khan also talks about the response that the film has received from Aamir Khan. Kabir minces no words when he expresses his views on the FTII controversy centering around the appointment of the recent Chairman Gajendra Chauhan.



Bajrangi Bhaijaan is having a dream run but do you think it is more heartening that it's connecting with people in such a huge way?

Absolutely, I think it's a great feeling to get this kind of response from people that it's really very deeply connecting with the people. The kind of messages I've been getting, the kind of tweets, calls, that's been an amazing experience. It shows that there's a very deep connection happening with the film. Of course box-office figures are there, but it's not just the box office figures, it's a film that's speaking to a lot of people, the kind of nuances people are picking up, backdrop, the message and enjoying at it face value too. So, I think it's has been an overwhelming response for me.



Aamir Khan has said that he'll watch this movie ten times. He has praised your direction as well. Aamir Khan is one of those people who won't praise something if he doesn't like it.

Of course, I mean Aamir is somebody, to whom one looks up to. He is one of the finest actors in our industry, he is great star and he's known for the cinema that connects very deeply with people. He called me immediately after seeing the film. He said, "Kahan ho tum? I want to come and meet you". He came immediately and met me, he sat and we chatted about the film. He was telling me about how it worked for him at so many levels. He sort of got into the layers beneath. He loved the acting, he loved the way it was shot, and he loved what the film was trying to say. For him what was the most important thing he kept repeating that in today's context this is a very important film. And obviously, needless to say, I was very overwhelmed by his response.



Almost Rs. 170 crores till Thursday, it's been said that maybe by this weekend, the way it's trending it's got a good chance of crossing Rs 250 crores in India alone. Roar is that 'Abki Baar 300 Paar'. If you talk about box-office figures, because one can't escape that, do you feel good with all these numbers coming in?

As I said, I am not much of a figures guy. But yes you can't escape discussing box-office figures when it comes to Bajrangi Bhaijaan because the fact that our Monday was equal to our Friday and when our Friday was a humongous Friday is obviously shows that word of mouth is tremendous. I've been to some exhibitors and they've said that they have never seen such strong word of mouth ever. They said that for a Rs. 27 crore Friday to be matched by a Rs. 27 crore Monday is unheard of. I don't think any phenomenon like this has happened, and on a non-holiday. I think Salman as a superstar who has had this golden run as this action hero decided to step out of his comfort zone. He trusted me in telling and narrating the story as I wanted to. Actually he's not doing anything which is known as 'Salmanism', so it was not a safe film. But now to get these kind of numbers are far bigger than any of his other so called 'safer films' is a huge validation from the crowd.



Aamir has also said that he will be very happy if Bajrangi Bhaijaan breaks the record of PK that is Rs 330 crores+, is it something on your mind?

Yeah, indications are there that it's on to a golden run and this weekend we're expecting it can go anywhere. Right now I've got been fed by a lot of information and a sort of new gyaan I am getting about figures. It seems to be sort of not following the normal trend that figures follow, so we really don't know what's going to happen in next weekend. If going by the trend that it's till now, I don't know what kind of numbers it's going to gain. I am really happy connecting it in a big way, lots of people watching, some states are declaring it tax free, UP has already declared it tax-free. So that means the number of people who can access it and afford to buy a ticket goes up, which I am very happy about. More than numbers I am happy that more people will be able to see this film.


Everyone is loving Nawazuddin's character. He's hugely entertaining. You've based his reporter Chaand Navaab on an actual Pakistani reporter by the same name. The real Chaand Navaab is gaining a lot of recognition now as well.

The real Chand Nawab, I've seen him four years ago on the video that went viral and I fell off my chair laughing and I said whenever I am making a film I want to use this character in some way. So when I was writing Bajrangi Bhaijaan and we were reaching the second half, I thought of what if this sort of journalist who could follow Bajrangi. So I picked it up from the point from where he's doing this piece to camera and somebody comes to him and tells him that "Hey, what's this rubbish you're doing? There's an Indian spy who has been caught." And he goes running and from there on how will this character react and go along on the journey with Bajrangi. So I wrote that in, and initially I thought that okay let me put the name as Chand Nawab then I'll probably change it but then slowly I felt in love with this character and I said no, let me stick to it. Even though there were some issues of legality of should we or should not because it's the real person. But I said that the way what Chand Nawab as a character in the film is doing, nobody can ever feel bad or upset that it's being based on them and doing what he is. Because he is one of the big heroes of the film, and I was correct because the kind of reactions the real Chand Nawab has got, he is overjoyed. He has become this big hero in Pakistan, they are offering him advertisements and they're asking him to come and be at some presentations and make some appearances and entire press in interviewing him. He is really happy, I spoke with him and I invited him. I said, "Whenever you come to Bombay, we would love to host you. We would sit down and have a meal together, You, Salman, Nawaz and me."


Apart from the wonderful accolades you've been getting, you had a share a bit of criticism as well. Shobhaa De has written that 'Real Salman Khan, Please Stand Up'. You've responded to her as well, Shobhaa has said, "It's me! I have a problem with a goody-goody Salman Khan. I vastly prefer the wildly OTT rascala, ripping off his shirt and spouting risque lines. I buy stereotypes." So how do you react to this?

See, if it was a critique of the film I would not react ever because a film is out in the public space and everybody is open to say what they want to about the film. It's their right, it's their privilege, and it's their prerogative. But what I took umbrage to; I found it very distasteful was some of them actually questioning my intention and my integrity.



She's saying, "The thing I have a problem with is the movies that manipulate."

She said this is an agenda, an agenda to clean up somebody's image. I am a filmmaker, I am not a lobbyist. My job is to make films, I don't spend one and half year of my life trying to clean somebody's image if there's a problem in it. So it's really unfair to speak in this sort of an unpleasant manner. A whole team that works on a film, it's not just Salman and me making the film, it's a huge collaborative effort. People are working very hard to make a film. We are here to tell stories; we are not here to create lobbies. Unfortunately as I mentioned earlier, lot of these columnists are basically lobbyists and have agendas to write and in that I think they have started doubting everybody's intentions. It's really unpleasant, I didn't reacted at that point of time because I was upset but beyond a point I don't want to speak about it because the more you speak about it you're just giving credence to somebody who I don't think we need to be speaking about.


One more criticism, Shobhaa De has is when Salman talks about Kshatriyas are meat eaters and they are fair-skinned as well.

Obviously people who don't have sense of humor and understand sarcasm would not understand it. You need to have funny bone, you need to understand where you are being sarcastic. The entire character of Bajrangi has been shown from the beginning that he lives on stereotypes. You can't pick up one stereotype, what in the film is making you believe that I am castist or I am communal? I am saying those to actually poke fun at people who believe in those stereotypes. And if somebody is catching that at face value, I am sorry then there's something wrong in their system of values.


FTII controversy is dragging on; too many debates are going on. Do you feel the entire thing is becoming rather frivolous, the way cinema and artists are treated at times?

It's unfortunate, I think for lot of people in this establishment films are just like some industry which is a frivolous industry and should not be taken seriously, which is sad. Because they don't realize that it's the most powerful medium. It makes people think, it makes people perceive things in a certain way and it think it needs to be given its due importance and it's really unfortunate that in a situation of what is happening in FTII is that political appointments are being made in places like this. These are institutes that are shaping our future films and film makers. These are the boys and girls who'll be coming out and making cinema which will talks about issues and make the whole world and country discuss certain things. You cannot have a political appointee there. You have to look at a person's credibility and person's potential and acceptability. You cannot be high handed and say that this is our decision and we will stick to it, it's really unfortunate that this is happening. But I do believe that government will see better sense and back off. And also the gentleman concerned should have dignity and back off.
BOLLYWOOD NEWS
Catch us for latest Bollywood News, New Bollywood Movies update, Box office collection, New Movies Release , Bollywood News Hindi, Entertainment News, Bollywood News Today & upcoming movies 2020 and stay updated with latest hindi movies only on Bollywood Hungama.