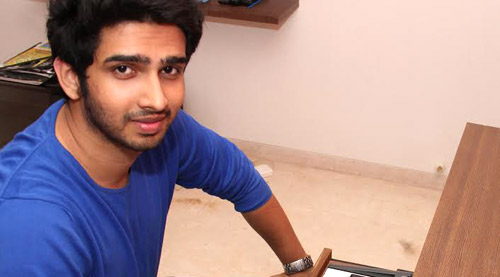 For a young 'un, he's not doing too badly in the highly competitive world of tunesmiths. Amaal Mallik (never mind the numerology with the two 'a's and two 'l's) has reaped a good harvest in 2015. The first true-blue hit of the year, 'Sooraj dooba hai' from Roy, was composed by him. It stayed on the Radio Mirchi charts for 25 weeks and Amaal won a special award commemorating that.


He also composed two popular songs in Ek Paheli-Leela and was commissioned by producer of both films, Bhushan Kumar, and the latter film's director, Ahmed Khan, to create a special number for Tiger Shroff's inspirational video for the youth, 'Zindagi aa rahaa hoon main'.


And that's just the beginning after a fairly eventful but not-so-productive 2014, when he composed two songs for Jai Ho!, was told by Salman Khan to score the background music for the small film he was backing, Khwaab, and collaborated with Tiger Shroff for the background music of another video, the actor's tribute to his idol Michael Jackson.


What was the brief for 'Zindagi aa rahaa hoon main'?

We wanted a positive vibe in the words, and, yet, it had to be a strong danceable track. I really liked Manoj Muntashir's first line, which reworked Javed (Akhtar) uncle's Mashaal line, and the same night that he came up with the words, we finished the first antara. Next morning, when I called up Bhushan sir, Tiger and Ahmed sir, they really liked the song we had made. The words are not preachy, and reflect Tiger's personality. Youngsters can therefore identify with the sentiments.


Recognition eluded you in 2014. But 2015 was rewarding. What do you have to say to this?

Yes, last year, for example, I composed 'Naina' for Khoobsurat, which was a last minute addition. But since it was not there on the audio CD and only was a promotional song, everyone thought that Sneha, who had composed all the other songs, has made it too!


So, when 'Sooraj dooba' became such a huge hit and got its due, I was very happy. This was my first award and was also based on popularity. And after Roy, I realized that people search for your past work only if you have a hit to your name! So today, many people know that even 'Naina' is my work!


In Ek Paheli-Leela, one song was only re-created by you.

I re-composed the antaras of the famous song 'Tere bin'. And honestly, I was not really kicked about 'Saiyaan superstar'. But, looking at the response the song has got, I realized that people love such tracks. So now, I have to work much harder so that I can do still better.






You have a great equation with Salman Khan, and he has now sung a song for you.

Yes, he has. I have composed two songs in the Hero remake that he is producing, and he has sung one version of the title song, while the other version is by my brother Armaan Malik.


What happened was that when the film was announced and before it started, I had just made this song for fun-the title-song for the story and for today's times. Laxmikant-Pyarelal's legendary music for the 1983 film was also right for its time. I also like to make tunes for myself without any situation. One day, I played it out to Salman bhai and he liked it and told me to keep it for his film.


And I thought he was the correct person to sing it, because it was a straight song without any murkiyaan. We jammed on the scratch at his farm and decided to record it. The best part is that I have not auto-tuned it at all. Salman-bhai knows singing and when a song is simple enough so that an actor need not simultaneously concentrate on both singing technicalities and emotions, and can therefore concentrate only on the latter, it becomes easy for him. Even the octave is right for his range.


When are we going to get a solo film from you?

Honestly, I do not know. The system is very tough to fight back. I am now doing two songs for All Is Well. By calculation, I let go of almost ten films where the songs were about either drinking or dancing. I have had enough of them and though I may sound overconfident when I say this, there is much more to my music and I am dying to make melodious numbers.


Music directors like me or the others who are doing one or two songs all want to be involved, but we almost never get to see the scripts of the films where we are asked to make one or two songs! In fact, nowadays it often happens that songs recorded by the film's director and producers are scrapped and music companies decide the songs.


Is that why are we hearing the same kind of songs again and again?

I think so. Also, today, everyone is told to ape Pritam sir in the different kind of songs he does! In fact, Pritam sir has now changed his style for this reason! Also, we are all made to try out songs similar to huge hits. Aashiqui 2, for example, was a fantastic score, but it was bad for the music industry because every new composer is being made to compose yet another 'Tum hi ho' and 'Sun rahaa hai na tu'!


No one really wants that solid composition, like, say, 'Lal ishq' from Goliyon Ki Ras Leela-RamLeela. What a song that is!


What does your father Daboo Malik think of all this?

He does not even try to understand what's happening. But yes, he listens to what I make and gives his views.
BOLLYWOOD NEWS
Catch us for latest Bollywood News, New Bollywood Movies update, Box office collection, New Movies Release , Bollywood News Hindi, Entertainment News, Bollywood News Today & upcoming movies 2020 and stay updated with latest hindi movies only on Bollywood Hungama.