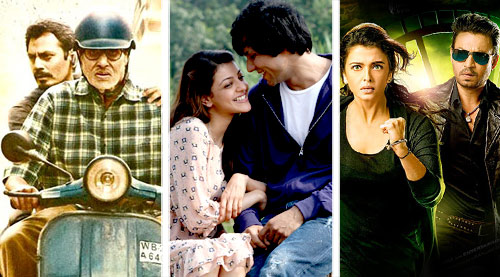 June 10, 2016 was in a way a unique date for Hindi cinema: on this Friday, the only two films released-TE3N and Do Lafzon Ki Kahani-and they were both remakes of South Korean movies!
Korean cinema, as a fount of inspiration for Hindi cinema, is a sudden influence that first came in the last decade and actively more recently. Says Vinod Mirani, trade analyst, "Since we do not have good writers, or good writers do not get sufficiently paid, our filmmakers need to look outside for stories. Hollywood films are now released simultaneously here, so that is no longer a hot source. European cinema as good as does not exist. And stories from Asian sources somehow have greater identification."
In theory, Mirani may be right. But in practice, of the Korean films that have been remade, only Murder 2and Ek Villain, both Mohit Suri directorials, have been successful. Korean movies are usually laced with crime and violence, whereas the Indian audience thrives on strong emotions, even as a base for action or (palatable) violence.
Do Lafzon Ki Kahani, which reprised the film Always, was no thriller-it was aimed to be a romantic drama with good music, but its lack of face value coupled with its demerits undid that movie. Says Mirani, "I would say that the prime flaw lay in the miscast lead players."
Says Sujoy Ghosh, creative producer of the other release, TE3N: "I do not look at a country of origin when I want to make a film. It should just be a good story. So it's not that I saw Korean films night and day to hunt for a film I wanted to make."
Suresh Nair, co-writer and co-producer of TE3N, explains how this film was Indianized from the original. "Most Korean films are thrillers. They also tend to be grim and dark and while we have to adapt them to our audiences, certain changes would look odd in the basic tenor. What we did with Montage was, however, something of a high for us. We removed the character of the mother, who was the protagonist in that film, and made it a grandfather-grandchild story. The idea was to cast Amitabh Bachchan in that role! Also, the cop played in my film by Nawazuddin Siddiqui, is just an ex-cop in Montage. But in my film he has taken to priesthood."
Adds Nair, "The mother doing everything to save her daughter and later investigate her death is the highest possible emotion. But that was the challenge-to replace her with a grandparent, because we thought a mother-and-daughter story was a much-travelled road." Nair isn't off the mark. Last year, Jazbaa saw the mother (Aishwarya Rai Bachchan) moving heaven and earth to rescue her daughter from kidnappers. This Sanjay Gupta remake of the Korean film Seven Days was also Indianized with an extra socio-emotional angle of the motivations of Shabana Azmi's character. Though the film broke even, it was generally considered a loser.
"Thrillers, especially suspense thrillers, are appreciated, but as films, they have a smaller yet dedicated audience, for whom they can become cult films, like Jewel Thief for me," explains Nair. "Budgets have to be right as they can never be blockbusters. The scenario is similar in Hollywood."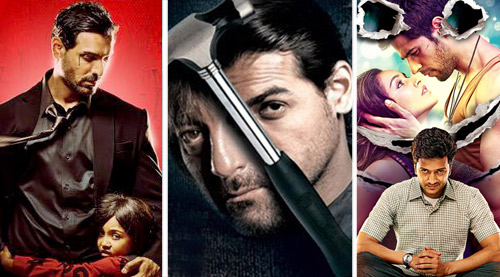 Gupta has earlier made the grim and gritty Zinda, based on The Old Boy. Here is where he had to make major changes to suit the Indian milieu-in the original, for example, the avenging antagonist ensured that the protagonist slept unwittingly with his daughter. Now this was a strict no-no for Indian audiences, and yet the film did not work despite the presence of Sanjay Dutt and a Dhoom-Garam Masala-hot John Abraham.
An early calamity in 2016 was John Abraham's own production Rocky Handsome, adapted from The Man From Nowhere. While John (before the film's release) stressed the truism that in India thrillers can never work without emotions, he forgot to look into this very area, as did, strangely, director Nishikant Kamat despite his vast directorial experience. Cold as a dead fish on an ice-slab, the film, after a decent opening entirely based on anticipation, went nowhere too.
Another box office calamity was Mohit Suri's Awarapan, a violent tale of a man (whose past is somewhat whitewashed only in the Hindi version) based on A Bittersweet Life. But Suri struck gold in two later films,Murder 2 (from The Chaser) and Ek Villain (I Saw The Devil), which even made it to the Rs. 100 crore club. The former was the bolder subject, of call-girls and a psychopath, while the latter, which narrated the story of a warped mind, hit the emotional solar plexus of the audience and emerged as a big hit.
In a key difference from all other Korean remakes, good music helped these two films get a wider opening and even repeat value. But the chief ace up these movies' cinematic sleeves was Suri's deft adaptation and in-depth handling of the emotional connect with Indian audiences while retaining the thrill quotient.
Add appealing casting (Emraan Hashmi and Jacqueline Fernandez in the former and Shraddha Kapoor and Sidharth Malhotra in the latter) and well-etched villains Prashant Narayanan and Riteish Deshmukh respectively and these films were winners all the way.
As Nair put it, most South Korean films are thrillers. One exception, however, was the romantic comedy,Ugly Aur Pagli, remade from A Sassy Girl. The 2008 Sachin Khot-directed film was a disaster at the box-office despite the presence of Mallika Sherawat in the lead.
BOLLYWOOD NEWS
Catch us for latest Bollywood News, New Bollywood Movies update, Box office collection, New Movies Release , Bollywood News Hindi, Entertainment News, Bollywood News Today & upcoming movies 2020 and stay updated with latest hindi movies only on Bollywood Hungama.