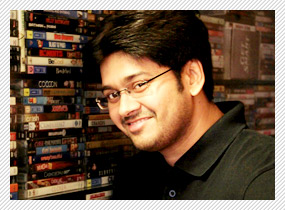 Milap Zaveri's local club - Otters, in Bandra serves great dry crispy manchurians but, as he concedes, 'it's the best place for a Sunday afternoon
laze'. Now I have to confess this - Milap and I have had a big argument, debate or fight (read the word that sounds more dramatic) on a social networking site over Anna
Hazare's stand to end corruption. And then to be sitting near the pool side with Zaveri, munching on manchurians and to be staring at beautiful girls is somewhat a
bittersweet moment. Real life, like the reel one, too has a happy ending sometimes. Besides the dry delicacy, Milap's got a plate full of movies he's biting on -
Shootout At Wadala, Rensil D'Silva's Unglee, Abhinay Deo's television show 24 produced by Anil Kapoor and Indra Kumar's Grand Masti, not to
forget, he is conceiving his second directorial venture too. As one of Bollywood's most profound dialogue writers, Milap's intensity and humour is evident in the way he
speaks - speedily, as though his mind is always two steps ahead of his mouth, raising the intonation at the end of each thought. Clearly, Zaveri has high hopes from the
above mentioned movies and the television show. You can see it in his eyes that he has the urge to tell stories - his sentences (read 'dialogues') properly framed and the
inspiration that he draws from his wife everyday. Yes, he has his wife's name engraved on his right hand. For now, though, he has several days of relentless writing up his
sleeve, his daily morning jog and his Sunday manchurian that'll keep him motivated. Oh, and that tattoo too! As he perches on a seat next to him and starts to talk, I gauge
that Milap Zaveri has a strength in his voice as a dialogue and scriptwriter. For me, he was occupying a space next to the poolside on a pleasant Sunday afternoon
ordering what he likes best. At his witty best and entertaining as a person, Milap Zaveri's idea to spend a Sunday afternoon near the poolside defines 'Siesta'. But when
he's in the middle of a script, he is a completely different proposition, and by then I'm sure the manchurian is far replaced by the caffeine overdose. What are you doing
next Sunday Milap?
Ever since you've started your career in Bollywood, what remarkable change have you noticed today? Where is our industry headed?
Hindi Film Industry has become very much similar to Hollywood or foreign films. For every Rowdy Rathore and Dabangg, there is always a Kahaani
and Gangs Of Wasseypur. Just like for every Avengers they have The Iron Lady or The Artist. Kahaani is the bravest film of this year I
feel. We have evolved in storytelling and are also accepting films like these but yet our fascination Ek Tha Tiger will never fade away. We Indians like loud and
over the top movies because we inherently used to love nautankis and folk plays. The Dark Knight Rises is a better film than The Avengers but I went to
see the latter twice with pop-corns and it is one of the highest grossing movies in Hollywood.
You've always been known in the industry as a dialogue and screenwriter who has a penchant for comedy. It's time you took a detour?
I, personally as a writer, feel that Rensil D'Silva's next film, Shootout At Wadala and Abhinay Deo's 24, which is a television series, will put me in a different
space as far as writing is concerned. I've always been associated with rom-coms or comedies like Masti, Housefull, etc. I want to try something different that can
challenge me as a writer. Having said that, I am still doing Grand Masti. Ekta Kapoor heard six to seven scenes and she said that Kyaa Super Kool Hain
Hum is a nursery rhyme compared to Grand Masti. She thinks it'll be a blockbuster.
You were almost in the hiding after your first film as a director and suddenly you got your calling to write dialogues for Shootout At Wadala...
After my first film as a director failed, I was not doing anything for two years. I got depressed. I stopped writing. One fine day, Sanjay Gupta called me and told me that
Ekta Kapoor has put a condition in front of him that Milap will write the dialogues for Wadala. Plus, I've done six movies with Sanjay Gupta. But Wadala was like a shot in
the arm. Two years was a big sabbatical in Bollywood. You can't afford to waste time. Wadala is like a tight rope as far as dialogues are concerned. It's a deep, emotional
and a powerful story. There are punch lines with depth. People will take back more than just the punch lines. During the launch of the film, instead of posters of the actors,
Gupta put giant standy of each character with their most famous dialogues. I was touched as it was a big boost for a writer like me. There is a line in the poster where Haji
Mastan says, "Bhaiyon ka apas mein ladna toh unki Geeta mein likha hai. Hum kab se karne lage?" There is a follow up line that reads, "Agar har musalmaan,
musalmaan ka khoon bahane laga toh yeh mulk sach mein Hindustan ban jaayega". Every line is loaded with history and controversy.
And your first with Karan Johar's production that'll be directed by Rensil D'Silva, right?
Yes. My biggest challenge was Rensil D'Silva's film. The funny thing was that I was writing Grand Masti, Rensil's and 24 together. The dialogues in his movie
have to be witty and powerful and should represent today's youth. Rensil's movie has masala and punch lines. Karan Johar told me that he wanted those ingredients in the
dialogues. It's a film any young audience will identify with.
Let's hear your favorite movies - movies that you've grown up on and the ones that inspire you.
I am pretty versatile in my taste that way. I love Hollywood and Hindi movies and foreign films too. As a kid I was a movie buff. I have grown up on these five films -
Sholay, Vidhata, Jai Santoshi Maa, Daaku Hasina and Chalti Ka Naam Gaadi. At the same time there were Charlie Chaplin VHS tapes too. I can love a
Rowdy Rathore and respect Kahaani. I love movies. My favorite Hollywood films are Scarface, Armageddon, Oliver Stone's JFK, The Artist
and Saving Private Ryan. I loved Letters From Iwo Jima too. I love watching shows like Game of Thrones, True Blood, Fringe, etc. The writing is amazing.
Though I have to admit I've spent a good amount of time watching Gossip Girl, thanks to my wife. I have no choice but to enjoy it (laughs).
But today, hardly anyone remembers dialogues. Everything that we recall is of the 70s, 80s and early 90s.
In the 1980s and early 90s, cinema was the only mode of entertainment. Computers had just started coming in. Today there is so much information thrown to you, it takes
time for anything to stick in your mind. How much can you remember now? How many dialogues do you remember? With the advent of mass cinema again, Rajat Arora's
dialogues in The Dirty Picture and Once Upon A Time In Mumbaai got noticed and chanted. Even suddenly, the mass of India has woken up now. It's back
and how!
Isn't it easier for the screenplay writer to write the dialogues himself?
Not really! I have a partner called Tusshar Hiranandani with whom I've written a few scripts. He can write the screenplay but he can't write dialogues. Out here, whoever
writes the dialogues needs to have a good command over the Hindi language. It's fine to write the screenplay in English. Everyone does that but out here you are making
a Hindi movie at the end of the day. In the West, you are speaking in the medium you are thinking. They think in English and write in English. It also becomes easy for
dialogue writers if the screenplay is sorted. Rensil D'Silva is the best example. You have so much material that it becomes easy for you to write dialogues.
Do you have a habit of watching any movies for referencing before you start writing your screenplay or dialogues?
If you start watching films to get influenced then you stop enjoying cinema. If someone tells me to watch XYZ movies as reference movies, it becomes difficult for me to
watch them as an audience. I don't want to analyze it or critic it. I try and avoid doing that. I want to watch Charlie Chaplin because he makes me laugh and not because I
want to learn and study Chaplin.
Your three favourite dialogues from Hindi movies?
My top three dialogues are - 'Zindagi lambi nahi, Badi honi chahiye' from Anand. From Veer Zaara, where the mother asks SRK, 'Kya tere mulk
ka har beta teri tarah hai?' and SRK answers, 'Woh toh nahi pata lekin mere desh ki har maa aap jaisi zaroor hai'. It's one of the most brilliant lines ever
written. One of my other really favourite line is from the original Agneepath is when Danny aka Kancha shows Amitabh the gun and Amitabh says, 'Bandook
bhi dikhata hai aur peeche bhi jaata hai. Peeche jaane se guzra hua waqt waapis nahi aane waala'.
Do you think Anil Kapoor's and Abhinay Deo's 24 will re-invent television shows in India?
I hope 24 reinvents the television shows in India. In America, their TV shows are more powerful than movies sometimes. It's grown in the last 3 to 4 years. Anil Kapoor is
such a mass actor and yet has a respect amongst the classes because of his Hollywood connections and some intelligent movies he has done. It actually is a show that can
reach out to the masses in India. I don't think everyone in India has seen the original 24. The Indianized version will cater to both the classes and masses and the existing
fans of the original. Anil Kapoor refuses to think small. I like that about him. He was very happy with Wadala and the lines I had written for him. I've worked with him in
Musafir too with his dialogues. He wanted me to write 24 and he has a clear goal - 24 should change the way people perceive television in our country. He doesn't
look at it as an episode format. He thinks we are shooting a film. That's the scale he wants to bring to the show. At his age, not many have this excitement. Ekta did it with
Saas Bhi Kabhi Bahu Thi, KBC with Mr. Bachchan did it and 24 will do it in the action genre I feel. I didnt watch the original 24 till I was signed for the Indian version. I
have finished Season 1 so far. It has great potential in India and Anil, Abhinay, Rensil and I will make sure that it does.
BOLLYWOOD NEWS
Catch us for latest Bollywood News, New Bollywood Movies update, Box office collection, New Movies Release , Bollywood News Hindi, Entertainment News, Bollywood News Today & upcoming movies 2020 and stay updated with latest hindi movies only on Bollywood Hungama.