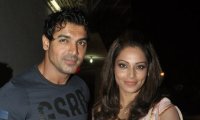 Oh! How much do we love celebrity break ups! Call us mean, heartless and emotionless but the fact remains that negativity spreads like wildfire while positive news stays on to be... what else, but just a day's affair.


X and Y are together - "Well, great, good for them"


X and Y could be together but they are not admitting it yet - "Hmmmm, ok, let's get scoop hunting"


X and Y have broken up - "Whattt? Really? Cancel your leave plans. We have to cover this story right away and milk it for at least a month."


We saw the last of the three scenarios in case of John Abraham - Bipasha Basu break up. Now thankfully Saif Ali Khan's quick (and a very public) response to his 'rough relationship status' with Kareena Kapoor has saved the issue from snowballing. However, an unrelenting media coverage as well as public concern over the 'issue' (?) has raised the question all over again for this week's 'Reflections' - 'Why do we love celebrity break ups?'


Sweet and saccharine is fine, but get me some 'masala'

Once a star couple agrees 'being together', frankly, it loses all its fizzle. And then later even sizzle. Of course, unless you are Bachchans and know a thing or two about togetherness making public news, not many can boast of such luck. Once, Abhishek and Aishwarya made their romantic liaison public, it was a given that they would have a lot to talk about till they walked their 'saat pheras'. To their credit though they are making many more lovey-dovey quotes about each other today than before but still, they were those select few who interested everyone around them.


Not many have boasted of similar luck. When Kareena Kapoor and Shahid Kapoor announced their love for each other years ago, not many took them seriously. Kareena was doing well for herself and Shahid was just walking up the ladder. It seemed like a nice-n-cute 'prem kahaani' but it was by and large left to fend for itself.


Yes, Ranbir Kapoor & Deepika Padukone's confession of love for each other did seem to have been made out of the blue and they did enjoy their share of news and coverage as well. However, except for the time when they (or their PRs - for the right reasons) wanted something to be written or spoken about them, the 'aam junta' wasn't bothered much. The information around whether they gave each other a Valentine ring or a rose or a teddy or a yatch was something that was only read, not keenly awaited.


Of course, when it comes to Salman Khan and his women, even a steady relationship can't be expected to be stable. So when Katrina Kaif comes in his life and both of them do convey (one does that in a subtle way and another in a relatively open manner) that they are together, there is a very keen interest amongst all to know 'what would happen next'.


However, such interest quotient is exceptional because the moment it is about a Saif-Kareena or a John-Bipasha, the general feeling is -


'Wow, isn't it wonderful to have them around? Good that they are now also doing number of commercials and endorsements together. Hmmmm, okay, so what's the next question to ask. Yup got it, here comes the golden one:


"When are you getting married?"'


End of imagination. May they live happily ever after!


That 'iffy' feel

There is a little bad of added imagination that comes in when a couple refuses to admit their love for each other.


'Are you guys together?'


Ask Deepika Padukone - Siddharth Mallya, Ranbir Kapoor- (first Sonam Kapoor, then Katrina Kaif, in between Nargis Fakhri, now Angela Jonsson, tomorrow - God knows who), Ranveer Singh - Anushka Sharma, Riteish Deshmukh - Genelia D'Souza, Vidya Balan - Siddharth Roy Kapur - each of these pairs (or are they not?) is sitting in that 'iffy zone' where the 'kabhi haan-kabhi naa-par media ko kuch bataana kuch chupaana' syndrome is pretty much into play.


So none of these couples seem to be in mood to let go off a golden opportunity where their lives can be speculated amidst one and all. It works in all ways. (God forbid) If they have to part ways in future, they can save themselves from the uncomfortable 'Par aakhir hua kya tha' kind of conversations. And then just like the proverbial example of 'Fun lying in trying to explore what is hidden than what is revealed', such relationship status of 'It's Complicated' only makes for speculations to continue being rife.


But then that too is only till a certain extent.


After a while, there is solid machinery that is required to keep the interest alive for such couples. Tweets, plugs, spotting, appearances, shows, announcements - all of this and more with quotes from 'sources', 'friends', 'close associates', 'rivals' are pretty much the need of the situation to ensure that this 'iffy' status neither risks turning into 'has been' nor fizzles away into 'Ok, so they are together, well there goes my interest level' situation.


Nevertheless, the game is still on, though it only goes as far as: 'Are you guys together?'


And then comes the big announcement

This is what leads to not one, not two but different versions of basically the same question:


'What really happened?'


'I could see it coming. What really happened?'


'I just didn't see it coming. What really happened?'


'You guys were so good together. What really happened?'


'You know, I don't want to intrude into your personal life. But seriously, what really happened?'
'Guess what; your ex is spreading stories about reason behind the break up. I guess you should now talk about what really happened?'


Or something as blatant as:


'I have a deadline. What really happened?'


The point is - Everyone wants to have his share of pie. Us, them, audience, fans, readers, sponsors, brands - just about everyone.


So when John and Bipasha break up, news bytes start making rounds in pre-Dum Maaro Dum days and rest assured, they would float around till Desi Boyz.


When cracks start appearing in Shahid-Priyanka love story around 7 Khoon Maaf, it is all set to be talked about even '7 Mahine Baad' when the duo shares screen space for their Kunal Kohli film.


Ditto for Salman-Katrina who are bound to make more heads turn with their on-screen togetherness in Ek Tha Tiger ('Oh, they look so good together, they could well have been really together') than they did when they were together in real life ('Do you really think that this relationship is for keeps?'). Ask Shahid and Kareena - They would answer best about their experiences from pre and post Jab We Met days.


No wonder, when a semblance of a 'crack' (or was it?) is seen from a few miles away, Saif Ali Khan and Kareena Kapoor suddenly turn out to be hot property for discussion. The couple (who claim to be pretty much in love) have all the right reasons to believe that this is a 'weekend gossip' which will die its natural death.


Or will it, really?
BOLLYWOOD NEWS
Catch us for latest Bollywood News, New Bollywood Movies update, Box office collection, New Movies Release , Bollywood News Hindi, Entertainment News, Bollywood News Today & upcoming movies 2020 and stay updated with latest hindi movies only on Bollywood Hungama.