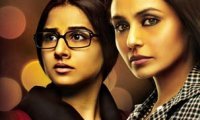 Ok, so everyone who is watching No One Killed Jessica is either loving it or at the least liking it. I am yet to meet a single soul who didn't like what Vidya Balan and Rani Mukerji brought to the screen in this dramatic affair. No, the point I am trying to make is not about how the film is wonderful or the manner in which Vidya and Rani have excelled. The point is something else and that's about a key incident that happened en route to the release of the film. The Rani-Vidya kiss. And it set me thinking. Was it really necessary? Let's debate in this week's Reflections.


Reflections – Was the Rani and Vidya kissing 'stunt' really required?
The background


A couple of weeks still remained for the release of No One Killed Jessica and the promotional events were taking place in full swing. Rani Mukerji as well as Vidya Balan were all over the place, and rightly so as the film was in news from the day it was announced. The making of the film went off peacefully, the buzz was on a constant rise and gradually excitement was building up to check out what it was all about.


All was going well for the film and though there were murmurs of Rani-Vidya 'dosti' only being for the camera rather than in reality, no one really cared because stories like these float for practically every film which feature two heroes or two heroines. 'Big deal', I said to myself because a film's fortune has and would never be dependent upon the personal equation between its stars.


Nevertheless, coming back to the point, despite all the stories floating all around, my mind was basically occupied on checking out what this film had to offer in totality. If at all there was a (pleasant) distraction, it was Amit Trivedi's soundtrack. Even though the film promised to present a stark reality, I wanted to hear the sound of 'Dilli' in all it's frenzy.


However, a frenzy of a different kind was created when an incident took place.


The incident


This was an incident which could well have snowballed into something severe had the makers and its PR and promotional machinery taken one false step. Rani Mukerji gave Vidya Balan a kiss on mouth while being on stage in full media view and the clip played in a repeat mode in all mediums that enable video streaming. It's a different matter though that only Rani would be able to confirm if she 'indeed kissed' though Vidya did give out a cry of being turned 'badnaam'.


Of course there wasn't much provocation behind the incident. Though one may give the two women of substance a benefit of doubt here by believing that all of this may have happened in the 'heat of the moment' (no pun intended), the fact remains that it did happen after all. Also, in the times when promotion of an individual, film or a brand has taken a different connotation all together, there is a sense of all around cynicism that has taken over all rational reasoning.


And the cynical mind says...


...that it left a bad taste in the mouth (again, no pun intended). Was this an Ishqiya being promoted where Vidya was playing a rustic seductress? Was this a Saawariya being promoted where Rani Mukerji had to play a night queen? And let's not even get started on comparisons with Girlfriend. This was about a serious film which told a serious issue.


The makers (if at all they were hands-in-glove with the incident) may (in silent whispers) argue that this was done in order to bring some excitement into the proceedings for No One Killed Jessica so that it doesn't get that tag of 'serious cinema'. 'All in fine jest', they may say but the million dollar question is - 'Was this the only option available?'


A morality issue?


It isn't an issue of morality. Come on, in an ever progressing world where far more exciting stuff is happening on or off the camera, a playful jest of two grown up women sharing a kiss for a couple of seconds should by no means lead to morale brigade raising slogans. The issue is around the placement of such an incident in the promotion of a film which has nothing, actually read - 'absolutely nothing' - to do with the film as a whole.


To think of it, the film doesn't even feature the two of them in proper interaction with each other more than a couple of times. Even off screen, the two women have hardly shared any relationship beyond the one which belongs to the formal kinds. They don't work in similar kind of films, their paths don't cross, and they don't belong to the same camps. Hell what, they don't even eye the same leading heroes or film makers!


Hence the reason why this entire Rani-Vidya kiss didn't make any sense whatsoever. If at all there was a fight, was the adage of 'kiss and make up' being considered in a literal sense which was taking things a little too far? And if at all there wasn't any, it was hardly funny to have audience's attention diverted to something which added absolutely no value to the film.


How the disaster was averted


Thankfully, this 'tamasha' stayed on for just a couple of days (or a little more) as the drama dried down and the makers too brought the promotion of the film back to where it really belonged. The private screenings started, special shows were organised, the team of No One Killed Jessica continued to travel all over the country, Arushi's case being closed gave 'junta' a sense of deja vu as the cries of 'No One Killed Arushi' made the essence of No One Killed Jessica even more topical.


Wonder what would have happened if the activists would have come out of their slumber and attacked streets with anti-kissing marches. A lesser film could possibly have benefited from such cheap publicity but in case of this UTV production, there was better sense that prevailed which means no further 'incident' took place (via means of protests), whether staged or natural.


The end result


Eventually for the audience, all it mattered was the core honesty of the film and the performances and that's about it. At the beginning of 'Reflections', I had mentioned about 'not meeting a single soul who didn't like what Vidya Balan and Rani Mukerji brought to the screen in this dramatic affair.' Today after watching the film, I am sure that ever since its release, no one would have got the kind of vibes which would have made him/her to go online and check out the Rani-Vidya kiss.


Or did you?
BOLLYWOOD NEWS - LIVE UPDATES
Catch us for latest Bollywood News, New Bollywood Movies update, Box office collection, New Movies Release , Bollywood News Hindi, Entertainment News, Bollywood Live News Today & Upcoming Movies 2023 and stay updated with latest hindi movies only on Bollywood Hungama.