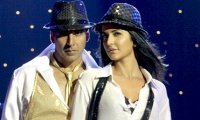 In one of the highlight moments of the theatrical promo of Tees Maar Khan, Farah Khan makes dig on her own Om Shanti Om. 'All in a friendly
tone', one may claim but the fact remains that with current equation between her and Shah Rukh Khan being known to one and all, a dig like this seems pretty
much timed and hardly disguised.


She is not alone. Even Rohit Shetty has been known to take 'friendly digs' at people with whom he may have worked (or perhaps not). Sharman Joshi's framed
photograph adored Golmaal Returns once he apparently acted pricy and opted out of the franchise. There was a dialogue in the film which went something
like 'Sharman is flying too high'. Of course Rohit is having the last laugh and is asking audience to join him in his joyous mood as he shares a joke at the
expense of Saif Ali Khan as well as Shahid Kapoor, one being the current and another an ex flame of film's leading lady Kareena Kapoor. In fact even an
unusual suspect Mallika Sherawat too wasn't spared in Action Replayy, a film which is set in the times when she would have been actually hanging
around in her diapers!


But would digs like these continue to be taken in a lighter vein time and again? Are filmmakers stretching the joke a little too far or have the stars in
question (on whose expense a joke is being cracked) have become mature enough to distinguish real from reel life? Is Bollywood trying to become a Tees
Maar Khan?


Let's discuss and debate in this week's 'Reflections'.


Instant recall

All said and done, one can't deny the fact that when it comes to Bollywood celebrities, an instant recall value comes in automatically. Those in love with
cinema find them everywhere without even making any conscious search. Internet, print, television, outdoor publicity, radio - they are all over which means
that even minute details of their personal and professional life are up for consumption. This also means that if a reporter in Peepli [Live] makes a
big scandal out of Saif Ali Khan's first kiss ever as a teenager, one can't help but smile as stories like these actually make the rounds of every day media
write ups.


Similarly if a headline around Karan Johar being 'deeply hurt' is displayed in bold print in Jaane Kahan Se Aayi Hai, one knows for sure that director
Milap Zaveri is indulging in some harmless yet naughty fun. With Karan himself participating in the joke, one can well sense that celebrities too are
enjoying it all without being overtly bothered. Moreover, Karan Johar actually went ahead and allowed a character (Samir Soni) to be modelled as a mix of his
own self and Sanjay Leela Bhansali in his very own production I Hate LUV Storys. As for many other filmmakers, they have traditionally revelled in
taking a dig on films and song picturisation of many a Johar and Chopra productions. But then, as they say, imitation is the best form of flattery!


Some real surprise?


The million dollar question though is, whether a celebrity would be fine with a dig at his expense in each of the outings? Well, one suspects whether even a
single dig ever makes it to the screen without the knowledge of a celebrity. Bollywood is a small place and news travels fast. It is not just a writer or a
director who is the source of information from the celebrity in question. Right from the actor on the scene to the spot boy is pretty much aware about what
is being shot and it is impossible for a star not to know about the dig.


There are three things that can actually happen in such a scenario.


Firstly, a star can just laugh it all away and give a green signal, something which can well be expected in most instances. Otherwise one can't fathom Anil
Kapoor asking Sanjay Dutt and Akshaye Khanna to be playing Yash and Raj in No Problem without Yash Raj Chopra being in the know-how of it.


Secondly, a few changes could be suggested that would tone down the entertainment quotient. 'You go ahead with your dig but let that not be below the belt',
something that Kareena would have allowed when Rohit connected Shahid Kapoor to 'kameena' in Golmaal 3 or Sushmita Sen would have laughed along when
Kangna when she commented on the snooty attitude of Miss Universes in No Problem.


Thirdly, the makers would have just gone ahead without making any effort to let the star in question know about it or totally ignoring his plea of removing
the reference from the film. Frankly, this appears to be a rare case scenario because, as stated earlier, the industry is a small place to live and with
changing equations every year, you never know when you have to end up encountering the other person again, whether on a friendly or confrontational note.
A dig at one's own self


It is not always that some other actor takes a dig on a star. There have been quite a few instances of actors taking a dig at themselves, something that was
seen in it's full glory in Zoya Akhtar's delightful Luck By Chance. Ranbir Kapoor played a typical sweet mouthed but non-committed star son, Aamir was
a perfectionist Khan to the core whereas Kareena donned the avtar of a Diva. These were not the only instances of some over-the-top acts as Akshay Kumar has
done it twice with even more aplomb. He shot from the crouch in the 'Khiladi' segment of Om Shanti Om while being ever so cunning as a two faced
superstar in Jaane Kahan Se Aayi Hai.


Is it sustainable?

One wonders whether stars would actually stand up one fine day and say - 'enough is enough'. Would audience too get fed up of such jokes and instant demand a
different humour instead of in-house Bollywood jokes? Would there be some more control exercised in the manner in which filmmakers would fill in the screen
with such Bollywood focused jokes?


The answer to each of these questions is - a big NO!


Rest assured, there would be many such jokes that would be peppered all around the films in future as well, especially the ones with strong comic element to
them. The reason is simple. The audience of today is far more enlightened and knowledgeable of the lifestyle, inner jokes and the exterior personality of the
stars of today when compared to the audience in say 80s or even 90s. In those days, the only source of information about Bollywood was a weekly program on
television or a couple of movie magazines.


Today, with dozens of different avenues opening up, hence leading to hundreds of sources that are forever sharing titbits and gossips about a celebrity, to
know about what time a particular star has woken up and brushed his/her teeth is no more a secret as well. Ask the ones on Twitter and they would concur! All
that is left is a paparazzi culture and that too doesn't seem too far away. All of this implies that knowing everything about a star is hardly a secret
anymore which further means that to hear it all over again, especially so when it is in the form of a dig, becomes not just an enjoyable but also a
voyeuristic and 'Oh yeah, I know what is being implied'.


No wonder, when Hera Pheri 3 releases, it would be keenly checked out by the original Hera Pheri cast of Akshay Kumar, Suniel Shetty and Paresh
Rawal. After all with talks of Abhishek Bachchan, Sanjay Dutt and Nana Patekar replacing them in the film, one can well expect digs to be made at the expense
of original Hera Pheri cast in the latest sequel.
BOLLYWOOD NEWS
Catch us for latest Bollywood News, New Bollywood Movies update, Box office collection, New Movies Release , Bollywood News Hindi, Entertainment News, Bollywood News Today & upcoming movies 2020 and stay updated with latest hindi movies only on Bollywood Hungama.