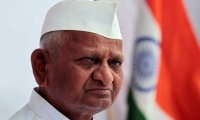 'I am with Anna' - That's the cry which is fast catching momentum over the last fortnight at the least.


'I am with Mahesh Bhatt' - This is pretty much my stand currently.


No, it isn't about whether Bhatt is pro, anti or neutral towards Anna's march and whether I support him or not. It is more about the very fact that 'at least he is taking a stand'. Whatever be the personal views of Bhatt, he is at least vociferous around the entire issue, cause, approach and proposed solution. One may agree or disagree with what he has to say but the fact is - 'He is being heard'.


This could well be the endeavour of Anna Hazare as well i.e. to make some noise, entice debate, lead a discussion.


However, unlike Bhatt, Bollywood in general is quiet. There have been a few tweets here or there, a few press releases being smartly put together by PRs of select few celebrities and a few noble souls actually joining the march. However, the total count of them all doesn't even sum up to the number of staff members that a top superstar may be boasting of. After all with a mere 25-30 known names actually coming out in support of Anna, it paints a sorry picture for Bollywood which is usually quite happy sharing a quote or two when it comes to their Diwali or New Year plans. Industry's collective voice is also heard in unison when a tragedy strikes the nation (26/11) or anywhere else in the world (Tsunami). However, when it comes to impacting 'ourselves' in general, there is a 'gehra sannatta' all around.


No, the point is not to be for or against what Anna is doing or proposing. The point is - 'Why are we quiet?', 'Why are we not taking a stand?' And in case we don't really have a stand, 'Why are we not admitting that we don't quite have a point of view?'


And this forms the topic for this week's 'Reflections'.


Is a tweet good enough?


Everyone is busy. Fair enough. But when the newspaper are screaming of a similar sounding headline day after day, it is shocking that majority of us belonging to the film fraternity are keeping a collective silence on that. Oh yes, there have been a few tweets that have been exchanged. 'I support Anna Hazare', 'Corruption should be removed from the country at all cost', 'Let's join hands with Anna in fighting corruption' are the standard template driven 'thoughts' that have been floating around. And then? What happens beyond that? Is that all? Are a few key strokes from our BBs good enough contribution to a Bollywood movement in general? I don't think so.



Majority of them have stayed quiet


Though not really surprising, the disappointing part is that majority of Bollywood is silent on the issue. Yes, there are a few who are doing much more than just tweeting. Lata Mangeshkar has sent a heart felt personal message to Anna. Bingo. Aamir Khan too has written a letter. Good. Shabana Azmi, Urmila Matondkar, Vishal Dadlani, Purab Kohli and Dia Mirza have taken the stage and expressed their views. Fair enough. Anupam Kher has been quite vocal as well on social networking. Nice.


A few others who have done the needful with a tweet or two are Bipasha Basu, Madhur Bhandarkar, Anurag Kashyap, Juhi Chawla, Rahul Bose, Shekhar Kapur, Ranvir Shorey, Celina Jaitly, Pritish Nandy, Bipasha Basu, Kunal Kohli and Preity Zinta amongst a few others. Thanks. And then Shah Rukh Khan and Amitabh Bachchan have also sent out a couple of generic sounding releases.


However, those whose voice could well have been heard by millions, the superstars of Bollywood, have just not shared their personal views at all. Given the fact that they have a strong enough coterie of Managers, PRs, Agents, Spokesperson, Media Advisors etc. etc. etc., it is hard to believe that they would have either not heard about the movement or not developed a point of view so far. But then they are still quiet about it all, and how!


And why really is that?


Is it sheer indifference towards the entire movement that is making them look the other way?


Is it the danger of getting targeted by a political party which has resulted in the scare factor?


Is it the risk of getting caught in a controversial situation which has resulted in a 'No Comments' stance?


Is it unwanted media attention towards topics that are unrelated to their core work that they wish to avoid?



Is it the fear of getting exposed about their lack of knowledge on the topic under discussion which is forcing them to steer clear from the debate?


Questions are many; reply is something that only celebrities know best. However, the fact remains that it is most disappointing to see Bollywood continuing to by and large sleep on something that has otherwise made good enough noise to wake up a larger majority.


For an industry that has the best possible means to fetch media attention with a simple sneeze or a dog's death or a detailed account of going through an ordeal of being 'stuck in an elevator', it is heart breaking to see a mere tweet (and that too from a select few) sufficing it once for and all.


If it wants, it can


Bollywood is a religion in itself. Yes, it is a clichéd statement for sure and would stay on to be one. However it is also a fact, something that cannot be ignored. And when the industry as well as the people who make it tick every Friday continue to be worshipped week after week, it has enough 'dum' in it to be heard if it wants. To think of it, there are numerous industries out there that are bigger in size, dimension, strength, clout and turnover. However with no glamour attached to their work profile, all that they say, think or declare would appear more academic than anything else despite bearing practical connotations.


On the other hand, the very strength of Bollywood lies in the fact that howsoever ordinary is a statement made by us, it would still appear like a strong enough announcement. Reason being that 'Breaking News' surrounding a celebrity carries much more weight and ensures a far larger presence for itself. As stated earlier, the point is not really around 'what' is being said; it is more about 'whether' something is being said at all or not.


And as for that best sounding statement to be made, there is always a PR to do the job. The only request? Please don't make it sound 'politically correct'. Now that would be pretty much a sacrilege in current 'politically charged' scenario.


The solution



Need of the hour is not for Bollywood to take that chartered flight to Delhi and join Anna in his fast. Also it is understandable that hitting the streets of Mumbai isn't really a practical idea given the star struck nation that we are in general. However, when the Marriotts of the world can be booked practically every second day to host number of those Bollywood events, why can't Bollywood shell out some money and come together for a major event to bring to fore this cause? After all this would keep celebrities in a comfortable setting (fair enough and justifiable too) and still the point would be conveyed.


As for the viewer-ship, rest assured the voice would be heard like never before as media coverage can well be expected to be ultra massive. Imagine a Khan or a Kapoor or a Bachchan to be sharing the same platform and expressing their view of a common issue.


Now won't that really make for an ultra glamorous yet productive sight? And as for the money part then well, I don't see a dearth of sponsorship coming in if the fraternity indeed decides to host such an event.


The million dollar question though is - 'Who will bell the cat?' which practically translates into 'Who would ultimately take the onus and organise the event?'


Aamir? Bhatt saab? Will you?
BOLLYWOOD NEWS
Catch us for latest Bollywood News, New Bollywood Movies update, Box office collection, New Movies Release , Bollywood News Hindi, Entertainment News, Bollywood News Today & upcoming movies 2020 and stay updated with latest hindi movies only on Bollywood Hungama.