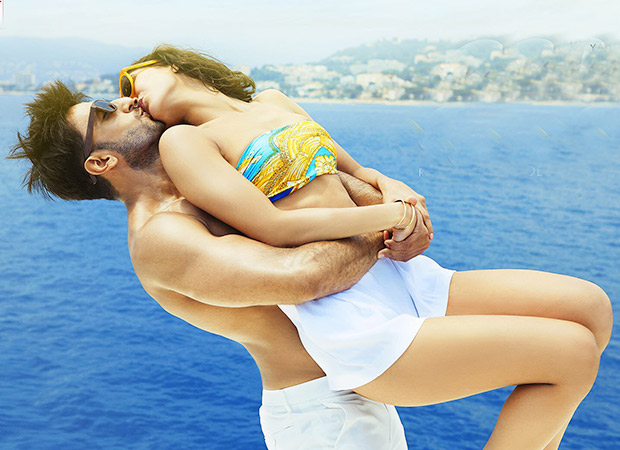 Breaking away from Bollywood romance represented in 90s classics like Dilwale Dulhania Le Jayenge, director Aditya Chopra decided to go 'befikar' (careless) and bold for his next. So have the actors in the film who have shed every inhibition for Befikre. While we have already told you about how Ranveer Singh had no qualms in going butt naked for the film, readers may also be aware that the film has numerous kissing scenes.
If you weren't aware of it, well a glimpse of Befikre trailer is enough to prove it. In fact, after the trailer came out, Ranveer Singh has earned himself the tag of a serial kisser. The actor who is all over magazine covers of late, was recently quizzed about how easy or difficult is it for him to do kissing scenes on screen and Ranveer immediately sighed mentioning that it is time for him to go for a detox from kissing because that's the amount he has kissed Vaani Kapoor in Befikre. In fact, he revealed that he had actually gotten into a schedule of sorts when it came to kissing his co-star of how she would kiss from one side and then he would. Further explaining in detail he spoke about upper lip and then lower lip and how they repeated the sound, eventually allowing Adi (Aditya Chopra) to select the portions he wanted. Laughingly, he also added that he and Vaani have given him (Aditya) all possible angles when it comes to kissing scenes for the film.
What he also clarified was the reason behind having a complete French crew. Readers may be aware that Befikre has been extensively shot in Paris but not just that, unlike the other films, this Bollywood rom-com also had a complete French crew around and there was a reason for it. If you are wondering what it is, then here is Ranveer Singh giving you all dope on it! So apparently one of the major reasons for the change of crew was the kissing scenes. Elaborating on it was the actor who retained that while kissing is considered normal in the West, the crew members in India, like the dress dadas and the light-men, who belong to an older generation, find it extremely uncomfortable when these acts are performed on set. Stating that everyone is much younger in the crew out there, Ranveer shrugged off about intimate scenes saying that he treats it as just another scene and is equally comfortable with nudity.
With Padmavati soon in the pipeline and the actor playing a negative role in this Sanjay Leela Bhansali magnum opus, our hopes have been raised a notch higher considering the bold way Ranveer Singh deals with his scenes and his role. As for Befikre, with Ranveer Singh holding the reigns and with all that he has said in the interview, doing the film with none of the fears holding back can be termed as one of his biggest dares, bigger than probably what he did as Dharam in the film.