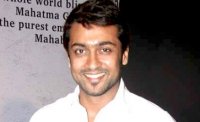 He could well be holding a record for seeing number of his films from Tamil getting remade in Hindi. His Ghajini was an inspiration for none other than Aamir Khan. His Kakka Kakka has currently caught an eye of John Abraham. Also, his latest hit Singham would soon go on floors in Hindi with Ajay Devgn reprising the character. No wonder, when Suriya himself makes his debut in Hindi, it is being keenly anticipated to check out what this man is all about. With the D-day just being a few hours away, Suriya gets chatting with Joginder Tuteja on Rakht Charitra 2, his long standing desire of working with Ram Gopal Varma getting fulfilled and whether he is the hero or the villain in the film.


A heavy mix of emotions and violence is something that could possibly sum up Rakht Charitra 2. Are you totally exhausted?

Of course. However, on the other hand, I knew that I won't be getting a chance to do something like this down South. To recreate such emotions would have been mighty challenging. The kind of rivalry and jealousy as seen in Rakht Charitra 2 is extreme. When I read it all, I thought why not give it a try. Also, someone like Ramu is the best when it comes to playing with a subject matter like this. Every director is best with certain things. He is the best when it comes to characters as seen in Rakht Charitra 2; he gets such emotions out bang on.



The kind of rivalry and jealousy as seen in Rakht Charitra 2 is extreme. When I read it all, I thought why not give it a try.

You seem to be mighty impressed with Ramu...

I always wanted to work with Ramu. In fact even before Rakht Charitra 2, he had come up with quite a few ideas. There were some films that he was backing but were supposed to be made by other directors. However, I wanted the experience of working with him. So when he presented to me the script of Rakht Charitra 2, I was all of it. I remember that Ramu's narration was for 45 minutes but that by itself was good enough for me to make the decision of stepping into the film.


I suppose the decision proved to be worthy enough.....

Ramu's clarity around the subject and how he wanted to execute it amazed me. All through these 30 days of shooting that I did with Ramu, I never saw him loose his cool even once. He actually works without any kind of emotion. The way he sets up the scene, the shot transition, the way camera focus changes, the zoom ins, lights and all - everything is so much well worked out in his mind itself. The way he tells a story is inspiring enough.


How about the violence aspect of the story? Did you find that inspiring as well?

(Laughs) No, the narration didn't detail the shots of people getting cut and massacred. That was the bonus. In a serious note, I was impressed with the characterisation that I got and the backdrop of how lot of things happen in the lives of the protagonists. Visuals came in much later.


Talking about protagonists, can you actually pin point that who is the hero and the villain of the piece here?

Every single film that you do is about characters. The film is about Vivek's character who gets into system and becomes grey. On the other hand there is this character played by me who becomes what he is because of wrong doings of Vivek. So much so that now he wants to stand in front of him and finish him off. It is about two characters more than a hero or a villain. This is more of a situation and idea, coincidence and how time plays around with things.


How about your own contribution to the film other than just being an actor. After all being around in the industry for long, one would have expected you to give some more creative inputs to the making of Rakht Charitra 2 as well.

I had a very big exercise for approving dialogues as well as lyrics for the Tamil version. Reason being that understanding has to be put across rather differently for people down South. On the other hand when it comes to Hindi, things have to be put across differently. Of course, needless to say, I tweaked my acting style for different versions as well.


The film has been made in two parts and hence is a lengthy exercise. It must have been a challenge you all to have two opening acts, two middle acts and two finales, right?

After directing so many films, Ramu is doing something totally new here. He has spent more than 150 days for this film which has a story spanning 14-15 years. This is the reason why the film had to be made in two parts. If I look at the film as a whole, it is not about an introduction, interval and ending. Every scene is important as there are characters other than you too who are equally strong with altogether different dimensions.


That's right. No wonder, I am still trying to figure out who is the central protagonist in Rakht Charitra 2 - is it Vivek or Suriya?

(Smiles) Everybody is going to come and go. The film is a detailing of what happens in everybody's life time more than any one actor standing strong. Nothing is constant as everything changes in the movement of screenplay. How time changes certain things and makes different people react is what makes Rakht Charitra 2 interesting.
BOLLYWOOD NEWS
Catch us for latest Bollywood News, New Bollywood Movies update, Box office collection, New Movies Release , Bollywood News Hindi, Entertainment News, Bollywood News Today & upcoming movies 2020 and stay updated with latest hindi movies only on Bollywood Hungama.