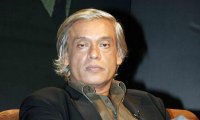 Filmmaker Sudhir Mishra who has been working on a film on Binayak Sen's life is shocked to hear of activist's life-imprisonment on sedition charges. Sudhir has studied Sen's life closely.
Asks Sudhir, "What's the true definition of sedition? I don't understand it. I've met Binayak Sen when I was a young man. Now when he was out on bail, I met him again. Binayak Sen is a very warm gentle soul, not given to rhetorics at all. He's very quiet. He's an army officer's son for God's sake! He is my best friend's elder brother. I was told to be like Binayak-da. He's a brilliant paediatrician. He could have been in Mumbai and made millions as a doctor. Instead he chose to listen to Gandhiji and went to the village. Is this what he gets for his idealism?"
Upset, yes. But Sudhir is hopeful that justice would prevail. "The National Advisory Council to Mrs Sonia Gandhi is saying this is not right. They say the evidence against Binayak Sen is very scant. What can I say? I am so glad there has been a surge of protest against the verdict. At least the voice of dissent is alive in India. I am not too enamoured of Amnesty and other international agencies jumping in to protest. I don't always agree with them. But the voice of dissent in India is reassuring. A lot of people believe Binayak-da is not guilty as charged. I believe them."
Sudhir feels through debate on Sen's guilt/non-guilt we can arrive at a consensus on how to deal with the 'Other India'.
Says Sudhir, "We in the cities live in the barbed seclusion of bungalows and watchmen cut off from the reality of the grassroots levels. In any political system there has to be debate."
Sudhir Mishra thinks the voice of dissent is not strong enough in India, not even in the artistic world. "Look at Oliver Stone in America. His film JFK can be perceived as a seditious act! Stone feels the official point of view needs a counter-view. And he represents that view. He is saying, here's my point of view listen to it. That's democracy."
Sudhir Mishra has no empathy or patience with Naxalism. He does have a solution, though. "I've no interest or appetite for extremist violence. I think the way out is to have a dialogue with people like Binayak Sen. Since a person like Binayak-da understands those areas where Naxalism exists, he'd be the right person to find a solution. It's like Nitish Kumar in Bihar. The moment people saw him to be sincere, caste ceased to matter and they voted for him in one voice. In some ways, I find Nitish and Binayak similar. They both represent a certain hope for a section."
Then Sudhir Mishra offers a startling solution to the Indian socio-political deadlock. "I think the solution to the present-day crisis lies with Rahul Gandhi, Nitish Kumar and Binayak Sen. One of them understands the young mind, the other comes from the establishment and understands the grass root reality, and the third is a dissenter. They should have a serious conversation."
Sudhir feels Binayak's matter should now go to the Supreme Court. "The Supreme Court of India has shown great vision and impartiality in the past. All of us who want to protest about Binayak Sen's sentencing should express our dissent through the Supreme Court Of India."
Sudhir is keener than ever to make the film on Binayak Sen's life. "But no one will fund it. I wanted to make a film on what gives birth to a figure like Binayak Sen. I wanted to understand what motivates such a mind. The cinema with a conscience and about the conscience like Satyajit Ray's Pather Panchali and Hrishikesh Mukherjee's Satyakam is almost lots to us. We need to retrieve that cinema."
BOLLYWOOD NEWS
Catch us for latest Bollywood News, New Bollywood Movies update, Box office collection, New Movies Release , Bollywood News Hindi, Entertainment News, Bollywood News Today & upcoming movies 2020 and stay updated with latest hindi movies only on Bollywood Hungama.