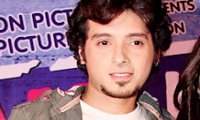 He is playing a foul mouthed bespectacled corporate type young man from Delhi in Pyaar Ka Punchnama and yet he is totally undeterred by the shocked expressions of some out there. Unabashed in his outlook towards the realities of life when it comes to dealing with women and promising that in his debut effort he would be making audience hear the voice of average young men who are taken for a ride by a girls, Divyendu Sharma may seem a little unassuming as a star actor but has made a huge mark already if promos are any indication. Joginder Tuteja catches up with the youngster who is happy to talk from nineteen to the dozen as long as it is doesn't turn out to be a boring and clichéd Q&A session.


You seem to be having most fun in the film if promos are any indication. As a character that goes by the name of 'Liquid', are you actually letting go off your frustration in a big way when it comes to women?

I would rather say that Pyaar Ka Punchnama is a story from guys' point of view. Women out there may think or do something that they may feel is right. But then for us men out there it may not be a comfortable situation. (Laughs) Come on; despite having a girlfriend, boys out there want that time out with their friends. A girl may think it is not necessary but hey come on, we need our guy-guy fun as well!


As in?

Think about it, there is small little thing like watching a cricket match. Who out there would want to move away from the TV screen when Sachin (Tendulkar) is on 99. But nahi, ek ladki ke saamne aisa keh do if by any chance she is seeking your attention at that very moment. Her next immediate statement would be - 'To hell with your match, go and live with Sachin'. Now now now, how unreasonable does that sound?


Pretty unreasonable if you ask me. But then women out there may have a certain point of view as well?

Arrey hum kaunsi anti-women movie bana rahe hain (smiles)? We are not showing women as Mogambos out there who would be consciously throwing us in that deep dark pool. It is just that what may come naturally to them may be hazardous for us (laughs). The point of view which we are showing in the story is very realistic. These kind of things must have happened to most me out there. I have been getting these phone calls from my friends and even strangers who have been responding quite well to my dialogue in the promo where I propose banning of girls who dump their boyfriends. Many are relating to it.


I guess quite a few out there, especially folks up North, are also relating to the colourful language in the film...

(Laughs) Guess that's the kind of advantage that sets in when you belong to Delhi. I studied in Kirori Mal College there and have been in company of guys for whom such language is everyday thing. Why just boys from college, walk the road of Delhi and you would hear this language all around you. I guess it has a flavour of its own.


But were you comfortable about it to mouth it on screen?

Aisa toh hai nahi that you don't hear 'gaalis' in other movies. Also, when a film is based in Delhi itself and has characters who are real, colorful language is bound to be a part of the narrative. I guess the way writer-director Luv (Ranjan) has integrated it all so well while ensuring that the story continues to move ahead is the work of a genius. Even personally for myself I feel that the way my part has been written is outstanding. I am not saying that other two boys don't have well etched part but I can proudly say that my journey is quite definite out there.


Guess your stint in theatre also helped you enact your part confidently.

(Smiles) Well, I can modestly, humbly and proudly say that I was a part of one of the best dramatic societies of Delhi; it polished me as an actor after I working in it for three years.


And then you got your lucky break as an actor in Pyaar Ka Punchnama after you did a series of commercials, right?

I couldn't have asked for more. This is a Kumar Mangat film and he is a very huge and respected man in the industry. Another aspect that thrills me is that as a newcomer you want to work in a project that eventually sees a release. Sometimes it just happens with some debutants is that they may work in a very nice film but it never gets released. Then it all becomes useless if people don't get to see what you have done. At least in case of Pyaar Ka Punchnama I was assured that it will see the light of the day and that too as per the plan. I know we will be heard.


Yeah, and along with that comes a promise of the voice of an average young man to be heard too, isn't it?

You make it sound a little too revolutionary though aisa nahi hai actually. It isn't just that in the film, the camera is on our side instead of girls (smiles). We are showing on screen what we guys feel. Hamesha movies mein dikhaate hain ki kaise ek ladke ne ladki ko dhokha de diya. In Pyaar Ka Punchnama we are saying ki arrey bhai, ab thodi ladkon ki gaatha bhi sun lo (laughs).
BOLLYWOOD NEWS
Catch us for latest Bollywood News, New Bollywood Movies update, Box office collection, New Movies Release , Bollywood News Hindi, Entertainment News, Bollywood News Today & upcoming movies 2020 and stay updated with latest hindi movies only on Bollywood Hungama.