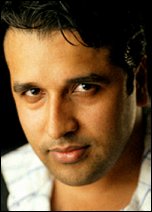 As always, you will come across directors who promise and don't deliver. Ritesh Sinha is an exception. Why? Because he is going to prove you wrong with his film Promise Dad that premieres at the Toronto International Film Festival this year. After meeting him twice, I've come to know that he has an unrivalled gift for insightful cinema that very few have or the many lack. From the talks I shared with Ritesh, his unreleased film work has been characterised by an unfashionable seriousness, but in person he is a breezy fellow. And he probably deserves his lightness of mood, after the days, months and years he spent to write quality cinema and finally seeing it come true at this year's TIFF. He may not occasionally laugh with you but he does have a good sense of humour. It's hard to gauge Ritesh Sinha's impact on Indian culture, because it's vast and still ongoing. Then after spending a good three hours in his company over wine and dine, you find out that he has both the creative talent and business acumen to fulfil the dreams and expectations of audiences. Promise Dad is a film based on the sheer belief of this young zealous director who now wants to resurrect a new breed of audiences. Over to the man who will deliver what he promises - Promise Dad.


Your film is being showcased at the Toronto International Film Festival. That means you make your debut internationally. You think the decision to showcase it at the festival was the best move you've made?

Yes, I think it's a decision that we all believe in. Promise Dad is a Super Film and all it needs is a right platform for it to take off. And TIFF is a wonderful platform to showcase it on. Promise Dad is an English film and yet at its heart it is a very Indian film showcasing family values, Mahabharata and a beautiful bond between a Father and a Son.
I have worked very hard to write a truly engaging story that has a much layered screenplay in its structure and style and also is fast paced and entertaining. Having set the story against the backdrop of Figure Skating with almost 32 British characters, the film will showcase London city like never before. I am hopeful that the world audiences who may have seen many films set in London, do like my take on this amazing city. For the past couple of years, I have been travelling extensively to London to absorb the city within my consciousness. I hope the Festival audiences who comprise of many industry stalwarts, like what we showcase to them.


Why didn't you go with someone as big as Big B for the role of a Dad in Promise Dad. It could've been his first international film too.

As a filmmaker you cannot take decisions in isolation. For me cinema is more of an organic process rather than a process of following an image. Mr. Bachchan is a legend but I have had a very limited interaction with him and do not really know him as an individual or as a person. Like many others, I too know him from the image that is projected and received by all of us. Memorable Cinema is always personal and having known Satish Kaushik and having worked with him as well, I could see that he has tremendous depth as a person and I think some aspect of this has never been brought out on the big screen. Also I think a film can never become international just by screening it at any reputed international film festival. A Film is International because its story, its screenplay, its treatment and its execution has a certain sensibility that may appeal to a wider global audiences and I believe we have been successful in this respect. Of course, hopefully one day I may be able to write something that is close to what Mr. Bachchan may actually be and with God's grace he may green light it.


Will Promise Dad be released in India and when and in what language?

Of course Promise Dad will release in India, after all, it's an Indian Production and will see a big release in India as well. We are hopeful to dub it in Hindi, Tamil and Telugu languages.


What's your next big move in Bollywood going to be like?

I already have got an offer to direct another movie but then I always would like to write and direct and therefore more than the offers to direct, first I need to feel strongly about something that I would like to create on celluloid. I have a feeling that my films as and when I make them will mostly be an extension of my thought process at that given point of time.


What sort of movies motivated you as a child and then you wish to make as a grown up now?

I have had a much protected childhood and therefore we were never allowed to see too much of violence or such kind of film. But I remember that I was very young and yet when I saw Masoom, I without really knowing why, liked it a lot. 'Lakdi Ki Kathi, Kathi Ka Ghoda' song was one of my favourites for quite a while. Many years later when I saw Masoom again, it struck me that Shekhar wrote and directed not just a film but almost created a family and its trials and tribulations. His maturity as a filmmaker and understanding of human relationships was so clear in the film and it is impossible for anyone not to get connected with the film as you watch it.


What unique marketing strategy are you eyeing at to promote your film Promise Dad in times when marketing has really taken over the business of films?

Our Marketing team has been working on a plan and I believe this would be for the U.S. distributors who got in touch with us at Cannes this year, in addition to the many guests from our industry who are expected to be present for the screening. I think for a film like Promise Dad, at the crux of everything lies it being appreciated genuinely. If you don't like what you see, I don't think even the best of marketing can make it succeed. First the film must engage the audiences and then I think it may just take the world by storm.


Any filmmakers you are planning to show your film to at Toronto?

Yes, a number of them have already been invited and have accepted our invitation. We are planning a Gala Night after the Screening. Irrespective of the film doing good or bad. I think that night would simply be a night to party and chill out. We will face the world only from next morning onwards. So get set to party hard with the Promise Dad Team at Toronto this year.
BOLLYWOOD NEWS
Catch us for latest Bollywood News, New Bollywood Movies update, Box office collection, New Movies Release , Bollywood News Hindi, Entertainment News, Bollywood News Today & upcoming movies 2020 and stay updated with latest hindi movies only on Bollywood Hungama.