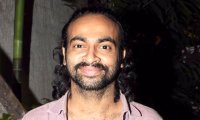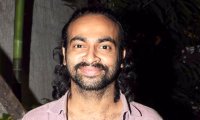 Never under estimate the power of a Joker in a pack of cards. It can come as a saviour when you've almost given up or it can ruin it when your ego has almost touched sky high. Enter Pitobash. His life in Bollywood, if you consider has been the same as that of the Joker from the pack of cards: safe n sound. At the moment, he's making more 'shor' on his next biggie titled Joker. Pito has shown that he can master any part thrown at him - now it's up to directors to give him that role. Enter Shirish Kunder, his director, who has given Pito a 'hunchback' role in Joker - something that's oddly challenging. Now come to think of it, Pito is blessed and cursed with a chameleon-like mischief and a face that can shift from pathos to menace to madness in a split second. But that's the quality a Joker would possess too, wouldn't he? UK's Harrow Observer columnist and Bollywood Hungama's London correspondent takes you inside the adventure, fantasy and sci-fi world of Shirish Kunder's Joker. It's 'Pito on Joker' time!


"Joker is fantasy, adventure and Sci-fi and it still has the Bollywood humour"

Joker is the first 3D Alien movie. Joker is fantasy, adventure and Sci-fi and it still has the Bollywood humour. In spite of all this, Joker isn't an out and out comedy. Shirish has made sure that Joker will be one of its kind movie coming out of our industry.


"I have prosthetic makeup in Joker"

My look in the whole lot is very different from what I've attempted ever before, on stage or on screen. I have prosthetic make-up. I haven't done this before. I had to close my eyes and sleep while Preeti put on the prosthetics. It was like driving your car in the traffic jammed Andheri area that took you two hours to reach your house from the station. Oh! Then an hour to remove the prosthetics too!


"I personally feel that the soul of the film is the concept, story and the genre"

Akshay Kumar is already a big star and he keeps doing good films. Joker is tailor made for Akshay Kumar once you know the story. I personally feel that the soul of the film is the concept, story and the genre. If there is a character in the movie with two scenes also, it's still the most interesting. Joker is everybody's film. It's an ensemble cast never seen before.




"My character has a hunch in Joker"

My character in the movie has a 'hunch'. I am hunchbacked. But knowing Akshay Kumar, he kept playing kick boxing on my hunch (laughs). He is a funny man possessing endless energy. When you work with someone who has been working in the industry since two decades, they know exactly what they are doing. It's the experience that counts and I got impressed with the man's sincerity and authenticity with which he portrays his scenes. He will also bully his co-actors and Akshay is that energy filler.


"Shirish was the only choice to explore a genre like Joker"

Shirish was an editor before he became a director. He is a superb technical director. Shirish was the only choice to explore the genre like Joker. In his subconscious, Shirish knows everything from lighting to editing to special effects, etc. Joker couldn't have been what it is without Mr. Kunder.


"Minissha being an actor wants to know all the technicalities being used in the movie"

Minissha is very curious to know everything happening on the sets. For instance, if there is a special light being used, she will call the A.D. or an E.P. and ask them. Being an actor, she wants to know all the technical aspects being used in the movie. But all said and done, Minissha is sexy and beautiful.


"I told Sonakshi - 'We go a long way', and she started laughing"

Shatrughan Sinha was my senior from FTII. He came to our class and he was there in our final play during my term at the institute. I know Luv Sinha too because he had also applied in the selection process in FTII. So when I met Sonakshi for the first time I recalled my FTII days and she couldn't believe it. I told her, "We go a long way" and she started laughing. She is a great dancer and a very talented actress.




"Vindoo is Punjab's pride and Joker's too"

Vindoo Dara Singh is 'Punjab ki shaan'. He is the pride of Joker too (laughs). He is a complete contrast from what you think he is in his physicality. Many think he is rough and tough, he has a great physique, he is tall and brooding but Vindoo has a very sweet and fun loving persona. His costume is so hilarious in the movie you're going to die laughing.


"You'll get Shirish's jokes five minutes after he has delivered"

Shirish's sense of humour is amazing. You'll only come to know the joke after five minutes of him telling you. There was a scene where I was meant to be out of focus and the camera is on Shreyas Talpade. Shirish said 'Cut' and told Shreyas that I was stealing the limelight and Shreyas was uncomfortable only to later find out that he was pulling Shreyas' leg.