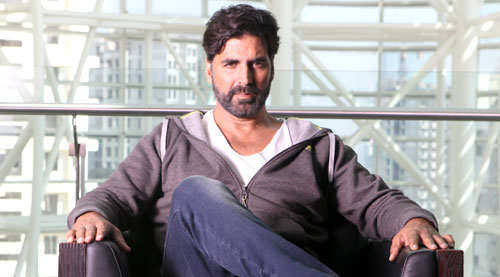 100 plus films, over 20 years in the business, a consistent success rate, a stable position amongst the top superstars and the only one to be releasing three to four films at an average every year - No wonder, Akshay Kumar has chartered a unique path for himself where he is driving the show merrily. His Baby stays on to be the only major grosser that Bollywood has seen this year and now he is ready to release his Gabbar Is Back this Friday. In this exclusive conversation, the actor bares his heart out about picking up the mantle against corruption and still ensuring that the entertainment quotient for audience stays on.


After Baby, this appears to be yet another film which has managed to make a strong presence on social media in quick time. You too must be tracking the kind of positive response it is generating?

The interest in this strong vigilante character is what has created the buzz (smiles). He is by far one of the most powerful characters I have ever had the privilege to bring to life!! India is so sick of corruption that they will always stand by a Gabbar and the fact that Gabbar isn't going around slaughtering the innocent, he's literally taking corruption into his own hands and dealing with it like a cave man would. To follow the excitement of people's intrigue and stand against anti-corruption is inspiring in its own right, and I take my hat off to every and anyone brave enough to show their passion!


Of course there is no straight forward one-fix-for-all-problems solutions that can be drafted, especially in a country of over one billion like us. In that scenario, what do you propagate in the film?

(Laughs) Well, in the film I hang crooks for their back handed crimes. But in real life, I have a far more diplomatic version of how I would handle corruption, but that's a whole other film (smiles). In Gabbar Is Back, you really don't want to mess with him; it will be your dying wish to turn back the clock and pray you never did such devious acts because Gabbar makes it so unpleasant, that the word of mouth that spreads through the sheer violence of his actions is almost enough to reduce the corruption within a single year!


Really?

Why not? Can you imagine if the Government actually hired such vigilantes to do all the undercover dirty work? Not only would we lose a percentage of our country's politicians (winks) but we'd decrease a huge amount of crime due to the fact that people would now genuinely fear for their lives before they commit such crimes. Singapore is living proof of stopping crime through daily fear; their punishments are so severe that the population is actually scared to do anything wrong because the penalties are enough to keep their sins at bay. What I think is the problem in our country is that no one fears our legal system; it is almost too easy sometimes to get away with what's either easiest or convenient for both parties - innocent and guilty.


So while you are playing someone good, there is a bad element in the form of Suman. How does the face-off with him take place in the film?

It's a face-off like no other! Without giving too much away, you will never see someone handle revenge quite like I do. It's gripping, it's nasty and it's damn well necessary.


On the other hand there is Kareena with whom you not just share a lovely song 'Teri Meri Kahaani' but also a few scenes. How does her presence in the film add on to the proceedings of the film?

My dearest Kareena has a small cameo in the film, but a necessary one. She plays my wife back in my angelic days, she is exactly what we needed - not a girl, but a woman. There are not many that could break a man like she could (smiles). The fact that she has one of my favorite songs of the year to perform to with me is just an absolute bonus.


As for the other leading lady, there is Shruti Haasan in the film. Is there a quintessential romantic element in play with her, or is there a different kind of relationship between the two of you in the film?

Shall I just talk you through the whole film now only, or would you like some element of surprise left when you see it (winks)? Shruti has a crucial role in the film. Even though it's a rather macho film, without these two women I look just like a madman on the war-path. Shruti brings innocence to the madness, one that is necessary and talented at the same time. When this girl cries, she brings a tear to your own eye!


I can see that quite a few dialogues from Sholay have been mouthed all over again in Gabbar Is Back. So was it the fan boy in you who was totally bowled over when asked to deliver these lines?

You could say that. The thing is Gabbar is an idol, you can't change that. Gabbar is Back is about bringing Gabbar back, not about reinventing him. His dialogues have gone down in Bollywood history; I am here to make that history heard again. Our country needs a bit of Gabbar right now (smiles).
BOLLYWOOD NEWS
Catch us for latest Bollywood News, New Bollywood Movies update, Box office collection, New Movies Release , Bollywood News Hindi, Entertainment News, Bollywood News Today & upcoming movies 2020 and stay updated with latest hindi movies only on Bollywood Hungama.