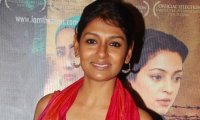 What's the first thing that comes to your mind when I say: Nandita Das? That she does films that aren't entertaining? That she does 'off beat' or 'art house' or 'parallel' cinema? That she does all controversial films? That she thinks she's too much of a pseudo intellectual? If you all think that's what describes Das, then stop reading further. Now to my next: Will there ever be an end to our obsession with Nandita Das? No, Never! There she was, dressed in a 'peacock blue' Punjabi dress with a dark pink duppata and standing all alone in a corner of a packed room full of media and guests, Nandita was trying to send someone a text from her mobile. I wasn't going to let go of that once-in-a-lifetime opportunity and so walked towards her to strike a conversation. But the moment she turned and smiled, I was falling short of words. Don't be surprised! Nandita didn't hold back. She was generous enough to offer a handshake and introduce herself. It is her volatile acting prowess that draws you towards her and her characters. Pretty, sexy and dramatic are one of the very few synonyms that describe the actress. Yes, it's true that her stature derives largely from roles that disguise her real beauty. Nandita can be tagged as our industry's brand ambassador of sorts, with her award winning performances in highly acclaimed films that travel world over, her being on the jury of the World's biggest Film Festival - Cannes Film Festival, and just a week ago being honoured France's highest civilian award, she is the new French Knight. When you talk to her, Nandita seems a more relaxed and subdued person, with amused, intelligent views on her life, her work and the state of the world. Now Nandita is at it again in her new film I Am directed by Onir, and why 'AM I' not surprised? Because it's got everything that a good content driven film needs - triumph over adversity, hope over experience, and a beautiful woman named Afia whose life, as she points out to me twice, is not the one she was born to, it's the one she has chosen. Presenting you: Independent, Bold and Beautiful - Afia, I AM and Nandita Das


Involve and Evolve


I've done 30 odd films and most of them deal with subjects that aren't talked about in cinema or in our society. That's why such films are called by all sorts of names - parallel cinema, art house cinema, etc. We choose not to deal with these subjects, especially the commercial filmmakers because they want to please their audiences and such films don't give them the scope to. Such films are disturbing and we don't want to be disturbed as individuals. But more and more audiences have evolved too. It's not that they don't want to see films like I AM.


Market of Marketing


I have personally suffered when it came to marketing my own film that I directed called Firaaq. I went through a kind of depression (laughs). We put in so much into making a film. After doing all of that, you give your baby, your film to someone who don't have faith in your film to market or produce. I am really supporting I AM because Onir and Sanjay have been through their worst in these times of sheer competition and yet not given up. I like that they have given the independent cinema a new meaning, a new life.


Stories, Skills and Risks


Firaaq went to more than 50 film festivals across the globe. I am fortunate to have seen cinema from all kinds of countries where people make two to five films a year. I kind of feel ashamed that we make hundreds of films a year and yet aren't ready to push the envelope the way we ought to be doing. What haven't we got in India? We have the best talent, money, technical team, great stories and yet I wonder why we don't take chances and risk enough.


Economics and Art


I have always said this that economics interfere so much with art that it truly takes away the pleasure of art. It's a pity. Soon after Firaaq, people told me that I should direct my next film and I was left questioning, "Is it really worth making another?" Producers and Distributors take full control of your film after you make it. They treat your film like a trash can. It's time to take control and I am glad that people have started to look up to films like I AM.


Successfully unsuccessful


When it comes to face-playing, it's everybody in the industry, right? Why don't established actors or successful A-list actors make way or give strength to younger and new directors by giving their support and being a part of their films? But because you are a successful actor, you want to keep that success and that's why they take fewer chances of being a part of independent cinema. But it's not just cinema. It happens in many different professions the world over.


Vihaan's debut


Vihaan, my newly born baby boy has made his debut in I AM (laughs). He was very much hearing all the dialogues on and off the sets. Call it irony, but I was pregnant and at the same time I was playing a woman who wanted to become a mother. I decided to have a baby at the stage in my life when I met a person I wanted to have a child with. When I was pregnant, I was actually very apprehensive. I was fielding a lot of questions: Was I doing the right thing? Will my life be completely different? Will I be able to handle the film? That was me. Afia, my character in the film was far surer about wanting to have the baby than I was when I was pregnant. To have a baby is a personal choice but sadly we aren't even given that freedom of choice now-a-days. Thanks to Onir, such subjects are being addressed to the public.


Don't preach and teach


Often, films like Firaaq and I AM can go the 'preachy' way. But I remember showing my film Firaaq to Mani Ratnam and the first thing he said was that he was scared of it being preachy because I was so close to the subject. But he was glad to find out that it wasn't preachy at all. If you make a film shouting out the message loudly then you are pushing your audiences away. The reasons I draw Firaaq parallel to I AM is because both are ensemble cast, both have a strong message, both come from the heart and these subjects are a bit uncomfortable. Each one from the audience is going to take something from the four short stories in I AM.


I, Me, Motherhood


I am enjoying my motherhood. My life has really turned a full circle now. More than that, I am enjoying every bit of it. Every parent I've met tells me, 'Enjoy this time because children grow up too fast (laughs).' I also quit from Deepa Mehta's Midnight's Children because I wanted to enjoy my motherhood. It's good to take time off for a bit but when the right time comes, I will plunge into what I love doing the most, films.


Politically correct


Just two days ago, somebody was interviewing me from the French embassy and was asking me why in India aren't we political about our cinema. When the Iraq war happened and the Bush thing happened, so many people voiced their opinion but why is it that the Indian Film Industry isn't connected to social issues and all. Why aren't big actors doing independent cinema? Such questions need answers and unfortunately, it may take some time.


Bimal Roy, Raj Kapoor, Guru Dutt


Bimal Roy, Guru Dutt, Raj Kapoor, Satyajit Ray, etc used to make such cinema before. They didn't think of art and commercial. Such divisions weren't even there at that time. They made films they believed in and yet it had everything - songs, dance, emotions, action, etc. I wish there was a little more space out here to make such cinema once again.


Inception, The Dark Knight, The Social Network


The audiences who are watching Inception, The Dark Knight, The Social Network, etc are still small in number. So the question arises - What kind of cinema do we make? Like the ones I mentioned or the ones who don't understand such high quality cinema? Who do we make cinema for? For 'ourselves' is the answer. That's when we will make good cinema.
BOLLYWOOD NEWS
Catch us for latest Bollywood News, New Bollywood Movies update, Box office collection, New Movies Release , Bollywood News Hindi, Entertainment News, Bollywood News Today & upcoming movies 2020 and stay updated with latest hindi movies only on Bollywood Hungama.