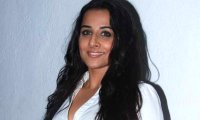 Whenever you see Vidya Balan perform, you tend to believe that she does nothing by the book. Five years on, Vidya's star has risen yet further, and it is a mark of how untouched she is - how real, if you like - that nothing has changed. Whatever it was, those formative experiences served her well in her chosen career as an actress. Those murky corners where pain, discord and ambiguity are rife have always attracted Vidya, and it's really the truth if I may exaggerate, that Balan is swallowed by Bollywood and it will be an understatement if I again stress on the fact that Vidya's portrayal of diverse and distinguished roles is a testament of quality, excelling in range, power and versatility. Her forthcoming role of Sabrina Lal from No One Killed Jessica is just a few of the many more we will be a witness to in the days to come and in the near future. And as we come to an end of this exhilarating chat with one of India's finest, I ponder and deliver - 'What would possibly go wrong if Cleopatra had actually met Vidya Balan?' I mean, ever wondered how Cleopatra would've looked if she was draped in a Sabyasachi's saree? UK's Harrow Observer columnist and Bollywood Hungama's London correspondent brings you part two of the exclusive chat with India's very own - symbol of sexy and simplicity.


"When you talk about Jessica Lal, you talk about Sabrina"


Cinema is all about stirring emotions. For me, that happened in No One Killed Jessica. It was also about an emotional journey of Sabrina who was the face of the case, besides the media. When you talk about Jessica Lal, you talk about Sabrina because it was her bravery that got her sister justice.


"Raj Kumar Gupta saw me in my costume on day one and said, 'That's my Sabrina'"


I asked my director why he offered me the role of Sabrina and not the media person played by Rani Mukherjee. It's an important question for me. He informed me that he needed an emotional graph of a woman and that I was the only one who could pull it off. This is one film that I've spoken very less about but yet I want to go on and on about it. The first day I did my costume trial and when my director saw me, he said, "That's my Sabrina".


"The promos never favoured Rani Mukherjee"


The promos never favoured Rani Mukherjee. The story is about these two people, played by me and Rani. The purpose of both these women were the same - to give justice, but their approaches were very different. Sabrina is about quiet strength and she looks very timid. Sabrina is almost like a wall flower. The promo can't have too many silent moments. It has to have frenzy.


"Sabyasachi said that from a sexually aggressive character I've turned into an asexual unattractive one"


Sabyasachi went with Rani Mukherjee to London to shop for her clothes for No one Killed Jessica. He is such a designer that he doesn't see films as a showcase for his clothes. Sabyasachi clothes characters. What took me by surprise is the fact that he came from London and said, "I got your clothes too". So when I asked him why he didn't take me along with him to London, he said, "I wanted clothes which were larger and not your size". He gave me tees that were over sized and completely asexual. He told me, "From the sexually aggressive Krishna in Ishqiya, comes an asexual lady who ain't pretty". That was how real Sabyasachi wanted me to be in the film.


"I have pushed my schizophrenia to an unbelievable limit"


Words like 'commercial cinema' and 'art house cinema' are redundant in today's time. Categories don't exist anymore because I feel that a good film will always work. It could be anything. The scale of a film may differ but a good film that recovers its money is a hit. It could be a five crore, fifty crore or a hundred crore hit. Personally, every film I've acted in has given me something different to do and I have pushed my schizophrenia to an unbelievable limit (laughs).


"Zeenat Aman is a kind of sexy that is graceful sexy"


With the kind of clothes Zeenat Aman wore, she carried it with so much elegance. You never looked at Zeenat Aman and said 'cheap'. She was an epitome of 'sexy'. She is the kind of sexy that is 'graceful sexy'. Even when you see her in her bellbottoms, she looked classy.


"My director stripped me of all the excesses"


Raj Kumar Gupta is someone who is very instinctive. Ever since I have made my debut, I've seen directors vision change and how. One in terms of treatment they give to their scenes. It's real and not conventional. Directors like Abhishek Chaubey, Raj Kumar Gupta and Sujoy Ghosh are unconventional but very passionate and very high on conviction. That's why they have the courage to make the types of films they want to make. Secondly, the new directors strip you of all the excesses. When I watched something of NOKJ, I asked myself, "Is that really me?"


"Rani Mukherjee is my favourite actress amongst my immediate seniors"


It's exciting to work with a good actor and Rani Mukherjee is someone who I've always liked. I've liked her in Bunty Aur Babli, Raja Ki Aayegi Baarat and Black. Rani Mukherjee is my favourite actress amongst my immediate seniors. Like I said, acting is about reacting and when you work with an actor like Rani, its great fun. We don't have too many scenes together in the film but we have worked together for a few days. We got along very well.


"I love the song 'Aitbaar' which talks about Sabrina's journey


Amit Trivedi's music and Amitabh Bhattacharya's lyrics complement each other. The first time I heard the song 'Dilli Dilli' I thought that it had some kind of weird energy about it. There is another favourite track of mine called 'Aitbaar' which is really about Sabrina's journey and there is a crazy song like 'Saali'. Three diverse songs which has everything to do with the film and its characters - Delhi, Sabrina and Rani's character.


"One of the newspapers carried a headline - No one killed Jessica, and that became our title"


The title is very ambiguous but it has a deeper meaning to it. The day after the initial court case of Jessica Lal, when everyone got acquitted and the witnesses turned hostile, the conclusion was seen in the next day's newspapers with a headline saying 'No One Killed Jessica'. I like this title because it says a lot about the film and yet says nothing. I loved the titles Ishqiya, Dabangg and Lage Raho Munnabhai, not because it had Munnabhai but because it had 'Lage Raho'. It was simple. I loved Parineeta too without sounding biased.
BOLLYWOOD NEWS
Catch us for latest Bollywood News, New Bollywood Movies update, Box office collection, New Movies Release , Bollywood News Hindi, Entertainment News, Bollywood News Today & upcoming movies 2020 and stay updated with latest hindi movies only on Bollywood Hungama.