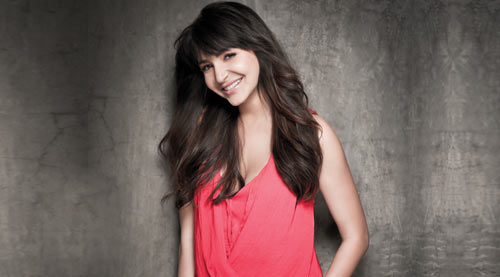 Anushka Sharma, as we all know, is someone who has made it big in Bollywood purely on her own merits. Besides being good looking and talented, she is also plain simple lucky. How else will you explain her debut film in which she got to romance none other than the 'King Of Romance' Shahrukh Khan himself! The last time when Anushka made news, was when she became the 'solo entrant' from Bollywood to be a part of the mega prestigious Rs.300 crore film club, courtesy, the smash hit film PK. This time round, Anushka is all set to hit the silver screens with her maiden production NH10.


Satish Sundaresan of Bollywood Hungama caught up with this pretty lady for an exclusive interview in which she has spoken not just about the film , but also about what went inside while making it and more.



(P.S. Brownie points to Anushka for doing this interview, despite having a very painful backache and bottleneck commitments).


Anushka, since your PR manager wants to keep this interview short in lieu of your choc-a-bloc appointments, it will be great if you can answer the questions in short, so that we can accommodate more questions. Are you game?

Absolutely...


Anushka, to start with, how does it feel to be the only Bollywood heroine in the exclusively niche Rs. 300 crore Bollywood club with PK?

Great!


Anushka... I did not mean this short...

(Laughs) Well, it does feel really great, but more importantly, it feels superb that I became a part of the 300 crore club with a film like PK.


Rather than beating around the bush, let me hit the hammer on the head. Why have you named the film as NH10? And, if given a choice to rename the film, will you rename the film?

I will just not change the name from NH10 to anything else. We all know that the basic purpose that the highways is to connect people from one city to the other. And while doing so, many factors, like the demographics of the locations and also people's perceptions about many things also start changing. And in NH10, the highway plays a vital role, because there is a basic connect between the urban India and the 'other' India. What one gets to see is that there is a stark difference between the two, something which comes strongly in the film.


In a nutshell, what forms NH10's story premise?

It's a story about a cosmopolitan working couple, who go on a weekend trip. Amidst their journey, they encounter an incident in which they do not want to get involved in, but, unfortunately, they get involved into that. How the trip and the incident change their lives forever forms the crux of the film.


By now, everyone knows that you play a corporate executive named Meera in the film. Can you throw some more light on that?

Meera is an extremely ambitious girl who is comfortable only in her comfort zone. She doesn't like changes (in her life and lifestyle) and doesn't have too many friends. She is someone who can be termed as a loner, in a way.


The film's publicity posters are as hard hitting as the film's theme. How much was your contribution in the same?

The idea of the posters did not come from me. It was Ishika Mohan's (wife of Vikramaditya Motwane) idea. One day, she had just come on the sets and had taken some snaps. We saw the images and were stunned looking at them. Even though we had done photo-shoots for the film's posters, we eventually used the images which were taken by her on the sets. We all felt that it was a great idea to have the poster telling the entire story with just a single image.


What are the locations in which the film was shot?

We shot in Gurgaon and Khejela, which is in the interiors of Rajasthan. NH10 is a film that can be termed as 'India centric'.


Does music play any 'role' in this 'violent thriller' film?

Actually yes! The music of the film is really something. I really like the music of the film. Even though there are no songs that have been lip synced ('picturized') in the film, we released a promotional video for the film titled 'Chhil gaye naina', and the response for it has been overwhelming.


NH10 also sees you doing intense actions and stunts scenes. Did you do all the actions yourself or was there a body double to your rescue?

I had one body double, but I did most of the stunts by myself.


How was your chemistry with the film's director Navdeep Singh?

Navdeep Singh is a very self-assured man and an extremely sorted guy. He really knows what he wants from his actors. It was easy to understand as to what he expected of us, which helped us deliver the best of our performances.


What about your co-star Neil Bhoopalam?

With Neil, we did workshops together in order to establish the chemistry between our respective onscreen characters.


Besides acting in the film, you are also producing it. Don't you feel that you are too young to don a producer's hat? Also, as a first time producer, how did you manage the commercials?

I firmly believe that you are not too young or too old to do anything in life. We have people (read 'achievers') like Mark Zuckerberg and others who have changed the face of the earth by achieving what they want to achieve at such young age. In the same breath, let me tell that restricting people from achieving something in life on the basis of their age is just unfair. I did it because I think I can do it.


Now that NH10 is wrapped up, what's the one thing which the film has taught you as a film maker as well as an actor?

As a film maker, it has definitely reinstated my faith in good stories and good films, which I strongly feel is the 'baap' of everything! As a producer, I will like to continue to support and back such films. And as an actor, it has made me realize that I can push my boundaries as an actor and be successful at that.


Now that NH10 is due for release, which 'role' you enjoy the most: the producer or the actress?

NH10 is my baby. I enjoyed every bit of making it as well as acting in it. In that sense, I enjoyed being both, the producer's as well as acting in it.


Any expectations of NH10 entering the 100 crore club?

I don't want to (expect) and I am not putting any kind of expectations from this film.


God forbid, if the film doesn't do well, will you still be happy and satisfied that you made this film?

This film will definitely do well. (takes a deep breath).


Talking about the film and its marketing, how important do you feel is the role of social media in the film's promotions and publicity?

I feel that it's extremely important. The reaction to anything (incl. the film's trailers) on the social media is totally instant. That way, we get to know as to what the audiences think of the film.


That brings me to my next question. On Twitter, you became 'Jagat Janani' for PK, and now you are Meera for NH10. Whose idea was it to do this name change as per your film's characters?

That was my idea to do the name change. The reason being, my life revolves around nothing except my movies. That's why, on twitter, I become the 'character' which I play in my upcoming film, which also help me promote the film my way. I literally breathe my characters through these 'characters' on twitter. Let me tell you a secret, my next 'character' is going to be Rosie!


You mean Rosie Noronha from Bombay Velvet?

Yups! (smiles).


In your next film Dil Dhadakne Do, you do an item number, for which you also got trained in Lindi Hop and Charslton? It must have been very tough...

Trust me Satish... it was really very hard. That really required a lot of work. It's a high energy song that has the old world charm in it. Bosco has choreographed the song. I just hope that all of the hard work pays off.


Irrespective of the B-O outcome, will you continue making films like NH10?

I definitely would like to back content driven cinema like NH10.


What's your priority at the moment: love or money?

Money has never been my priority. So, it has to be love.


Anushka, the following are a handful of 'facts' about you. All that you need to do is tell us if it's true or false:


Is it true that you wanted to be a journalist?

True. But, I am glad that I did not become a journalist. I would have been a terrible one at that (laughs).


After an award function, when you were crying for not getting an award, Amitabh Bachchan complemented you saying that "Bahut samay ke baad I've seen such raw talent".
I wasn't crying. I was feeling sad. But, after hearing those words from Bachchan saab, I felt like that I got my 'award'.


That you refused to do an impromptu screen test for YRF's Rab Ne Bana Di Jodi and took one full day to prepare for the same.

Perfect ... yes!


That you requested director Rajkumar Hirani and Aamir Khan if you could have the transistor as a memento of PK.

Oh yes!


To wrap up this interview Anushka, what are your final thoughts about NH10?

All that I want to say is that, the way we have made the film, I just hope that it gets received well. I really have a gut feeling that it will surely do well. And I firmly believe that, when you follow your gut feeling so strongly, it really empowers you to follow your mind.
BOLLYWOOD NEWS
Catch us for latest Bollywood News, New Bollywood Movies update, Box office collection, New Movies Release , Bollywood News Hindi, Entertainment News, Bollywood News Today & upcoming movies 2020 and stay updated with latest hindi movies only on Bollywood Hungama.