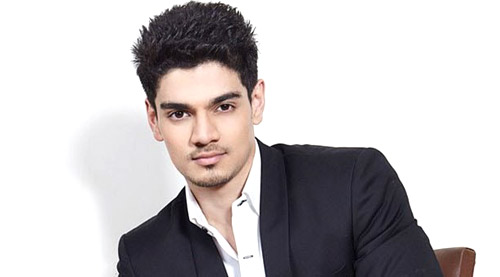 Every Friday sees the influx of many newcomers who want to try their hand at either acting, directing, penning lyrics or music direction and other such aspects of filmmaking. Every week, the fateful Friday either makes or breaks their dreams and aspirations of making it big in showbiz. Amidst the hordes of upcoming stars and newcomers waiting in wings to try their luck in Bollywood, there is a rising 'sun' on the horizon of Bollywood's silver screen. He goes by the name of 'Sooraj Pancholi', who happens to be the son of the veteran actor Aditya Pancholi. And it is none other than 'Salman Khan' who has taken Sooraj under his wing mentoring him to become a name to reckon with in Bollywood. Satish Sundaresan of Bollywood Hungama caught up with Sooraj Pancholi who is all set to storm the silver screens with his debut film Hero, that's up for release soon.

Over to you Sooraj...

"My mother is the real 'Hero' of my life" – Sooraj Pancholi

To start with, what is the feeling right now? Are you excited, nervous or have you simply adopted the policy of 'wait and watch'?
I am not at all nervous. But yes, I am very, very excited. I am waiting for the people to tell me as to how good or bad I am (onscreen).

With all eyes glued on you and your debut film Hero, how does it feel to be Sooraj Pancholi, the man of the moment?
Trust me. I feel like the same Sooraj Pancholi, who went to school and who leads a simple life. I am not feeling anything different in my life at all!

When did the acting bug bite you? Did you always dream of becoming a hero one day like your father?

It's true that the acting bug bit me. It was not a big bug, but a small one. This was when I saw Kaho Naa... Pyaar Hai. After seeing that film, I started feeling that I wanted to be an actor. But, I was always shy to tell my family about it. Then, I started working on Ek Tha Tiger as an assistant director. That's where I met Salman Sir. After that, I became 100 percent sure that I wanted to be an actor.
What, in your opinion, are the advantages and the disadvantages of having born in a filmy family?
For me, there were no advantages. The only advantage that I had was that I had been raised in a very good family, wherein my parents never compromised on my training. But, when it comes to my work, I have got zero advantage from my family. I did everything on my own. I feel that the disadvantage of being star kid is that that there is lot of criticism and hatred towards the children who hail from the filmy families. Others feel that being a star-kid, we need not work hard at all. But, the fact of the matter is that it is the star kids who have to doubly work hard in order to prove themselves. Not to forget, these star-kids also have to take a lot of more gaalis (abuses) than the other actors! (smiles).
How and when was Hero offered to you? What was your immediate reaction?
We were actually shooting for Ek Tha Tiger in Turkey. I still remember that day and that night. It was on November 9, night (which also happens to be my birthday). Salman sir took me to his room wished me happy birthday at 3 am and then said, "'Sooraj, I have a gift for you. I want you to do a film for my production house 'Salman Khan Films'. Would you like to do it?" I immediately said, "Of course Sir". After returning to Mumbai, Salman sir told me to start my training and wait for his call. I waited for 'that call' almost one and half years! After all the wait, then, one fine day, he called me and said, "Sooraj, I have a script. It's a remake of Hero. Are you interested?" The rest, as they say, is history (smiles).
Was it an instant yes or you took your time to give your nod for the film?
Getting a film offered by Salman sir himself, I instantly said yes to the offer!
Have you seen the original Hero? If yes, then, how many times?
Yes, I have seen the original film starring Jackie Shroff. I have seen it almost a dozen times.
In what way are you different from Jackie Shroff in the original film?
Trust me when I say that you will see me playing a completely new character in the film. One has to watch the film in order to find out what difference I bring to the role.
While the original Hero had the 'Hero' playing the flute, you will be seen playing the mouth organ. Did you not insist on playing the flute as it is so very synonymous with the masses?
The fact is that Nikhil (Advani) sir had already made the tune with the mouth organ. I simply listened to him as he is my director.
Which one has been the toughest scene in the film?
Without any doubts, it has to be the laser act that I did in the song 'Dance Ke Legend'. I learnt the full steps in 20 minutes flat! Besides this, there is a boxing scene which I performed
without my shirt in the icy cold Manali. I immediately fell sick after that.
What kind of homework and preparations you underwent for the role?
Nikhil (Advani) sir wanted me to look rugged. That's why, despite being was physically fit, I trained a lot and was on a strict diet regime for one full year. I had to learn a lot of cable work.
There is a scene in the film in which you had to touch your father's (Aditya Pancholi) feet. Did you or your father become emotional while shooting the scene?
In the film, my father (Aditya Pancholi) plays the role of Pasha, who becomes my mentor. There is a scene in which I go to jail in order to visit him and then, touch his feet. While for me, it was
an easy scene. But, it turned out to be an emotional one for my father because I have never touched his feet in real life. He said, "Sooraj, you have never touched my feet any time before this.
But, this is the first and last time you will be doing this, because I love you anyways".
How same or different is your father Aditya Pancholi, on the set?
Both are very different. He is a different person on the sets and a totally different person when he is at home.
Did you feel bad when your father went on record to say not to follow his footsteps?
I did not feel bad. Rather, I felt proud of him, because, no father will say this (to his son).
The most eternal and the 'but-obvious' question. How does it feel to have Salman Khan as your godfather and mentor?
I feel blessed, lucky and great. I really do not know as to what good deeds I must have done in my past life to deserve this in this life. (smiles).
Salman has even sung the title song of the film. How does it feel to have Salman Khan as your 'voice'?
It feels great because he has never done anything like this for anyone before. And, here he is, doing all this for me and Athiya for the first time. It feels really great and charged up when you listen to the song 'Main Hoon Hero Tera' playing on radio in the morning. The fact that Salman sir has crooned it takes me to a different high altogether!



With 5 being the highest, on a scale of 5, how will you rate Athiya Shetty as a:
Co-star: 4
Actress: 4
Human being: 5
Friend: 5

On a scale of 5, how will you rate yourself as an:
Actor: 3
Dancer: 3

When you were an assistant director to Kabir Khan, Sanjay Leela Bhansali, what is that one thing that you learnt from them?
Having the stamina to stay (charged up) on the sets for 12-18 hours... without being tired.

Is there anything/s that you regret in life?
Absolutely nothing.

Do you feel that the whole (late) Jiah Khan case has given a negative impression about your image, especially when your debut film is on the verge of release? And will that affect the prospects

of the film at the BO?
I have worked immensely hard in the film. I think that my hard work will speak for itself.

You share a great friendship bond with Tiger Shroff. What was his reaction when you told him about that you are going to play his father's role in Hero and that too, in your debut film!
He was very happy and he said that I saved him from doing it, because he can't play his father.

You also sport a supercool tattoo on your back. Whose idea was it and what does the design signify?
It is a 'Ying and Yang' tattoo. It signifies peace. It was my decision to have that tattoo.

Cite us three reasons to watch Hero?
It stars two newcomers. We have worked really hard. Please watch it to make our dreams come true.

Lastly, who is the real 'Hero' of your life?
Undoubtedly, my mother (smiles).
BOLLYWOOD NEWS - LIVE UPDATES
Catch us for latest Bollywood News, New Bollywood Movies update, Box office collection, New Movies Release , Bollywood News Hindi, Entertainment News, Bollywood Live News Today & upcoming movies 2022 and stay updated with latest hindi movies only on Bollywood Hungama.