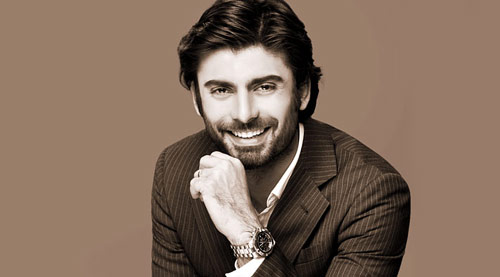 Fawad Khan, basking in the recognition for his performance in Khoobsurat, speaks to Subhash K Jha about adulation

and future plans.

Now that you have the ladies of Hindustan and Pakistan going weak-kneed, what can they expect to see you in next?
Well, sorry if this hurts my audience. But the beard will go off. It must go off. I can't keep it on much longer. I am trying to take on a completely

look on. I was also much heftier than I look now. Then I lost a lot of weight. I have to gain a bit of weight now.

You visited Wagah with Sonam. How was that experience?
It was an amazing experience. I've been to Wagah thrice before from the other side of the border. This was the first time from this side. The whole

experience of watching soldiers from both ends come together is so emotional and inspiring. All the animosity evaporates at that point. It's like an

Indo-Pak match but without the hostility and rivalry. I was being cheered at the border from the Indian side to say, 'Hindustan Zindabad' and from

the Pakistan side to say, 'Pakistan Zindabad'.

When the audience from both sides embraces you, do you think on some level it is a token gesture of reconciliation between the two

countries?
To be seen that way would be the biggest honour for me and a bigger reward and the biggest award. I am a very peace-loving guy. And if I can

promote peace on any level between the two countries it'd be my greatest achievement. When people in India tell me they feel an emotional

connectivity with their ancestry on Lahore and Karachi when they see me on screen, I feel so honoured. There can be no higher feeling for me.

Are you happy with the way you were welcomed in India?
To be honest, I never expected much. But the kind of respect, hospitality, warmth and love I got from the Khoobsurat team was more than

enough for me. The rest was all a bonus. If some people have found me difficult to cope with then they're just being unfair.

Who finds you difficult?
Some people I've worked with in the past have found me difficult. But I feel I work logically and rationally. For me the hugs, kisses and other

trappings of a character's personality are not as important as getting to the core of the person I play. Having said and done that, if I eat, sleep and

get paid well I am fine. I love my work.

Fawad, you are going to cause many divorces in India since many wives want you as a husband?
Oh my God. No, that's not true. I am happy my performance has been appreciated. It comes from being known in these parts for my television

shows in Pakistan, I suppose.

So are you planning to stay on in India for the ladies' sake?
I wish I could. But right now I need to return home to Pakistan to arrange some screenings of Khoobsurat. They did have a small premiere in

Pakistan. But nothing beyond that! I better get back home before I am bashed up (laughs).

The Indian audiences seem to know you?
I am quite surprised. It's because of my two Pakistani serials Zindagi Gulzar Hai and Humsafar. I was very surprised by the two serials'

popularity. They made me a household name not just at home but worldwide. People loved me. And I couldn't stop laughing.
Why is that?

My taking to acting is a bit of a joke. I never thought of acting as a serious career. After I managed to make a mark I wanted to move on. There is
no variation or challenge in working with the same set of people repeatedly. I needed to get out of my comfort zone. When I met Rhea Kapoor
(producer Khoobsurat) I instantly knew we were on the same wave length.
Was that why you did an Indian film?
That was one of the reasons. More importantly I want to increase the bandwidth of my cinematic knowledge, so I can do something on my own.
What do you mean by something on your own?
I want to put together a film along with some like-minded people.
At the moment your career as an actor is taking off in a big way. Do you think you should try something different?
You think so? But I can't stay put in one space. I get restless.
Fawad, there are quite a few fudged kisses in Khoobsurat. Did you refuse to kiss because of the cultural and moral embargo in Pakistan?

I didn't want to hurt the sentiments of my core audience. The audience that has got me where I am! I think I need to respect their feelings. A lot of
my audience would be quite offended if I suddenly started losing all my inhibitions. I just want to prepare the audience for a gradual change.
You mean, easy does it. So you'll kiss in the future?
You never know. I never say never. I'd rather walk the unpredictable path. Besides, I'd never like to throw in something titillating just to spike and
spice up a film.
Agreed. But a kiss in Khoobsurat where two people in love express their feelings is quite natural?
I agree. But what I learnt from doing the two popular Pakistani serials Zindagi Gulzar Hai and Humsafar is that audiences appreciate a
romantic moment without physical intimacy. There was not a touch or a hug anywhere in either series. And yet audiences loved my chemistry
with my co-star. I kind of like the idea of virgin romance to just show the couple's feelings through words and gestures and then leave the rest to
the audiences' imagination.
Do we see you in another Bollywood film soon?
Yes, I am in talks. It would be something very different from Khoobsurat. I'd love to manage at least one project on both sides of the border
next year. My friends in Pakistan and I are trying to put together a Paki-Indian project with Indian talent. We are looking forward to a
collaboration. But this time it'd be a Pakistani production.
BOLLYWOOD NEWS
Catch us for latest Bollywood News, New Bollywood Movies update, Box office collection, New Movies Release , Bollywood News Hindi, Entertainment News, Bollywood News Today & upcoming movies 2020 and stay updated with latest hindi movies only on Bollywood Hungama.