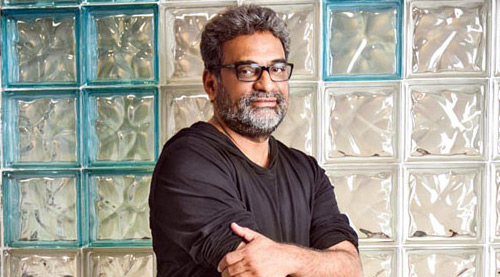 R. Balki who has earlier worked wonders with Mr. Amitabh Bachchan in Cheeni Kum and Paa is as nervous and anxious as a schoolboy awaiting exam results as he waits for the release of Shamitabh, his third creative outing with Amitabh Bachchan which also stars Dhanush and Akshara Haasan. Balki chats with Subhash K Jha on his film.


Every time you do a film with Mr. Bachchan we expect something completely path breaking. Would Shamitabh deliver?

I don't know! I don't see the expectations. I just try to do something a little different with Mr. Bachchan every time. Really, I don't see any of the hype and expectation that are generally associated with big films. We don't need that kind of anticipation. Shamitabh is a very quiet kind of film.


Now you're being over-modest?

Seriously, I don't think I am here to create history. Of course, it's a special film for me. I have designed it as an ode to Mr Bachchan's voice. Beyond Bollywood it's the voice of the nation. And for first time in his career he's lending his voice to another actor. There are so many actors who have tried to imitate his style of talking. He finally decided to give voice to another actor who wants to sound like the best baritone in the country.


Since Shamitabh is more about Mr Bachchan's voice do we see less of him on screen?

Actually Mr. Bachchan has a double role in Shamitabh; the body and the voice. Then there is a third role where the body and voice come together.


Sorry, triple roles don't work?

Ok four roles then. He has also done a music video for the film which is a separate entity. Shamitabh is inspired by his voice.


Akshara Haasan is your first discovery in your lead role. How did you pick her?

I think there's something really special about her. Acting is in her genes. She loves acting. And it shows on screen. She is totally unrehearsed.


Why have you made Dhanush kiss her ass?

You know, we just keep saying , 'Kiss my ass'. What if someone did? I told Dhanush to go for it.






Who was the youngest person on the set Akshara or Mr. Bachchan?

Quite easily Mr. Bachchan! In terms of mind, heart and enthusiasm there is no younger person than Mr. Bachchan and my music composer Ilayaraja. I can never imagine Mr. Bachchan as old. For me Cheeni Kum was not an 'old man- young woman' love story. Amitabh Bachchan cannot be old. Until we see him doddering on a stick which will never happen. He isn't 72. He is 27.



Was the role in Shamitabh written specially for Mr Bachchan?

I wrote this role for him. And I wrote the role for Akshara. Dhanush came into the picture later. According to me, he has the toughest role in the film. He had to assimilate Mr. Bachchan's voice into his personality and yet not act like Mr. Bachchan. It's an incredible feat. It's a very complex role. Dhanush had to act out Mr. Bachchan's voice without imitating his facial expressions. It's an incredible performance. And the little boy actor Shubham who plays the young Dhanush, he is electric.


How do you get such natural performers out of all your child actors?

The trick is to not patronize them, not to talk to them like children. Besides I've worked with the greatest child actor of them all Amitabh Bachchan.


Do Dhanush and Akshara have enough to do in the film?

Let's face it. Mr. Bachchan's is an overpowering presence. But Dhanush and Akshara have held their own. Dhanush plays the first Maharashtrian superstar.


Does Mr. Bachchan inspire you to do the work that you may perhaps have not done otherwise, like Lataji would inspire music composers?

Oh, absolutely. When I work with him I know I've to do something different each time. But I also know that the audiences have certain expectations when he is part of a film. So characters are now conceived in a way where the characters have to be part of the phenomena rather than phenomena disappearing into the characters. A filmmaker has two choices. He either takes the phenomena and puts him on screen as it is or he takes the phenomena to another level.



Why are there so few filmmakers today who are willing to try something new?

The economics of filmmaking today are very scary. My personal opinion is that the motivation for a film, the basic idea, has to come from within me. This is where films tend to go wrong. If someone makes a 100-crore budgeted film he has to be really worried about the investment. But if like me, the budget is more controlled then one can take more risks. One can't make a Paa or English Vinglish to make a 150 crore profit.


What makes filmmakers attempt the tried and tested repeatedly?
They think of the stars first and then ideate over how to accommodate those stars. But I think the audience wants something new in the familiar. Shooting
Shamitabh
has not been easy for me. Since the torture of shooting the impossible is self-inflicted, one has no one to blame except oneself. Who asked me to do all this?
How was the third film with Mr. Bachchan?
I've sworn never to do a dramatic edgy character with him again. He was khaddoos and angry all through. I've told him I'm only going to make fun films with him in the future. I won't do another serious character with me. I am not that big a masochist. Actually, to be a director one has to be a masochist.
How massy is Shamitabh?
More than
Cheeni Kum
and
Paa
! Contrary to belief the film is not set in the film industry. Dhanush just happens to be an actor.
Tell me about Abhishek Bachchan's and Rekha's cameo?
We were shooting at the international airport in Mumbai when Abhishek landed from London. He said he would sit in a corner of a frame. It was fun. As for Rekha, even for that one scene she wanted to get it right.
Does her cameo come at the end?
Neither end, nor beginning. Rekha's cameo is in the middle of story. She has to be in the centre of things always.
You're bringing Mr Bachchan and Rekha together in a film?
I'd love to. But I seriously don't know when it would happen. Sadly they don't share screen space in
Shamitabh
.
When are you working with Jaya Bachchan?
Soon. As soon as I can move away from the man of the house.
BOLLYWOOD NEWS
Catch us for latest Bollywood News, New Bollywood Movies update, Box office collection, New Movies Release , Bollywood News Hindi, Entertainment News, Bollywood News Today & upcoming movies 2020 and stay updated with latest hindi movies only on Bollywood Hungama.