The era of the underworld is one of the most decisive and fascinating chapters of Mumbai's history. Innumerable films have been made on this topic and yet, there's so much that's still not explored by our filmmakers. AURANGZEB [2013] director Atul Sabharwal decides to explore an interesting and a not-so-known episode from this era for his next film, CLASS OF '83. The film has caught attention because of Bobby Deol's casting and hence also his debut in the web space. Besides, it has been produced by Shah Rukh Khan's Red Chillies Entertainment. So does CLASS OF '83 manage to give a thrilling time to the audiences? Or does it fail to impress? Let's analyse.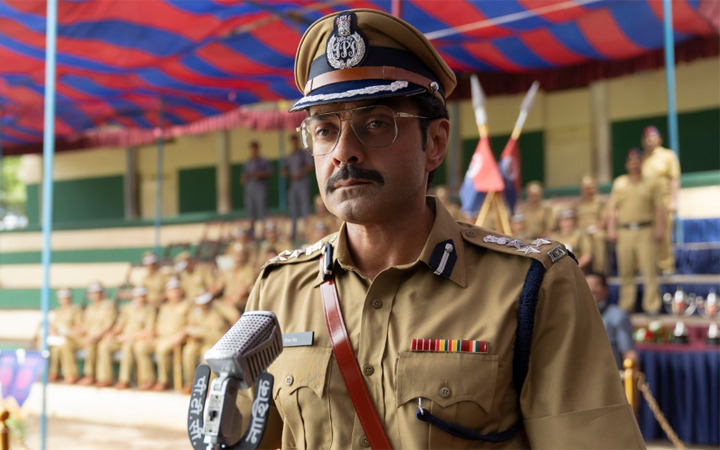 CLASS OF '83 is the story of an honest police officer and his unique attempt to eliminate an underworld gangster. The story begins in 1982. A group of men and women are getting trained to become cops of Bombay Police force at the Police Training Centre, Nashik. The dean of the place is the decorated police officer, Vijay Singh (Bobby Deol). He, however, is reclusive and doesn't interact with the students. In the current batch, there are five men who are consistently giving bad performance in their exams. They are Vishnu Varde (Hiten Bhojraj), Pramod Shukla (Bhupendra Jadawat), Aslam Khan (Sameer Paranjape), Lakshman Jadhav (Ninad Mahajani) and Janardhan Surve (Prithvik Pratap). Angry with their trainer Mangesh Dixit (Vishwajeet Pradhan), one day, Vishnu, Pramod and Aslam decide to teach him a lesson. They enter his house at night to bash him up but instead they get attacked by Vijay. Vijay, however, doesn't rusticate them. He realizes they are truthful and fearless and could be an asset. He secretly trains them and instructs them to help him eliminate the gang members of an underworld don named Umar Kalsekar (Adesh Bharadwaj). Vijay tells them how, a year ago, he had gone to nab Kalsekar based on a tip. Before heading, he had taken permission from the chief minister Manohar Patkar (Annup Sonii). Unknown to Vijay, Manohar was an ally of Kalsekar. Hence, Kalsekar escaped, leaving behind his gang members who killed six policemen who had accompanied Vijay. After this episode, Vijay was made the dean of the training centre and hence it was his punishment posting. The day of the encounter, he also left behind his dying wife Sudha (Geetika Tyagi) who breathed her last while Vijay was away. It is Vijay's dream to hence form a squad which can bypass the protocols and limitations of the system and bring an end to the underworld menace. These five students become a part of the squad. Once they become cops, they start eliminating members of Kalsekar's gang and also cover their tracks in the process so that Manohar Patkar can't take action against them. Sadly, soon some of these squad members fall prey to internal rivalry, bribery and corruption. What happens next forms the rest of the film.
CLASS OF '83 is based on the novel 'The Class Of 83: The Punishers Of Mumbai Police' by S Hussain Zaidi. The story has immense potential and could have made for a great commercial fare. But Abhijeet Deshpande's screenplay is very weak and dry. The script doesn't allow for any proper character development or even story development. The narrative just jumps from one episode to another. No time is given to the audience to absorb or get engaged with the proceedings. Atul Sabharwal's dialogues are a bit filmy and it adds to the impact. But at times, it sounds odd considering that the film is quite realistic.
Atul Sabharwal's direction is very poor. There's so much he could have done with the material and research in hand. Instead, he lets go of a great opportunity. The film is 1.38 hours long and that's too less for a film of this sort. He tries to pack in a lot and hence, the impact just doesn't get made. One doesn't feel for the principle characters, especially when they go through a tragedy or even get eliminated. A few developments happen too soon and audiences would be caught unawares like the five men of the squad getting employed in the Bombay police force, the rivalry that starts among them and when they mistakenly kill three innocent businessmen. The climax ideally should have been a highpoint but seemed amateurish and unconvincing, especially the way the cops manage to kill the goons of Kalsekar. On the positive side, there are three scenes where Atul shines – the sequence where Vijay tells the students to interrogate Vishnu, Pramod and Aslam, the scene where an argument breaks out between two officers over the mill strikes and the scene where Ismail Pathan (Ravi Singh) gets killed. Incidentally, these scenes weren't executed in a hurried manner and that also made a lot of difference.
Bobby Deol on Class Of 83: "This is the character I was SEARCHING for so many years"| SRK | Hitesh
CLASS OF '83 starts off on a promising note with an interesting dialogue which is heard when a pertinent quote of Plato is displayed. The scenes of the training centre are engaging but soon, the lacklustre direction starts to play spoilsport. One expects dhamaka once the squad members enter the police force and start their operation against the underworld. Sadly, the film goes further down at this point. What also hampers the experience is the low budget feel of the film. The film is set at a very volatile period for the city of Bombay. But that's conveyed only through a voiceover. The mill strikes forms a part of the story but we never get to see it. In other places, the makers have used too many stock footages to depict the life in the 80s. It's bewildering why they didn't shoot these scenes. Also, not to forget, CLASS OF '83 is produced by Red Chillies Entertainment, which has its own VFX division. It has achieved breakthrough in this field and yet, it wasn't put it into use for their own film. The other problem with the film is that one doesn't get to know the characters well. For instance, no explanation is given why certain characters fall prey to bribery and corruption.
Talking of performances, Bobby Deol genuinely puts up a good show. With this film, he also proves that he's ready to experiment. Unfortunately, his screen time is limited and the bad narration doesn't let his performance make the desired impact. There's a scene where he breaks down in a car and this sequence could have rocked the show had the direction being good enough. Besides Bobby, the film's principal cast consists of five newcomers. Sadly, three of them – Hiten Bhojraj, Bhupendra Jadawat and Sameer Paranjape – look too similar to each other. Many viewers would fail to distinguish between the three. Their performances is very good though. Prithvik Pratap leaves a mark where he pretends to be the beggar. Ninad Mahajani gets no scope. Annup Sonii is decent as a corrupt minister. Joy Sengupta (Raghav Desai) is dependable and leaves a mark in the see-saw scene. Geetika Tyagi gives a lovely performance. Vishwajeet Pradhan is impressive. Adesh Bharadwaj is hardly there. Ravi Singh is fine. Amit Thakkar (Vijay's son Rohan), Stavan Shinde (Inspector Rastogi), Annapurna Soni (Sakina; Aslam's fiancee), Spruha Joshi (Ameeta; Pramod's wife), Ganesh Kumar (Sotya; informer) and Akshay Tansale (Narayan Shetty) are okay.
Viju Shah's background score is very impressive and gives a nice 80s touch to the narrative. Mario Poljac's cinematography is sans complaints. Anita Rajgopalan Lata and Donald Reagan Gracy's production design is authentic. Divvya Gambhir and Nidhhi Gambhir's costumes are decent. Parvez Khan's action is in sync with the film's mood. Red Chillies.VFX's VFX is strictly okay and should have been better. Manas Mittal's editing is too fast and haphazard.
On the whole, CLASS OF '83 is a poor show because of the hurried narrative and lacklustre script and direction.
Rating: 2 stars
BOLLYWOOD NEWS
Catch us for latest Bollywood News, New Bollywood Movies update, Box office collection, New Movies Release, Bollywood News Hindi, Entertainment News, Bollywood News Today & upcoming movies 2021 and stay updated with latest hindi movies only on Bollywood Hungama.