The much-awaited Hollywood film, Spider-Man: No Way Home, is all set to release on Thursday, December 16 and its advance booking has left audiences and trade in a tizzy. The film fraternity watched in disbelief as shows got sold out in no time across the country. Shockingly, the rates have been hiked by many notches. Certain cinemas kept prices even above Rs. 1000 and in few places, even Rs. 2000 per ticket! Yet, these tickets were sold out like hotcakes, clearly proving how desperate viewers are to watch the next film in the Marvel Cinematic Universe.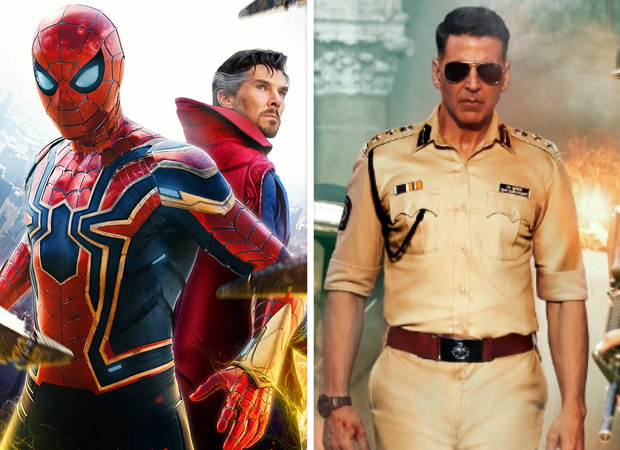 After MIND-BOGGLING advance sales of Spider-Man: No Way Home, trade feels that it can break the first-day box office record of Sooryavanshi
Girish Johar, producer and film business analyst, said, "I was expecting a huge response but not of this kind. This is phenomenal. If you see not just in India but even internationally, big-ticket films are the ones that have done well. That Spider-Man: No Way Home is all set to do well is a very positive sign. It'll give a major boost to the cinema industry, especially the exhibition sector."
Trade analyst Atul Mohan, in agreement, stated, "Honestly, I didn't expect such sort of madness though I was sure that it would rake up great numbers as it belongs to the much-loved franchise."
On similar lines, Akshaye Rathi, film exhibitor, and distributor, told us, "All of us anticipated a great response but nobody had imagined something of the sort, probably not even the team of Sony Pictures in India! It's unprecedented."
Trade analyst Taran Adarsh was of the opinion that, "This was expected. If you check the booking app, you will realize that the shows are fast filling up or have already filled up. That shows the craze for the film."
Craze despite sky-high prices
Besides the record advance sales, the hot topic of discussion is the astronomical ticket prices for Spider-Man: No Way Home. "The ticket prices have been increased for this film. At certain places, it is even Rs. 1000 or Rs. 2000. And people are buying it! So people are desperate to watch it even when ticket prices are sky-high," said Taran Adarsh.
Explaining this consumer behaviour, Girish Johar explained, "You can command such prices only if you have the content behind you. People are ready to shell out and that's something which has been proved in the past as well. However, it backfires when audiences are forced to shell out more for weaker content. So it's a very thin line. Spider-Man: No Way Home is a clear example wherein moviegoers are willing to dig deep into their pockets just to watch it on the big screen."
Atul Mohan, meanwhile, noted, "Nobody minds if the price justifies the value of the product. High-end mobile phones cost Rs. 60,000-70,000 and yet people buy, as they know that it is value-for-money. Similarly, the audience would be ready to pay Rs. 500 if they are sure that the film is worth it and deserves a big-screen experience. For example, you cannot charge Rs. 400 for a film like Velle."
Akshaye Rathi opined that this is an important lesson for the industry, "The way forward is very, very flexible pricing. When it comes to movies that do not have too much of a theatrical value to it, we need to reduce the ticket prices and thus, make it a low-hanging fruit for the public. In fact, the prices should be lower than what they were in the pre-pandemic times. For an extravaganza like Spider-Man: No Way Home, which is also in 3D and IMAX, people see value in that entertainment that they will experience at those many hundred rupees. So, as long as we provide the audience with content that's worth x amount of money, they'll come."
Day 1 predictions
The trade, industry, and even fans are now looking forward to the opening day number of Spider-Man: No Way Home. Sooryavanshi, the big Diwali release, had collected Rs. 26.09 crore on the first day. When asked if the Tom Holland-Zendaya starrer can go beyond this figure, Taran Adarsh replied, "It is too early to say if it'll break the opening day record of Sooryavanshi as we don't have the screen count."
Girish Johar in agreement added, "It's early to say but it should be Rs. 20 crore plus including all languages." He continued, "It has the potential to be the number one day one grosser of the year."
Atul Mohan confidently predicted, "I strongly feel that it'll beat the day 1 collection of Sooryavanshi. The first day might be much more than what we are expecting right now. Even Rs. 30 crore plus is possible."
Akshaye Rathi remarked, "You can't negate the possibility at all (of Spider-Man: No Way Home breaking Sooryavanshi's opening day record). And here's the fun thing. It won't even release in half the number of screens of Sooryavanshi as Hollywood content only releases in DCI."
The 50% occupancy cap in Maharashtra
When discussing the obstacles that Spider-Man: No Way Home would face at the box office, Taran Adarsh reminded, "The only factor that can curtail its first-day opening and also its run throughout would be the 50% occupancy in Maharashtra."
He continued, "Theatres are still being added. It will be a huge opening. However, people are comparing it with Avengers: Endgame (2019) and other movies. Those were pre-Covid times. There are certain restrictions now. On the other hand, shows are starting as early as 5:00 am in certain properties. And even here, the ticket prices are high. So all these factors will compensate to some extent but not as much because Maharashtra contributes 35-40% of all India revenue. If you take a chunk out of it due to this cap, then it becomes a problem. Hence, a huge total cannot be achieved in such times. Nevertheless, the revival has begun."
Girish Johar, on similar lines, stated, "50% occupancy in Maharashtra is a downer. But the multiplexes are playing it smart by having shows as early as 6:00 and even 5:00 am, as there are no restrictions on the number of shows in a day."
Akshaye Rathi however disagreed, "When people really want to watch something, they find a way. If they do not get tickets for the 3:00 pm show, they will opt to buy the ticket for the show at 4:45 pm, or 6:00 pm, or maybe the next day. So if something is compelling enough for people to watch, they find a way."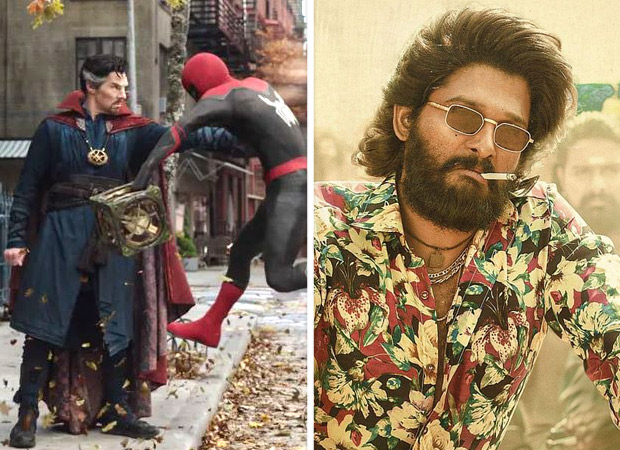 The Pushpa factor
The other factor that might come in its way is that it releases a day before Pushpa. The Allu Arjun-starrer jungle adventure releases on December 17 and though it is primarily in Telugu, it will have a wide release in the Hindi version as well. Girish Johar said, "It's not a big competition in the Hindi market but down South, it'll definitely be huge. For Hollywood films, the South is the number one market. Pushpa, meanwhile, is also hailing from that market. So it'll be a tough fight for Spider-Man: No Way Home and Pushpa."
Atul Mohan agreed, "In Andhra Pradesh and Telangana, the first choice would be Allu Arjun's film. Agar Pushpa thodi bhi gadbad hui, toh uska advantage Spider-Man: No Way Home ko milega. But otherwise, Pushpa will dent the collections of the Hollywood film to some extent."
Akshaye Rathi elaborated, "There's no doubt that Spider-Man: No Way Home is going to give it a fight. Having said that, the cult status and stardom that Allu Arjun enjoys in Andhra Pradesh and Telangana will definitely give him an advantage over Spider-Man: No Way Home. He has a serious fan following which is fiercely loyal. In Hindi, while I am really hoping that he can make a mark, I really think that will depend upon the marketing and awareness that's created around the film for the Hindi-speaking audience. And by the time we come to the 17th of this month, I hope that happens."
Also Read: Spider-Man: No Way Home shows to start as early as 4 am in Mumbai and 5 am in Thane with tickets costing over Rs. 2000
BOLLYWOOD NEWS - LIVE UPDATES
Catch us for latest Bollywood News, New Bollywood Movies update, Box office collection, New Movies Release , Bollywood News Hindi, Entertainment News, Bollywood Live News Today & upcoming movies 2022 and stay updated with latest hindi movies only on Bollywood Hungama.