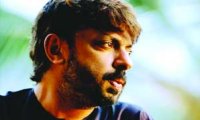 Sanjay Leela Bhansali deconstructs his magical world of movies, counters criticism and indulges in producer speak all within the same interview! Excerpts from a lengthy conversation on movies and more.


Do you believe in the X factor?

X factor is something that cannot be defined. Some people have it and you know it when you see it. Dilip (Kumar) saab or Amitabh Bachchan or Ranbir Kapoor in Saawariya. It is evident in that moment of magic you create with your performance - for instance, Govinda when he is dancing. Or Helen aunty. Among singers, it would have to be Sonu Niigaam, Shreya Ghoshal and Sunidhi Chauhan during their performance.


Is the X factor a criteria for people whom you choose as actors for your movies?

Absolutely. It is essential. There are so many kids I auditioned during Black, but why did I choose that particular girl (Ayesha Kapoor)? Because of the X factor. I had seen a picture of her running away from the camera - a still picture. It was a back shot with her hair flying but I felt there was something in that girl. The co-ordinator was aghast because I had not even seen her face, just her hair flying, but a certain aura was enough. Ranbir has the X factor that is so evident. And it is not only big stars that have it but even actors like Shernaz Patel or Suhel Seth who I worked with, they are all so charismatic while performing.


You are now a bonafide producer so do we get to see you experiment with different genres?

Personally, I think I will always land up making a dramatic or an emotional film but there are so many stories that one can tell, therefore I decided to turn a producer. The first one I took on was My Friend Pinto, which was a complete roller-coaster ride of a good human being's life. I found it fascinating though it's a film I would have never made myself. But Raghav Dar came on board and made it with Prateik. It is very magical and I am proud of that movie. And then Shabina, who is a friend, said, "Why not an action film?"


And that's why we got Prabhudeva and Akshay Kumar to come together for a film called Rowdy Rathore, making a foray into the action space. I felt that it was important for me to be able to learn from different genres and people. Producing films with other directors also allows me to contribute with my experience. I am very excited.


Tell us about My Friend Pinto, your first film as a producer?

My Friend Pinto is a simple magical story of a boy who comes to Mumbai to spend time with his friend. He is going to become a priest and is spending his last vacation before taking up priesthood. The film deals with the incidents that take place during the vacation. His friends forget about him but the whole town or city becomes his friend. It's the story of a friend who comes in your life and changes it. The message is that we should value our friends. It has a lot of magical moments and goodness. Goodness is fascinating especially when you are not aware of it.


What did you think of Prateik who is the hero of the film?

Prateik has spectacular talent and he is so unaware of it. Like his mother, he has an aura that makes you want to watch him. Smita Patil was like that; even when she was playing an old woman, you wanted to watch her. It's a performance that will put him in the bracket of solo heroes as this film rests completely on his shoulder.


Is budgeting a bad word? How good are you as producer?

I am now in a position where I can make movies with others helming it. When Vikramaditya Motwane (of Udaan fame) came to me I was completely shattered so I could not produce his film. As a producer, I feel you have to give your director creative freedom and space to make what he wants within the budget sanctioned. I must say that it's easier to control the budget when it's someone else. If someone were to question me, I would probably say, "Kyun poocha?" When I spent 50 crore on Devdas in 2001, everyone was shocked! But budgeting is actually a good thing and something I am trying to learn. I should not give so much to a film that finally people hold that against me.


Also, I am a happy producer and make people happy unlike what my reputation suggests (laughs).


Any genre that you are likely to be partial to?

I would not venture into a genre that makes me uncomfortable but I will always do a variety within the chosen space. I have done Khamoshi and Devdas which are diametrically opposite as are Black or Guzaarish or Saawariya for that matter. I want to be more adventurous but finally you make a film that your heart tells you to make. Main yeh manta hoon ki bahut kam log mere genre ko woh darja dena chahte hain. For them, there is only realistic cinema but the genre that I speak of also exists, as do other genres. I want to extend my repertoire.



Do you see yourself directing, say, an action film?

Yes, a lot of people including Shah Rukh Khan have told me that I will make a wonderful action film, as there is a lot of inherent violence in me. According to Shah Rukh, even the emotional scenes in my films have violence. Maybe after Rowdy Rathore I will direct an action film myself.


Is it the surreal nature of your works that contributed to the not very impressive box office collections?

I have realised that people have not understood the last three to four films that I have made. Devdas was operatic. Saawariya was very lyrical while Guzaarish goes into a very raw space. People find my works a little unreal and that's true. I always run away from reality. I live in a strangely fantastical world. I have to be in love with life and so I create my own spaces within it. That space which my films inhabit is difficult for people to comprehend but that is my interpretation of a particular emotion or space. Directors around the world have very different styles. There was Federico Fellini who made Dolce Vita and then there was Vittorio de Sica who made Bicycle Thieves. It is the same with music - every gharana has a different interpretation of a raag say, Bhairavi. Now you can't say that the interpretation of Jaipur gharana is wrong while Benaras gharana is correct. You have to understand that there are different ways of saying the same thing.


Demystify the fantastical fixation.

I have lived in Pydhonie at the Bhendi Bazaar-Bhuleshwar corner. I have seen harsh reality. It traumatises me, so I need to escape and create a fantastical world. So Saawariya had real characters in a once-upon-a-time fairytale sort of world. Such experiments are very fascinating. Everybody has a right to his or her opinion but I am the only one who experiments in that emotional space.


The general feeling is that your visual style - lush and grandiose - becomes an obstacle to the narrative. Comment.

I am a filmmaker and I have my own visual style, which is different from any other filmmaker. I have developed my own visual style. Why would you think Guzaarish to be opulent? It is set in an old dilapidated house with no furniture. It is a very specific style. Besides, is there anything wrong in being opulent? Was Pakeezah not a good film? Was Mughal-e-Azam not a good film? Did V Shantaram not make good films? Do I have to make a film in two crore running around Mumbai's Mohammed Ali Road with a hand-held camera to be able to make a great film? V Shantaram's story was very different from Bimal Roy's work. Navrang is as important as Jhanak Jhanak Payal Baaje as Do Bigha Zameen or 36 Chowringhee Lane or Pather Panchali is as important as a Mughal-e-Azam? Why is opulence a curse or a bad thing?


I have a visual style of telling stories, which comes from18 years of hard work. It is not about spending money but spending on getting the details, context and dialogue right. A visual style is also a narrative through a colour palette, through art direction, through the music, to tell a story so why is a great visual style becoming a curse? Or an accusation?


Every musician - RD Burman, Laxmikant-Pyarelal, Shankar-Jaikishan all have their style. You identify their songs by the style they follow so why is a certain cinematic style a point of doubt? It's not a documentary I am making. The day I want to make a realistic film, I will stick to that style.


Which filmmakers have influenced your work?

V. Shantaram, Mehboob Khan, K. Asif …all of them are inspirations. Among films, 36 Chowringhee Lane is one of my favourite films as also Bimal Roy's Bandini and Sujata that have been huge influences in terms of mastery over cinematic language. V Shantaram had a very garish and over-the-top style but that is also a form of art like kitsch is. He made Do Ankhen Baarah Haath but he also made Jhanak Jhanak ... so I like all these different films. I respect all genres.


Are you inspired by performing arts outside of cinema?

I draw inspiration from music. I have to hear Kumar Gandharva, Dhrupad, Shankar-Jaikishan's music or a folk song and out of all this, an image comes to my mind. It could even be a background score or western classical music that I find inspiring. I also feel intrigued by dancers like Chandralekha, Birju Maharaj etc - they fascinate me because they play around with lines and forms, geometry and mathematics. Bold verses are translated into dance forms making it very intriguing.


Scenes from your films resemble paintings, so is art an influence too?

Lata Mangeshkar said that Black reminded her of works of French artist Edouard Manet. It was odd because all through Black, I had this book of art that I kept referring to and it was very strange that Lata Mangeshkar at Paris could connect the two. So somewhere some connection will always be there. Actually I am very enthused by architecture. Architecture, besides music, is a very important influence. When I go abroad to exotic places or countries, I am glued to the architectural wonders. I can look at a pillar or a door, or an arch for hours. I find the detailing, the stone walls, textures fascinating.


How do you choose your stories?

For me it has to be a story that you want to tell from within, it does not matter that it has been written by someone else. Saawariya is the most talked about unsuccessful film but it was a story I wanted to tell. It didn't work commercially but it did work on the subconscious of a lot of people. Black, too, was a story I wanted to tell. I won't disclose my reference points because those are personal. In Khamoshi, there are lots of personal stories. I will touch upon them when I come out with a book at some point. Why that piano, why the breaking of that record? There is so much intensity, involvement and conviction when a story comes from within. Even when it is the story of another man, it has a resonance with what I want to say. I am blessed to have gone through varied experiences in life to be able to tell those stories through my art. As a filmmaker I can convey those experiences through my films eg. the coin sequence in Guzaarish -there is whole story of my life behind those coins. So the stories are images and sounds I live with and they have made a deep impression on me whether the films have worked or not.


Overcoming debilitating circumstances or a handicap seems a constant theme in your stories. Comment.

There is no handicap in Hum Dil De Chuke Sanam or Saawariya or Devdas but yes, there are circumstances that everybody has to go through. It could be loving a girl even if you can be with her for just a few moments -these are experiences common to everyone's lives but the power to overcome it is what fascinates me. Guzaarish is also a story about a man who wants to embrace death happily with family and friends. It was gruesome for people to watch but I achieved what I wanted to say. I wish Aruna Shanbag could get up and say the same thing. The film reopened the debate on Aruna Shanbag, which was interesting. You may not want to write about a person who learns ABCD after 15 years but I will make a film on that person. I want to tell the story of that one person who got a degree at 45.


There was a girl who assisted me for both Khamoshi and Guzaarish - she and her husband can't speak and they have a child. My stories are not about changing society or commercial blockbusters - mine are individual stories of fortitude, they are about personal battles. My cinema talks about uneasy issues.

You also get mainstream stars to essay uncomfortable roles. That must not be easy?

I put a mainstream heroine - Rani Mukerji - in a story that was not mainstream. I had the courage to not worry about the box office. It is wonderfully challenging to convince stars to tap into a different side.


In Guzaarish, Hrithik who is a superhero for kids and women, who can dance like magic, is just lying in bed. It's the most difficult performance to pull off. Aishwarya Rai Bachchan's performance in Guzaarish is superb. She is a quaint woman. She is bizarre because she will look after him, day and night so that he can have dignity. Amitji suffering from Alzheimer's or Ranbir in Saawariya are all unusual. Actors want to do different things. Aishwarya has done Dhoom 2 where she looks sexy but she is also capable of doing Chokher Bali or Guzaarish. What stars bring to the table is greater clout, which makes it easier to experiment with subjects and themes. But I don't want my actors to come with the baggage of expecting strange roles. I don't want to manipulate emotions or sensationalise.


How do you pick your actors?

When I write, the actor just comes up before my eyes. I have rarely recast except for Manisha Koirala's character in Khamoshi. I liked the honesty in Ajay's (Devgn) eyes and felt he could play the husband in HDDCS, so there he was. I sent the script of Guzaarish to Hrithik with his photo on it.



Quite a few of your movies have been based on books. Comment.

Every book that I read, I want to turn into a film. Hum Dil … was a novel, Devdas was a novel, Saawariya was White Nights. Black was also inspired by the story of a deaf, visually impaired girl who got a job at 45. The story of Harilal Gandhi was something I wanted to turn into a film but Feroze Khan beat me to it. The Train To Pakistan was another story that I wanted to make into a film but the day I met Khushwant Singh, he had just sold the rights. Q & A was yet another book I thought interesting but was snapped up by Danny Boyle. So yes, there are thousands of stories to be tapped into.


What is your take on adaptations and remakes of films?

I see nothing wrong in it. Saawariya was White Nights which was made by Robert Bresson. It was also made by Luchino Visconti in 1955. At the time I was making Saawariya, someone else was also making White Nights but that's an individual's interpretation of the work. What you do to the story is what matters. With Devdas, what P.C Barua or Bimal Roy, Anurag Kashyap or I did to it is what makes the difference. So it is open to interpretation. Guzaarish, people say was The Sea Inside but except for a moment there was nothing similar. Every scene was different. When Sony Pictures creative head came to India he said he was very impressed by Black which took Helen Keller's Miracle Worker to something completely different. He had not seen such an exercise before. If I were to make Pather Panchali today, I would do it in my own way. We are all inspired, by something or the other. There is nothing to be ashamed of.


Are you more the classic Bollywood director or a new-age filmmaker?

It is difficult to place me because of my fearlessness. I don't stick to the formula e.g.-Devdas or Black - all mainstream actors coming into a different kind of cinema. Guzaarish is not a mainstream film. I don't get ruled by the box office. I will do humour in a dark space and not the usual ha-ha way. However, the love for my work, to see the actors walk to the set, the magic of being in a studio, is old world. In Saawariya, from the stars to the building to the night, the bridge - it was my world! I created everything so yes, that kind of romance to create everything is also there. I span vast time zones - from the old filmmaker in me to the new filmmaker. Some people say "You are so old" while others say, "You are such a child," so I don't quite know where to place myself.


Screen India
BOLLYWOOD NEWS
Catch us for latest Bollywood News, New Bollywood Movies update, Box office collection, New Movies Release , Bollywood News Hindi, Entertainment News, Bollywood News Today & upcoming movies 2020 and stay updated with latest hindi movies only on Bollywood Hungama.