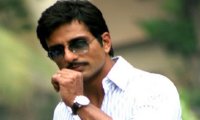 They say that a 'Rose by any other name remains a rose'. The same applies for actor Sonu Sood, who never fails to storm the silver screen with his breezy performance. While some know him as 'Chheddi Singh', 'Gopal Singh', 'Prince Sujamal', 'Prem Ajmera', there are many others who better know him as 'Mr. Tall, Dark, and Handsome'. If you are one of those who got scared with his menacing act of Chheddi Singh in Dabangg, then, let us assure you that, his portrayal of Inspector Pratap Pandit in his latest film Maximum will make you fall in love with him... over and over again. Satish Sundaresan of Bollywood Hungama met up with Sonu Sood on the eve of the release of Maximum for an exclusive interview. Over to you, Sonu:


"Maximum is a story well told" – Sonu Sood
Post Dabangg, Sonu Sood seems to have transformed into 'So-New Sood'! What say?

(Laughs). I love that name! I just hope that I live upto the expectations of everyone!


In Dabangg, while you were the corrupt guy, in Maximum we see you in a role that's exactly the opposite. How was the experience of being on both the sides of the coin?

Ever since the time I finished my studies and decided to get into acting, I never thought or even bothered about whether I will be playing a good role or a bad role. All that I knew was that I wanted to be an actor. Period. Playing a good or a bad role was all secondary. And coming back to your question, I am sure that people will love me in Maximum the same way they loved me in Dabangg, despite the fact that these two roles are extreme opposites of each other.


Rumors have it that your character in Maximum is based on real life cop Pradeep Sharma. Can you clear the air?

All that I can say is that my role has been inspired from not just Pradeep Sharma's life, but also Raghuvanshiji and Daya Nayak. My director (Kabeer Kaushik) personally met all of them and took references from them. Besides them, I also met some top cops in Punjab, Mumbai and Delhi to study the psyche of the person who kills 5-6 people and comes back home…to be with his family. I wanted to know what exactly goes on in his mind. It was only after I met all of them, I knew how exactly my character Pratap Pandit should operate.


How much of the film has been shot in real locations and how much on sets?

The whole film has been has been shot in real locations of Mumbai and Bangkok. The best part of Mumbai is that the film was shot during the peak hours of Mumbai city. Talking about Mumbai, let me tell you that that till yesterday, it was the film Satya that was always taken as the reference point of Mumbai. But, after this film, I can say that Maximum will be the new Mumbai!


With the kind of success that you tasted with Dabangg, wasn't it tough to shoot in real locations?

Yes, it was really very tough. I remember an incident while shooting at Goregaon station. As I was shooting there, the thousand plus fans who had gathered there kept on telling me to take my shirt off to show my body. It took me some time to convince them saying that my role in this film doesn't show his body, he only has to show his prowess.


Is it true that the film's director Kabeer Kaushik wrote 48 drafts before starting to shoot the film?

Its actually 52! Before we got rolling, he had done 48 and after that, he wrote the 52nd one. Trust me when I say that he has done an impeccable job when it came to subject research. I still can't believe the kind of hardwork and home work with which he came on the sets. All in all, I can say is that he has eaten, drank and lived Maximum ever since the word 'Go'.


While Ashutosh Gowariker said that he can see only you doing Sujamal and no one else (in Jodhaa Akbar), Sanjay Gupta recently said that with your kind of body language and your physique works (in the upcoming Shootout At Wadala), you were the apt choice to do this role. How do you react to see the filmmakers' immense faith in you?

When I hear such words from great people like Ashutosh Gowariker, Sanjay Gupta and others, it really gives me great confidence and indeed acts as a morale booster to the actor in me.


There have been many cop stories in the recent past. How is Maximum different from all others?

Maximum is a story well told. The silences in the film speak volumes. Every single role in the film has been etched with perfection. Full marks to the director for the way he has handled the film.


How has been the experience working Neha Dhupia and the legendary Naseeruddin Shah?

As far as Neha is concerned, she has always been a great friend. Neha was chosen for the role because we wanted someone who should look simple in a saree. And Neha fitted the bill completely. All that I can say about Naseer saab is that he is an institution in himself!


Talking about the film's music, what's your personal favourite?

Needless to say, it has to be 'Aa Ante'! It has the powers to rock the whole nation and expectedly, it is doing so!


After having interacted with the real cops so much, what's the one thing that you found so impressive about the cops?



Their confidence in everything that they do, speaks volumes about their personality. They are well planned and are ever ready with their plan of actions to deal with any given situation.


Since you play a top-cop in Maximum, what's your take on the actions of the real life top-cop Vasant Dhoble?

I think that his idea of stopping the wrong doings in the city is right, but his approach is wrong. On one hand, I feel good to see him thinking positive for the city, on the other, I think one should know that ours is a democratic country and all of us are responsible citizens.


You are someone who has the rare honour of working with legends like Amitabh Bachchan and Rajinikanth. How was the experience working with them both?

Both of them are extremely humble, focused and disciplined. I cannot point out any difference between them, as I firmly believe that both of them are legends. And all the legends are alike!


How do you react to the frequent comparisons made between Amitabh Bachchan and yourself in terms of your looks?

It sometimes becomes tough for me when being compared to a legend like Amitabh Bachchan! Not just that, it also adds immense pressure on me to be complimented that I look like him. I just hope that I live upto his stature and reach at least ten percent of what he is.


You play the dreaded Dawood in the upcoming Shootout At Wadala. How was that experience?

The irony was that when I was researching about my cop's character in Maximum, I got to know about the gangsters as well! In order to study about Dawood, I went through many books and also met many people who live along Mohammad Ali Road and other areas.


How do you feel not being a part of Dabangg 2?

I have always maintained that Arbaaz and the whole team of Dabangg are on the same page when I say that the character of Chheddi Singh was not shaping the way we wanted it (in the sequel) because of the creative calls. And for those who feel that there is a rift because of that, then, let me tell such people that, I play for Salman's team 'Mumbai Heroes'. My friendship with the Khan family remains unchanged and shall continue to be so, no matter what!


Lastly, how would you term Maximum in two words?

I will say that, its 'Honesty' and 'Sincerity' at its 'Maximum'!
BOLLYWOOD NEWS - LIVE UPDATES
Catch us for latest Bollywood News, New Bollywood Movies update, Box office collection, New Movies Release , Bollywood News Hindi, Entertainment News, Bollywood Live News Today & upcoming movies 2022 and stay updated with latest hindi movies only on Bollywood Hungama.