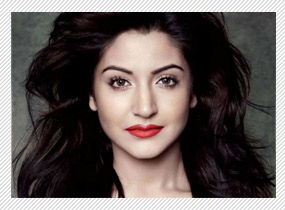 How nostalgic is the moment when you meet the actress you've dated in the same hotel three years ago? But before the quote makes it to the front pages of the newspapers tomorrow, let me tell you that the 'date' was a feature that I run on Bollywood Hungama. Moving on, it's always difficult for young and fairly new actresses to move seamlessly into an adult career. Often audiences are unwilling to let them age. The transition isn't easy, unless you're Anushka Sharma. In a span of three years, this actress has transformed and how! With her charming persona, flowing locks and pretty dresses, she was an icon of innocence, a role model for pre-pubescent girls the world over. Rab Ne Bana Di Jodi, Badmaash Company, Ladies v/s Ricky Bahl, Jab Tak Hai Jaan proved her standing in the movie industry. Sure, these films had made her famous and relatively wealthy, but there was no guarantee that the public would accept their fluffy little princess in more serious venture - Matru Ki Bijlee Ka Mandola. But as Anushka rightly and simply puts it - "90% of the time the roles I'm offered are similar to the ones I've done but Matru Ki Bijlee ka Mandola is a whole new world for me. It's a good way to kick start my New Year." Well, here's wishing you a blockbuster 2013 Anushka!


You're in the company of mad hatters once again.

Everyone's a mad hatter in Matru... Everyone's a bit odd. They are odd because they show you their flaws. They are complex characters. Yes, it is a wolf pack. I am playing a complex character. And yes, they say I am more of a boy amongst the men.


But this film would've been a difficult choice isn't it? Knowing that most of them were commercial in nature.

This one is commercial too. Matru Ki Bijlee Ka Mandola is a whole new world I have fit myself into as an actor. The films I have done are rom-coms and slice of life stories where the boy meets girl and a problem happens and things look good in the end. But this is definitely more complex a film. When I say complex it doesn't mean it's unbelievable. They way Vishal portrays his characters are always flawed. He likes to fiddle in the grey. It's huge learning for me. I personally have always viewed the world in black and white but this is a grey world I am witnessing for the first time (laughs).


The poster has your lovely shorts that you are pointing to. A lot of people want to grab their hands on those shorts but tell me, have you got them somewhere safe?

I do take a thing or two from each movie I do but so far the shorts aren't in my possession. I think this character of Bijlee that I play, the bold or naughty it may seem from the poster or the trailer, she is equally vulnerable and innocent. Bijlee likes to shock people and likes getting reaction from them. She is like - "Don't tell me what to do". She is an attention seeker. The way she dresses also is what she is. She wears boots on the ghaghra. There is a tattoo above her hip. That's Bijlee.


You've worked with VB and now with Anurag Kashyap. You couldn't have asked for more.

I am working with Vishal Bhardwaj and Anurag Kashyap. The reason? I am such a huge fan of both of them. When you watch a Vishal Bhardwaj film, you will know that his characters are very different. They are written in such a natural flair that they are relatable and understandable. I knew I would not be getting the same characters I've portrayed before. Same with Anurag also. Both of them have seen a very different life. I haven't and that's what impresses me. Some of the stories I've heard from Vishal Bhardwaj and Kashyap are bizarre. It's happened to them. Both are extraordinary human beings and that's why their films are extraordinary.


How would you want to be remembered as an actor?

I don't want just one film of mine to be remembered for life. I want Band Baaja Baaraat to be remembered too. I want JTHJ too. I want to be remembered as an actor who has done many roles and have done them well and done them differently.


Pankaj Kapur, a theatre veteran and a celluloid one too. How's it to work with someone from a theatre background?

He is so focused as an actor. A lot of times I'd get intimidated by him. That's one thing that theatre gives you - focus. The live audience is so important and to face them is ten times tougher than the screen audience. I want to possess that focus that Pankaj sir has. Just before the take is the moment that I decide what I will be doing. Theatre actors are trained well. They know their lines and what to do way in advance. He really takes pride to be an actor and I can see that. He does everything possible to better his work.


You're paired opposite Ranbir Kapoor in Bombay Velvet. The industry respects his work. What about you? Proud?

Ranbir is a great actor. He is also an intelligent human being. He has chosen the right kind of films for himself and at his age he has taken a risk no one would. I really respect for him because of the decisions he has taken and for those who respect the craft. He has done things differently. Ranbir took a conscious decision. I am happy to be working with him in Bombay Velvet because it is a script that's wonderfully different, a love story set in the 1960's and all that jazz (laughs).


Imran too is going the same way.

Yes. It's gutsy on his part to do so. Imran has worked so hard on his role. To sit in Delhi alone and to learn his part for a year and a half is extremely encouraging. Vishal Bhardwaj made sure he did that.
When a director gives you something different and gives you confidence and backs you, we want that pat on the back. He has put faith in Imran and me. We wanted just that. Imran put his two years on this film by putting everything on hold.
BOLLYWOOD NEWS
Catch us for latest Bollywood News, New Bollywood Movies update, Box office collection, New Movies Release , Bollywood News Hindi, Entertainment News, Bollywood News Today & upcoming movies 2020 and stay updated with latest hindi movies only on Bollywood Hungama.