"Kehtey hain ki agar kisi cheez ko dil se chaaho to poori kaaynaat us cheez ko tumse milaane ki koshish mein lag jaati hai," well that's the famous dialogue from Om Shanti Om. This literally came true yesterday when I was inspired to write an open letter to Hindi Medium actress Saba Qamar lauding her brilliant performance and how due to the border walls getting higher leaving us no access to even appreciate people on the other side when they do something really commendable in our own country. The letter went viral, was published in at least five publications in Pakistan, social media was buzzing nonstop and I was pleasantly surprised when Saba Qamar herself called me. While talking to her, I realised that Kareena Kapoor's Jab We Met dialogue 'Main khud ki favourite hoon' suits Saba perfectly as she came across as an Artiste who's confident and respects her body of work. Khoobsurat aur talented logon ko khud par naaz hona bhi chahiye. We discussed Hindi Medium, Bollywood films, Pakistani Dramas and we also echoed the sentiment of the dialogue from Tubelight, "Yeh Jung ek roz khatam hogi, bus hamein yakheen jalaye rakhna hoga".
We were discussing in my office about Hindi Medium and your performance. The idea just happened and the next day I decided to pen an open letter to you.
Thank you so much. I am glad, I am excited. You know everybody is sending me that link, that article's link. Social media pe bheja jaa raha hai. Sab keh rahe the Faridoon ne likha hai. So I said okay guys, I am going to reply to him and I will call him. Aapne seedha seedha dhamaka kar diya.
There are so many people, who have been asking me ki aap ko jawab mile ki nahi ?
Chalega! aap se baat karte hain. Aapse baat karke accha lagega. Aapki shayri itni kamal ki hai!
Considering both India and Pakistan have similar culture, Shayri toh honi chahiye..
Jahan pyaar hota hai, wahan thodi si jung toh hoti hee hai.
That is true. I hope yeh jo chhoti si jung hai, it ends. When you interact with people from both sides then there is love and affection and curiosity...
People in Pakistan, love Indian people. Seriously, we love Indians and Hindi cinema. Hindi medium has got a great response.
How is the response in Pakistan?
Amazing! I can't tell in words. Main alfazon mein nahi bata sakhungi ki logo ne kya response dia hai! I was so excited bahut accha response hai.
The film is growing from strength to strength in India and I believe its running houseful in Pakistan as well?
Yes fully. It's still houseful here. Yahan cinemas mein half-girlfriend utar chuki hai. Hindi Medium hai, aur Hollywood movies hain.
Even in India, It's going from strength to strength. It's getting better and better! And people in USA for that matter are watching Hindi medium as well. People are very curious over there. 
Yeah thank you. I am very excited. They relate to the character. They are liking it. I have read about it.
I am sorry but I haven't seen your dramas but since the time the open letter has come out many people on the social media have been telling me about your works like Maat, Thakan etc…
Have you seen 'Besharam'? It's really nice. If you want to know about Saba Qamar, you must watch 'Besharam'. It's my story. I totally relate to that story and character.
I had not seen your work and in a way it was good because I found your performance so fresh in Hindi Medium. It was really wonderful and I had a great time watching it. 
Thank you so much. But I feel ki Hindi Medium mein whatever I have done, woh toh kuch bhi nahi tha. When I look at my performance in Hindi Medium then I feel that there is so much more that is still to be explored. I am very comfortable with everything. I am an actor, kisi bhi actor ka ek character hota hai. Kisi dusre ko in cheezo se taujub nahi hona chaheye. Nahi toh woh khud ko explore kaise karega. Agar hum chance nahi lenge, different cheeze nahi karenge aur sirf same character karenge, wahi hero- herione  blah blah toh fir kaise! Main woh bhi karna chahungi, woh bhi important hai. But I like to play challenging characters, character roles. Characters that are insightful and nice.
Even in this film, the way you emotionally blackmail Irrfan, I literally was laughing a lot. There were people around me and they were like, why is this guy laughing so much. It was hilarious. In fact I interviewed Irrfan Khan and he said that he really had a great time working with you. 
Even I had a great time working with him. He was humble and down to earth.
How did you prepare for the role?
Honestly, Itna kuch khaas nahi karna padha mujhe kuch. Mujhe sab keh rahe ki dialogue maine seekhe hai acche. Language of both the countries is similar so I didn't have any difficulty at all. In Pakistan TV Dramas are like movies. The way movie stars are considered bigger in India, similarly TV drama stars are considered bigger than movie stars in Pakistan. T.V actors are respected more here since we don't have that many films that are made in Pakistan.  So aise kuch nahi tha ki bahut zyaada mujhe out of the way jaake kuch karna padha.Thode thode words sirf different hai. Even then I didn't have much problem.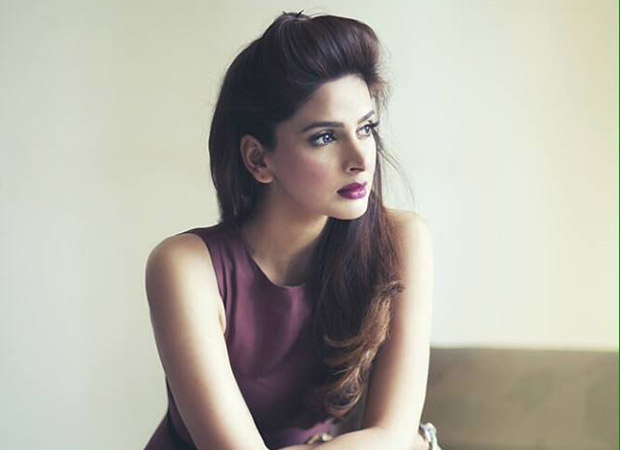 And how was your experience while shooting in Delhi?
The whole film is shot in Delhi. The shooting experience was amazing. It was one of the best moments in my life and I would always remember it.
And you enjoyed the food? Delhi food?
I loved the food. All the restaurants and the food places, Purani Delhi aur Chandni chowk. Daal Makhni was my favourite. I would say yaar dal makhani arrange kar do yaar. Pakistan mein uska taste woh nahi hai jo aap log spices daalte hain. Miss kar rahi hu main bahut zyaada. I wish main Delhi aaoon bahut jald, Mumbai bhi.
Things turned really bad between India and Pakistan in September last year. Seeing what happened with Fawad khan and Mahira Khan, do you find it a bit sad the way Art got mixed up with war?
Faridoon it's not about the Art. It's about humanity. Insaan itna anger leke kyu chal rahe hai? We should try and look ahead. We shouldn't remain so caught up in the Past! I went to Delhi and I received so much love and affection. No one said anything bad to me, no one displayed any anger. I thought these are such loving people. Even in Pakistan, India ki koi bhi cheeze aati hai na toh hum excited hote hain pata nahi ab kahan maamla kharab hai. I hope sab cheezein theek ho jayen. See I am a loving person. I want a peaceful world. I don't like fighting and all. Chhodo na yaar Duniya chhoti si hai. Enjoy your life.
Even we have heard so many things about Pakistanis but when I travel abroad to USA, Australia etc., I find them absolutely normal and so warm. The reality is much different from the propaganda. 
Isn't it love that logon ne aapka ek letter mujh tak pahuchaya hai through whatsapp and fans. Its love I think. What do you think?  Yeh pyaar hai ki unhone mujhe aapko call karne pe majbur kar diya . Yeh abhi tak kisi journalist se life mein aise baat nahi ki. And I asked about it and maine decide kia ke main unse baat karungi. Aapne mere liye itna accha likha. I really liked it. I loved it. I am over-whelmed. You made my day actually. I just loved it. Normally log karte nahi hain aisa.
I am really glad that you feel this way. As I mentioned in the letter that there is a scene of you in a temple where you are folding your hands. Berozgaar critics yahaan bhi hain aur vahaan bhi. Did you have any apprehensions of criticism from the hardliners?
Even I was expecting may be kuch ho in some scenes but I guess the situations and the story of the film is such that no one noticed anything untoward. The response is amazing. I was apprehensive about the nightie scene but no one has raised any objections. I am just excited that people are praising the film, acting and everything.
What are your views on Zeenat Lakhani writer and Saket Chaudhary (Writer-Director) of Hindi Medium. They have woven a really class film together. 
They are so passionate about work. Unka passion toh main words meh explain he nahi kar sakti. There is fire in Saket. So yes they are a very passionate bunch of people.
Pakistanis are generally big fans of Bollywood. What was your tryst with Bollywood and who were the Bollywood actors that you admired? 
Irrfan for sure. I like actors like Ranbir Kapoor and Tabu. Beauty mein Madhuri Dixit. Baaki bollywood toh Bachpan se he dekhte aa rahe hain. Yahan bahut attraction hai bollywood ki, Hindustan ki. Main kaafi comfortable thi Irrfan ke saath bhi. Aise nahin laga ki arre bade se superstar jaise hain. He is very down to earth and sweet. So yes he is a nice person, very humble. I had a great time with him. I wish ki haalat better hojayen
Frankly I watch a lot of movies but your performance was something that will always stay in my mind. And would love to see more of you in Bollywood
Inshallah
Thank you for taking out time for talking to Bollywood Hungama.
BOLLYWOOD NEWS
Catch us for latest Bollywood News, New Bollywood Movies update, Box office collection, New Movies Release , Bollywood News Hindi, Entertainment News, Bollywood News Today & upcoming movies 2020 and stay updated with latest hindi movies only on Bollywood Hungama.