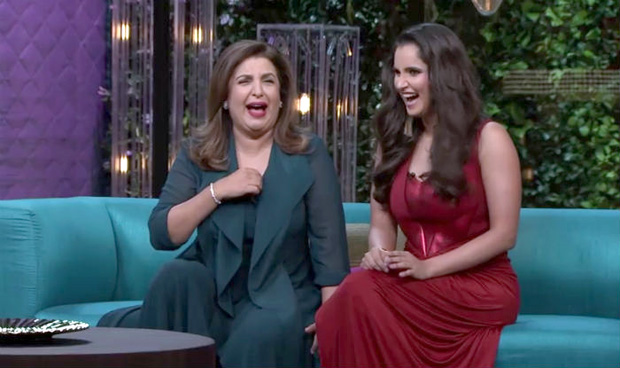 The season 5 of Koffee with Karan may have given little less gossip to the audience this season but the interesting pairs have definitely brought some amazing equations to the limelight. One such pair that graced the koffee couch was Choreographer and director Farah Khan and World No 1 tennis player in women's doubles, Sania Mirza. This also happened to be Sania's Koffee debut as well.
Farah Khan and Sania Mirza made an interesting pair revealing how these two, who come from different backgrounds career wise, became such close friends. From pulling Karan Johar's leg about his sex life to fighting against each other during rapid fire round, Farah and Sania proved that successful women can be competitive and be best friends too.
Here are the highlights from the episode:
1. As Farah Khan and Karan Johar have been friends for the longest time, it was obvious that they would pull each other's legs. Karan straight away started quizzing about her sex life, Farah had a witty answer saying, "I want to go on record and say this that Karan is obsessed with my sex life because he has none. Whatever your sex life is, mine is double." This conversation freaked out Sania Mirza little bit.
2. Farah also reminisced about the times Karan has called her and complained about not calling him to the get-together and dinners. She said, "If I call you, you start bitching about everyone. At one of my birthdays, he made fun of all the guests. When the guests got over, he started talking bad about my crockery and cutlery."
3. Then, Karan Johar asked Sania Mirza, "How come you never got hitched with one of the Hindi cinema boys? I remember there were reports alleged affair with Shahid Kapoor." To this, she replied, "I can't remember it was so long ago. People say all kinds of things. I travel so much and it never happened with anyone." Farah, on the other hand, kept pulling her leg for lying.
4. Karan really wanted Sania to have had some kind of love affair with one of her good friend, Varun Dhawan. She had answer to this as well, "I like taller men."
5. It is always fun to watch when two celebrities face off during the rapid fire round. Sania's rapid-fire debut was very interesting and fun. When asked who Sania would kill, marry and hook up between Shahid Kapoor, Ranveer Singh and Ranbir Kapoor, Sania said, "I'd hook up with Ranveer, marry Ranbir and kill Shahid."
6. When asked what she would do if she woke up as Deepika Padukone, Sania Mirza had a fiery answer, "I'd dump Ranveer, so that he'd be single for everybody else."
7. When asked what would she do if she woke up as Varun Dhawan, she said, "I'd finally come out about the girl I'm dating." She was clearly talking about Varun's girlfriend Natasha Dalal.
8. Farah Khan is known to be upfront and witty when it comes to rapid fire rounds. Being the three-time winner, she clearly had an upper hand on how to go about it. Kicking it off, Karan asked, "What advice would you give to a friend of yours, if he or she was dating the following?" Farah had interesting answers like, "Ranveer Singh- Carry a big box of condoms, Ranbir Kapoor- If any of Ranveer's condoms are left, please take them."
9. Farah Khan also admitted that if she had to pick any of leading men in Bollywood as her kids' nanny it be Hrithik Roshan because he is good with the kids and very pleasing to the eyes. One could not agree more with Farah on this.
10. While answering the questions as Sania Mirza, Farah was asked to choose between Tennis players Mahesh Bhupathi and Leander Paes. She did not leave the opportunity and said, "Mahesh always" which clearly hinted about Sania's so-called feud with Leander.
After winning rapid fire, Farah Khan also nailed the quiz round as it was a mix of sports and Bollywood according to Karan. All in all, the episode showcased the different kind of friendship in the industry between Farah Khan and Sania Mirza which people clearly had no clue about until now.