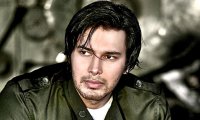 For the last three and a half years, Rajniesh Duggall has been the Vikram Bhatt prodigy. But today is the biggest test for him, for his biggest film till date Dangerous Ishhq releases in a few hours from now. He may have lived four different lives in this thriller drama but the Duggall that I know is pretty happy and content with his life and career so far. We met at Coffee Bean in Bandra over some piping hot cappuccino and caramel latte to talk about 3D, the time period he loved to shoot, Ravi Kishan, the bruise on his back thanks to Arya Babbar and the Karisma Kapoor he first saw when he was just a ten year old kid. But to say that he is living dangerously is an understatement. There's a brisk, emphatic nod from the actor,"Yeah, you know...." Rajniesh Duggall continues...


"The 3D film that I loved the most was Transformers"

The 3D film that I loved the most was Transformers. What's surprising is the fact that Michael and Chris, the two people involved in the 3D department of Transformers have worked on Dangerous Ishhq. It was a blessing in disguise.


"To get to play four roles in one film is a blessing in disguise"

What I loved the most about the script was the fact that I was getting to play four different characters because every generation my heroine goes back, I too go back in time. It was a big challenge for me as a newcomer. To get a role like this at this time in my life, I couldn't have asked for more.


"Sometimes while shooting for the 1947 period, it felt that I had lived that life"

In the 1947 period that we are doing in the film, in that look, a lot of times I used to feel that I have lived this life. We were shooting in such places. I am playing a Lahori and the truth is that my ancestors come from Lahore too. So I went to Delhi and met my grandparents' friends.


"I was ten years old when I saw Karisma on screen for the first time"

When I got to know that Karisma is in Dangerous Ishhq, I was damn excited. I was ten years old when I first saw her on screen. I remember seeing Prem Qaidi a bit later of course and then Anari. She is a huge star and a brilliant actress. I got to learn so much from Karisma.


"Vikram Bhatt is calm and patient, especially shooting 3D film which is tough"

Working with Vikram Bhatt is a revelation. He gives you a freehand. He can play around the scene he gives you to perform. He has a great clarity as a director and it helps me as an actor. He is calm and patient, especially shooting a 3D film that is tough sometimes. It takes forty minutes to just change the 3D lens. How patient you got to be?


"Karisma used to blink and cut the scene. I thought she was playing a prank"

Karisma writes all her dialogues down. She had her own paper and pen and would rehearse from there. She was very supportive to me. On the whole, the scenes between us worked out incredibly well. I don't know whether she was pulling a prank on me or not but at times she used to cut me out in the ongoing scene. That was funny because she used to blink and inform to cut the scene. I felt being protected by her blinking (laughs). I don't know whether that was a wink (laughs).




"There is a suspense hidden in one of the four time periods"

Going back 500 years, the Meera Bai period was very good to shoot. Today's day and age too was good because there is a suspense hidden in one of the four lives. That's Dangerous Ishhq's USP. I preferred Karisma in the 2012 and the Aurangzeb time period / the Mughal era.


"I took training for a month in the Akhaada for the laathi sequence"

There was a 'laathi' sequence that I had to shoot in the film for which I took training for a month in the 'Akhaada'. By the way, I have a permanent bruise because of Arya Babbar (laughs). No, it wasn't the laathi or sword fight but a man to man on sets.


"Ravi Kishan is a brilliant performer"

Ravi Kishan is a brilliant performer. He is a superb seasoned actor. What's funny is that whenever we came face to face on sets, his beard or mine would come off. It took time to fix it also. That was tasking but total fun. He is humorous to the core because one day while playing a game of chess he asked me about women and I told him that he was talking to the wrong person. I hope just to distract me on my next move (laughs).


Watch Promo: Dangerous Ishhq



BOLLYWOOD NEWS - LIVE UPDATES
Catch us for latest Bollywood News, New Bollywood Movies update, Box office collection, New Movies Release , Bollywood News Hindi, Entertainment News, Bollywood Live News Today & upcoming movies 2021 and stay updated with latest hindi movies only on Bollywood Hungama.