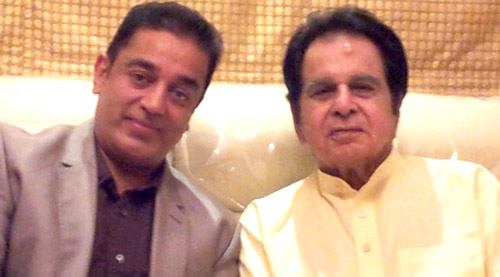 The iconic Kamal Haasan idolizes two actors. "I grew up hero-worshipping Shivaji Ganesan. He was like the guiding sun in my life. Then I discovered an entire galaxy in Dilip Saab. I discovered Dilip Saab rather late. It took me a long time to learn to appreciate him. I belong to another culture, another generation. The first film of Dilip Saab that I saw was Mughal-e-Azam. He touched something deep within me as an actor. You have to be an actor to fully understand what Dilip Saab achieves through his performances. I am still in the process of discovering his virtuosity. Actually I was introduced to Hindi cinema very late. The first Hindi film I saw was Padosan, and that too because I was told that the Tamil community was lampooned in the film through Mehmood Saab's character. I ended up becoming a fan of Hindi cinema. I never stopped seeing Hindi films. I gradually revisited the classics. I saw V Shantaram's Jal Bin Machali Nritya Bin Bijli and I wondered why they called Shantaramji a great filmmaker. Then I saw Jhanak Jhanak Paayal Baje and Dr Kotnis Ki Amar Kahani and I knew why."


Then Kamal Haasan saw Dilip Kumar in Mughal-e-Azam. "It changed my life. It re-defined my attitude to acting. I thought that was the ultimate. Then when I came to Mumbai to do Ek Duuje Ke Liye I met Javed Akhtar Saab. I told him I am a fan of Dilip Saab although I had seen just one film Mughal-e-Azam. He advised, urged and implored me to see Ganga Jamuna. I saw it. I couldn't stop raving about it. Just looking at Dilip Saab in Ganga Jamuna I got all the inspiration that I needed. In Ganga Jamuna he did an amazing thing. He signed on an unknown teenager to play his character's younger version. It was a very risky thing to do. Normally characters go from childhood to adult. Here in Ganga Jamuna Dilip Saab was cutting it closer. He trained the teenager to behave like 'Dilip Kumar' The way the boy walks, climbs, talks….he brought his own spirit into the boy."


In his Tamil film, Guna Kamal Haasan paid a tribute to Ganga Jamuna. "I had written a scene in Guna with a gun that I saw in Ganga Jamua when I fight with the cops the gun goes off."


After seeing Ganga Jamuna Kamal Haasan met his idol. "I had to meet the man. I went to meet him the day after I saw Ganga Jamuna. I had tears in my eyes when I told him what I thought of him. He just looked at me and smiled. Maybe he thought, 'Not another one.' I apologized to him for discovering him late."


From then on Kamal Haasan has met Dilip Saab during every visit to Mumbai. "He came on my request to Chennai many years ago to give an award to my other favourite Shivaji Ganesan. In front of 40,000 people I showed off my familiarity with Yusuf Saab. Before the function in his hotel room I got to talk to Yusuf Saab for two and a half hours. Rather, he talked, I listened. Those were the most revealing hours of my life as an actor. He described to me his life as a boy in Kabul. As you know he is a great speaker. That quality remains. That day in Chennai I imbibed Yusuf Saab's hunger for knowledge. A deprivation of formal education never deterred him from educating himself. The same is true of me. That's where the similarity ends. His struggle has been manifold. I was born without a silver spoon. But unlike Yusuf Saab a silver spoon was gifted to me."



Kamal Haasan, a self-styled Dilip Kumar devotee marvels at the Thespian's presence of mind. "Who says Yusuf Saab is not lucid in his thought and speech anymore? Rubbish! His silence is being misconstrued. Dilip Saab was and remains a quiet attentive observer and listener. When he speaks he speaks with devastating coherence."


Kamal Haasan met him last in October this year. He recorded the entire encounter and conversation on a moving camera. "He is absolutely coherent. He is old and tired of the idolization. He is reposeful and craving for quietude. He doesn't care for the laudatory shouting all around him. I met him on October 14 this year. I will now meet him on his birthday on December 11, as I try to do each year. When it comes to Dilip Saab I am a fanboy. And he knows it. When I gush and fall to my knees in front of him his eyes light up with delighted amusement. 'Just look at this boy. Why is he doing this?' he asks his wife Sairaji. But Sairaji has only a smile for an answer. How does one explain to this wonder-actor that he has inspired generations of actors? I am just one of them. Each time I meet him I kiss his hand and call him my godfather. Dilip Saab remains amused at my unabashed idolization."



During their last visit when Kamalji visited Dilip Saab with his filmmaker-friend Ramesh Sippy they expected the Thespian to have aged and slowed down.


"None of that!" marvels fanboy Kamal Haasan. "We were all talking loudly as one tends to for the old. But Yusuf Saab was as alert and receptive as ever. When Rameshji suggested a picture of me and Yusuf Saab together I scampered gleeful to my idol's side. I was delighted to be ranked with Dilip Saab by Rameshji. When people compare us I say with all immodesty and with no false humility, 'I can never be the best actor until Yusuf is there. He is by far the best actor India has ever produced.'"


Says the younger actor emotionally, "Yusuf Saab has influenced two generations of actors. I am very sure he will continue to tug at the heartstrings of a third generation of actors. The only actor about whom we can say the same is Marlon Brando. Why did Yusuf Saab and Brando have to be so good? They didn't have to be. Even half as talented would have done. Yusuf Saab invented method acting on his own when there was no such concept."


When Kamal Haasan last met his idol he told him that the performances today lag behind what he achieved so long ago and that today's actors emulate the great Dilip Kumar.


Recalls Kamal Haasan with a smile, "Ramesh Sippy Saab who was with me raised his voice and repeated what I had said. Yusuf Saab turned around and said, 'Yeah, I know. But why?' And he chuckled. I have it on a moving camera. I have recorded his interview for posterity."


Kamal Haasan recalls an incident from his last meeting with Dilip Saab that shows the Thespian's presence of mind. "When he came into the room he saw all the wires spread across the room by the technical crew. 'Arrey bhai isske hatao. Aadmi gir jayega,' Dilip Saab said. They pushed the cables away from his range. He said, 'Nahin, that won't do. That's for your safety. What about mine?' He ate chicken sandwiches while we refrained from eating in front of him. After polishing off his plate he said, 'Get me more.' I grabbed his hand one more time. I didn't want to let him go. Sairaji came in and said. 'My Pathan, my Pathan' I started crying. Sairaji said, 'I want to take pictures of my two children.'


Ends Kamal Haasan emotionally, "I dreamt of sharing screen space with Yusuf Saab. In fact when I wrote the Tamil Thavar Magan for Shivaji Saab and me, I had already planned to cast Yusuf Saab and me in the Hindi adaptation. But he wasn't keen. So I just let go. But I shared screen space that day with my hero when Sairaji took our pictures together. That was enough for me. I am truly his Eklavya. I've always been there for his birthdays. There is a fan who has come for the past 40 years for every birthday of Yusuf Saab. The last time I saw this fan waiting in the queue to greet the birthday boy with me. I advised him to go first since he was senior. He told me to go before him. He didn't mind waiting, he was confident he will see his idol. That is not just loyalty. It's hero-worship at its purest."


Kamal Haasan has one regret about his idol. "The country made him so insecure that Yusuf Khan changed his name to Dilip Kumar. Today a man called Dilip has changed his name to A R Rahman. The country has grown up. Though not enough. In Tamil Nadu you won't find any actor with a Muslim name except Nasser. Even I was advised to change my name since it sounded Muslim."
BOLLYWOOD NEWS
Catch us for latest Bollywood News, New Bollywood Movies update, Box office collection, New Movies Release , Bollywood News Hindi, Entertainment News, Bollywood News Today & upcoming movies 2020 and stay updated with latest hindi movies only on Bollywood Hungama.