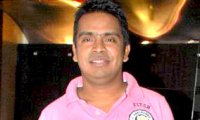 To start a career with a pseudonym 'Shiekhspear' is like a blessing in disguise. Then some more blessings from his dear ones: Shah Rukh Khan and Ekta Kapoor. Then the near ones: his family and relatives. Then I ponder and quote - Writers don't need blessings, they are already blessed. I meet the blessed writer of one of India's biggest box office successes - Om Shanti Om, and the on-going success - Ra.One, at his favourite coffee shop Gloria Jean in Bandra. I push open the glass door and look to my left to see a man wearing his spectacles and typing something on the Steve Jobs creation. Then I look to my right and find no one. Yes, you got it right! Mushy (as he is fondly called) has no assistant who types for him. He gives birth to his stories, conceives it, adds colour to it and then gives it a life on the big screen. A level gaze, a firm handshake and an unblemished talking style and you can sense that he comes across as a man who believes in the fact that imagination is more important than knowledge. Ra.One got imagined and with a perfect mix of brains and business it was unleashed to the world to create box office havoc. It's not even one week since Ra.One has released and comments - negative and positive - have been pouring in left, right and centre. Arguments on whether the movie deserves to be a colossal hit, whether the movie stands up to its honesty, whether the story is flawed or whether SRK should truly give it all up stands true only in parking lots of super malls and bar areas of pubs. And why am I not surprised because I met Mushtaq at a coffee house to know the truth that stands tall and handsome in cinema halls across the globe. His talks from why Ra.One was scripted by three different writers, why he now looks at people as pro and anti Shah Rukh Khan, why he thinks it's time to respect SRK, why it's a trial and error every Friday at the box office, why stories in India should be simpler, and why children like mayhem now-a-days goes to prove that Mushtaq Shiekh isn't being biased or judgemental, he is simply speaking what's legit. UK's Harrow Observer columnist and Bollywood Hungama's London correspondent unveils the other side of Mushtaq Shiekh that's 'still reading Khan' because it is precisely this combination of insecurity, love, and self-consciousness that he imbues all his characters with: they long to be cool, and yet they're cooler than they think. Who do you think I'm talking about?
"It was a collaborative effort from three distinct individuals to bring Ra.One from pen to paper to the big screen"
This is my first film I've written with two writers - David Benullo and Kanika Dhillon. Now we needed somebody from an outside perspective. Super hero isn't India's staple diet. We as Indians wanted to be doubly sure about things we might have missed and that's the reason David came on board. The authority with which David speaks on superheroes is amazing. Ra.One is a film that's taken many years to make. David was a part of the film in the first initial rounds when we started shaping up the script. We went to L.A. and met him. Kanika came into the picture much later. For a year and a half, it was only me, Anubhav and Shah Rukh discussing the script. Kanika being a part of Red Chillies too came on board with her know-how and gave her perspective on Ra.One. It was a collaborative effort from three distinct individuals to bring Ra.One from pen to paper to the big screen.
"Just like B.C. and A.D., I've now started judging people like 'Pro SRK and Anti SRK"
I've known SRK for a decade and a half. As an actor, he has matured a lot. His perspective of cinema is evolving every day. If I was talking ten years ago, he was just trying to dabble in the comedy genre. The love sector was already keeping him in a safe spot. SRK has always been like that. I feel really sad to know that the man hasn't got due credit. He is very much loved and then the kind of negativity I see when you mention his name is really heart breaking and that I purely attribute to the very dirty sinister Indian mentality. We like to pull a person down who is climbing the ladder of success. We are pulling his rags to riches story down.
"I think it's time to respect SRK for what he has done and contributed to Indian cinema"

SRK made Asoka at a time when people weren't even thinking of exploring different genres and concepts. He is the only actor turned producer to have made films like Asoka, Phir Bhi Dil Hai Hindustani, got flack and risen again. He is a mover and a shaker. He goes ahead and makes it. He put his money where his mouth is, always. He brought in the expertise that we only spoke about. Making a movie of this level and not compromising is a very big thing. Whether it is to an editing equipment to a shooting equipment to even robots in his house, he is someone who is gizmo friendly. He is a learner. I think it's time to respect SRK for what he has done and contributed to Indian cinema.
"If one person has praised something, I've got twenty to berate that exact portion. I know one thing; I need my story to be simple"
As a quintessential Bollywood writer, I know we are losing grip on the age old story telling. But having said that, we know what structure to follow and what story to tell. At stake is a lot more than just some realms of paper. Many people said after watching Ra.One that we've over served, over simplified, over explaining, etc. But if you come on my side of the line you'll know what I'm talking about. If one person has praised something, I've got twenty to berate that exact portion. I know one thing; I need my story to be simple. We knew we were dealing with the zone no one in India has tapped into. Ra.One is made in the sensibilities and periphery of what Hindi films are usually made in.
"It's a trial and error every Friday"

Writing is an art form but by the end of the day, it's a business. We have to accept it. I have my whole extended family that I need to cater to, and then I've got friends in Chandigarh who own a Mercedes and who can't even pronounce 'Gucci' properly, etc. Can you imagine finding one part that serves all? It's a trial and error every Friday. Hindi writing is a gut wrenching experience. How do I find a story that universally serves a person in America and Ajmer? It's tough and the audience is even tougher.
"Every child has a fascination towards the villain. They like mayhem more than the hero it seems"
One of the most interesting things about Ra One is that when the child asks the father that he is bored with the superhero and he now wants a kicka** villain who beats the hero. The issue there is that every child loves the villain. There's fun in mayhem for the kids. Villain comes from the inside and the demon is the one you want to hug and is no longer who needs to be stoned. He thinks like us too. Our acceptance of the bad seems to be really heighten. We are becoming numb to everything and anything that's evil. It needs to get worse. We want to discover the darkness than the goodness. Probably we are surrounded by darkness, right from our politicians to our family members.
"Arjun is someone who understands his body and the moment he tattooed the bar code, Ra.One was complete"
Ra.One as a character was faceless. He was evil but a faceless evil. Evil has no name. Arjun coming into the film was a process. We needed a personality, a body, a charisma; that comes closer to you and that looks divine. When you don't know what you're dealing with, is what Arjun Rampal brings to Ra.One. Arjun is someone who understands his body and he knew he had to set that bald head of his on his body. Full marks should go to Arjun. The moment he tattooed his barcode, that was it. Ra.One was complete.
"Ekta Kapoor is a mystery that everyone wants to know and that mystery will soon be unveiled in my book on her"
I've known Ekta since kindergarten. Writing a book is a process. As a journey, as a life, if ever there is a book on Ekta Kapoor, it'll be written by me, simply because I've known her. I'm working on it. I find Ekta one of the most amazing species I've ever known. She is mystical and mysterious. Ekta started out as nothing in this industry and today she has become an industry by herself. She gave birth to the television industry again. That kind of canvas needs a lot of work. The book on Ekta is happening but it will take a bit of time.
"I saw Bebo's wax work on her BB status display picture"

Bebo put up some picture of hers on her BB display update and I thought she was making fun of herself. But then I found out that she was standing next to her own wax work in Tussauds. It's a fabulous and a super job by the team at Tussauds. She looks gorgeous in her black dress. Now she is in company of G.One at Tussauds.
"I keep making fun with SRK on me being his lucky mascot"
I keep on making fun with SRK on me being his lucky mascot. I've done cameos in three movies and all three have been super hits - Main Hoon Na, Om Shanti Om and now Ra.One (that's already inching its way to becoming the highest grossing film). I'm in a sequence that comes before Rajinikanth's. I call it the 'main part sequence' because I shoot him and I ham and laugh. He has caught my bullet in his nose (he is a super hero) and that's when the kid tells Kareena, "Mummy, main part" and I ask Kareena, "What main part?" and she kicks me on the 'main part' (laughs). I still keep joking with SRK for cutting my cameo from Asoka (laughs). So from now on I remind him in all my cameos - Dare cut me off Shah Rukh
BOLLYWOOD NEWS
Catch us for latest Bollywood News, New Bollywood Movies update, Box office collection, New Movies Release , Bollywood News Hindi, Entertainment News, Bollywood News Today & upcoming movies 2020 and stay updated with latest hindi movies only on Bollywood Hungama.