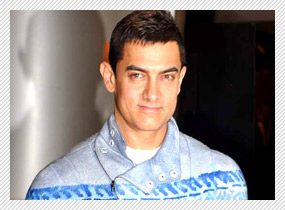 Aamir Khan has always been a pioneer of sorts paving the path for others to follow. He was the first actor to enter the now famous 100 crore club with his film Ghajini. Just as people started aiming to reach the Rs. 100 crore benchmark, Aamir raised the bar like never before with 3 Idiots which raked in a whopping Rs. 202 crores at the India B.O. That's a record that's yet to be broken. No wonder then that every Aamir Khan film is keenly anticipated by one and all. His latest film Talaash which released last Friday (Nov 30) took a phenomenal opening. While there have been mixed opinions on the content of the film, Aamir is unperturbed. Bollywood Hungama's Nikhil Ramsubramaniam met up with Aamir for an exclusive interview in which the actor par excellence talks about how satisfied he is with the response to Talaash, his favourite scene from the film, his take on people leaking out the suspense and comparisons with some Hollywood classics. You don't wanna miss reading this one...
How happy are you with the response to Talaash (both from a B.O. point of view and from a feedback point of view)?
I am quite happy. I think it's gone beyond what I expected in terms of numbers and in terms of feedback as well there is a huge section of the audience which has connected with the film in exactly the way we wanted them to. A lot of people have been really affected by the film and found it very intriguing and moving and that makes me really happy.
What are some of the best compliments that you've got for the film in general and for your performance in particular?
For the film I've been getting a lot of messages on my phone and it will take a while for me read them all out to you. The film has had a deep impact on a lot of people in a very strong way. As far as my performance is concerned, the best compliment I received was from a friend of mine who said that "The moment I see you in the first few shots of the film as Inspector Shekhawat investigating the case, you completely make me forget all your previous characters be it Rancho or DJ or Sanjay Singhania or Nikumbh or Bhuvan. Suddenly there is a new person I see. It's remarkable how you do that each time." I was quite flattered by that compliment because that's what I strive to achieve as an actor.
Do you think that the suspense being leaked out immediately in today's fast world of social media is a deterrent to the B.O. of films like Talaash?
I don't think so. If people like the film, then other people also want to go and watch it. If I am your friend and I tell you that it's a fantastic film, chances are more often than not you will go and watch it. So it's the feedback to the film that will decide its fate ultimately.
You are outstanding in almost every single scene of the film, which one would you pick as your favourite scene?
There are 2 sequences that are really close to my heart. One is the scene where I am not able to sleep at night and keep getting recurring thoughts in my mind of alternative situations that could have happened with respect to my son. It's a very moving moment in the film. I also love the underwater sequence towards the end of the film followed by the very romantic moment between Kareena and me.
In the film your character doesn't really believe in the supernatural. What about you in real life?
Well I don't believe in these things but a lot of people I know do believe in the supernatural. In fact the idea of Talaash germinated from a real life experience that happened with Zoya Akhtar. Zoya and her friends were driving near Haji Ali in Mumbai late at night when suddenly out of nowhere a stark naked woman appeared in front of them and got knocked down by their car. They stopped the car and rushed out to see if they could help the woman whose been accidentally hit but there was nobody on the road. They looked far and wide but they just couldn't find anyone. They all freaked out. A few months later the exact same kind of incident happened to a friend of Zoya in the very same spot. That's what sparked off the story of Talaash and Zoya along with Reema Kagti got working on the screenplay of the film.
A lot of people felt that Kareena was the surprise package of the film. What do you have to say about her performance?
Kareena has done a marvelous job. She is fantastic in the film. Both she and Rani are superb in the film. In fact not just the two of them but each and every actor in the film has justified his/ her character completely.
Another actor who's been receiving a lot of acclaim is Nawazuddin. He worked in one of your productions Peepli Live and now Talaash. How do you see his growth as an actor?
In fact Nawaz was also there in Safarosh in a very small part. He has done a fantastic job in Talaash. I am so happy that he is doing some really good work and has tremendously evolved as an actor.
Looking back, how was it working with Reema Kagti?
It's been fantastic. She is a very talented director; very sure-footed and pays a lot of attention to detail. I think she has done a wonderful job of translating onto on screen what she wrote on paper. I felt very safe in her hands.
A lot of people felt that the pacing of the film particularly in the second half was very slow. Do you agree? Could it have been tighter?
No I love the pace of the film. In fact it's a very well paced film in my opinion. If you pace it up you will spoil the charm of the film.
Some people are comparing the film with Hollywood films like The Sixth Sense, Shutter Island and Insomnia? Is it a fair comparison?
If people want to compare it with these films, I don't have an issue. These are all great films. I am happy to be compared with these classic films. However the story of Talaash is totally different from these films. The only common thread is that these are also films which have an element of supernatural in them. It's like saying if you've made one revenge film you can never again make another revenge film. It doesn't quite work that way, isn't it?
After 3 Idiots, people expect every film of yours to do similar kind of roaring business. What do you have to say about that?
I don't look at films in terms of money. If I look back at some of my favourite films of yesteryears like Pyaasa, Garam Hawa, Mother India, Mughal- e-Azam etc, I have absolutely no idea of how many crores these films collected nor am I interested in finding out about their business. These films mean a lot to me because of how they affect me. 3 Idiots is special to all of us not because it's done a business of Rs. 202 crores. It's special because it's affected us in a particular way, it moves us and inspires and changes our point of view on certain important issues. Similarly for all my films what I am looking for is the fact whether my films are affecting people and touching their hearts. That's what matters. Figures are irrelevant.
BOLLYWOOD NEWS
Catch us for latest Bollywood News, New Bollywood Movies update, Box office collection, New Movies Release , Bollywood News Hindi, Entertainment News, Bollywood News Today & upcoming movies 2020 and stay updated with latest hindi movies only on Bollywood Hungama.